Big story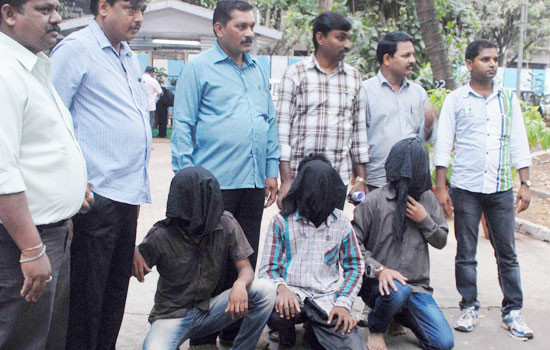 Published on June 4th, 2013
0
Builder shooting case cracked in five days
Main accused plotted the crime while in custody; builder's car was shot at after he refused to pay extortion money.
by The Editors | editor@themetrognome.in
A Borivali-based builder, Rajaram Manjavkar, was threatened by goons from early May this year; the man who would call him identified himself as a member of the Chhota Shakeel gang and demanded Rs 2 lakh extortion money. Initially frightened, the 64-year-old Rajaram bided his time before going to the police. Things took a turn for the worse when his car was shot at in Borivali when he was on his way to work. Escaping unhurt, Rajaram finally took the matter to the Kasturba Marg cops on May 28.
Five days later, the police caught the three men who carried out the actual firing. They, in turn, gave details of Bachkana's involvement in the crime. Bachkana is currently in police custody in connection with a crime in Belgaum.
How does one plot a crime when in police custody?
Bachkana is brought to Mumbai often in connection with court hearings for past misdemeanors. Last month, one of the three arrested men – Rajendra alias Raju Nepali – met Bachkana while the latter was brought to Mumbai, and gave him details of Manjavkar's business. Raju stays near the Manjavkars and had been keeping a close watch on the latter's current SRA building project. On learning about the builder's projects, Bachkana advised Raju to extort Rs 2 lakh from him.
Raju made three extortion calls to Manjavkar, who blankly refused to pay up. When he last met Bachkana on May 27, Bachkana told him to bump Manjavkar off. Accordingly, Raju got two friends – Ali Rajendra and Dhiru Jadhav – to assist him in the crime. The next day, the trio shot at Manjavkar while he was in his car at Devipada, Borivali, but apart from shattering the glass windows and plugging bullets into his car doors, they could not get at the builder himself.
The investigation and the arrests were carried out by the Mumbai Crime Branch Unit 12. "It has been a long time since gangsters have actually carried out a shooting in Mumbai," said an official connected with the case. "The last such major case was the (Mid Day journalist) J Dey shooting. The team is happy that key persons allying with Chhota Shakeel have been caught."
(Picture courtesy Afternoon Voice)