Big story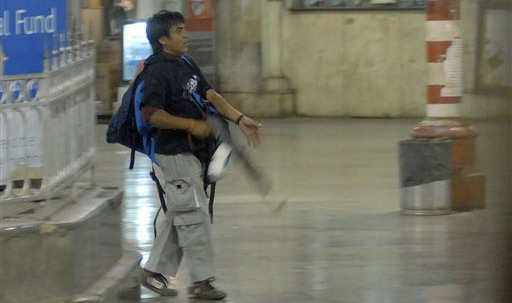 Published on November 21st, 2012
0
Ajmal Kasab hanged
Lone surviving terrorist of the 10 who struck Mumbai in 2008 hanged five days before fourth 26/11 anniversary, in Pune.
Ajmal Amir Kasab, the lone surviving terrorist who the brave Tukaram Omble helped nab in 2008, was hanged this morning at 7.30 am at Pune's Yerawada Jail. He had been shifted out of Mumbai's Arthur Road jail two days ago – he had been at the Mumbai jail since his capture.
The hanging comes just five days before the city and the country observed the fourth anniversary of the 26/11 terror attacks that took over 150 lives in three days of sustained terror operations. Kasab was shifted out of his cell in Arthur Road jail two days ago following President Pranab Mukherjee's rejection of his mercy petition on November 8. However, Rashtrapati Bhavan had announced that the date for execution would be decided by the Maharashtra State government. On November 11, the time and date for the execution was decided by the Additional Sessions Judge; Chief Minister Prithviraj Chavan gave the orders to shift Kasab on November 13. The move to Yerawada was done in complete secrecy.
Kasab had earlier appealed against his execution even in the Supreme Court of India. He was recently struck by dengue while in Arthur Road jail.
Update: Maharashtra Home Minister RR Patil to address a press conference at 8.30 am.
Update #1: RR Patil starts the press conference with details of the 26/11 attacks.
Update #2: "This is a tribute to all innocent people and police officers who lost their lives during the 26/11 attacks on our nation," says RR Patil.
Update #3: "Ajmal Kasab was hanged by the neck till dead this morning at Yerawada Jail at 7.30 am," says RR Patil.
Update #4: Yerawada jail sources say Ajmal Kasab did not have a last wish.
Update #5: Yerawada jail sources said Ajmal Kasab did not have a will.
Update #6: Union Home Minister Sushilkumar Shinde said that Kasab's body would be handed over if Kasab's family demanded it, else it would be buried here.
Update #7: "We managed to keep the issue under wraps for two weeks, especially the shifting of Kasab from Arthur Road jail to Yerawada Jail two days ago," said Maharashtra Chief Minister Prithviraj Chavan.
Update #8: "I had appealed to the President Pranab Mukherjee to reject Kasab's mercy plea. He had written back saying that he would soon take a decision that would make the entire nation happy," said Eknath Omble, brother of slain cop Tukaram Omble, who helped nab Kasab.
Update #9: "We had to maintain a high level of secrecy because we did not want any untoward incident to take place," said Union Home Minister Sushilkumar Shinde.
Update #10: Kasab will be laid to rest in India itself.
 Update #11: Pakistan refuses to accept the letter from Indian Government informing of the death of Kasab. Pakistan has also not yet reacted to the news.
Update #12: Pakistan refuses to claim Kasab's body. Kasab is buried at Yerawada.
Update #13: "Since there was no response to the fax we sent, we sent a courier to Kasab's family," said Union Home Minister Sushilkumar Shinde.
(Picture courtesy www.dayandnightnews.com)