Watch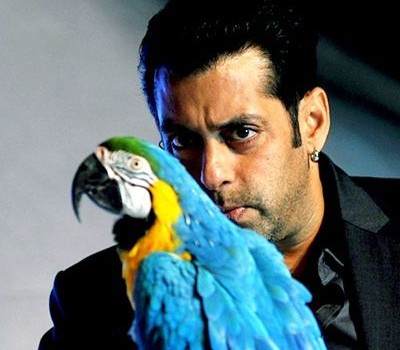 Published on October 10th, 2012
3
What's the parrot got to do with it?
Irrelevant additions to Bigg Boss this year include a parrot and a goldfish. Want something more? There's also a Panic Room.
By M | M@themetrognome.in
I would talk about the first episode of Bigg Boss Season 6, but this column is not a paid press plug. My point is simple – I want to talk about how absurd this show really is.
But first, rewind to Season 5, particularly, to one of the hosts.
In the last season, the Withering Action Heroes broke the stage down the middle when they shook a leg. They not only laughed at each other's jokes, but also gave us a crash course on detecting the early signs of a Botox job gone wrong, with their perpetual frown lines and sunken eyes. And who can forget the disturbingly scarlet music video with a bunch of goris dancing in the background, and our bhai and baba working their fingers in time to the music? That was actually a choreographed dance move, devised especially for our heroes, where they have to interlock their fingers, wiggle, separate and repeat! Oh, the challenges of choreography.
Clearly based on the audience response last year, the channel wanted a host that could at least walk without making it look like a task from Roadies. So they replaced baba with a Macaw parrot. Now, Macau parrots are magnificent, beautiful creatures that walk and fly, so naturally, the bird would fly right into the Bigg Boss house when the show began. The parrot is called Radhey, and has been hired to draw the most giggles from the audience by mimicking human speech. Radhey does more than this mere act of mimicry. Radhey can talk. Radhey can hold an actual conversation with Salmanbhai (not that that takes much doing). Radhey can sing, and on the sponsors' demand, Radhey can dance.
Actually, it's a great move to replace Sanjay Dutt with Radhey. Not only is Radhey, in his own words, (I never imagined I would ever quote a parrot) "smart, talented aur bahut intelligent," the chances of a parrot turning up on the sets with a hangover are fairly squat.
After replacing one host with a parrot, the channel got further carried away and brought in a goldfish to be the other host. Now, was this a strategy to replace Salmanbhai with a less complex life form? (I am yet to classify Vivek Oberoi under human species). This would be the perfect show, with a flying, singing and talking parrot and a lovely goldfish. A show to break all barriers of family entertainment and change the face of Indian television forever. Just then, in the channel office, a tunnel of light shone on the creative team and reminded them of the harsh  truth – no such substitutions could happen for the bhai of the show – there was a contract to be honoured, or else the channel could be dragged to court. Or at the very least, be run over by a car or two.
So the goldfish is now a house guest on the show. Meanwhile, Radhey will supposedly spy on the housemates.
Also, Fishy Kapoor is Bigg Boss' alter-ego. The fish will whisper to housemates in a 'fish voice'. Not all the housemates will know that the fish can talk, and having the fish give the rest of the housemates tasks to do will be great 'fun' to watch.
The marketing gurus for the show strongly believe that the house pets – tried and tested with Chiquita, a dog that featured in Big Brother UK a couple of years ago – will become a surrogate child to many, on and outside of the show, thus making this season family-oriented.
Spoiler alert! The housemates do not know that soon, each one of them is to be replaced with an animal like a dog, a fox and a raccoon.
Joke alert! I'm kidding.
As if the animals weren't enough, this season of Bigg Boss also features a Panic Room – not to be confused with safe havens in the house, concealed from the enemy.  The Panic Room on this show is supposed to create panic for the housemates. Don't even ask how this idea was thought of. Each time the panic alarm goes off, one of the contestants is nominated to enter the Panic Room, stay in it for the longest time and complete a panic-inducing task, lifted straight out of Fear Factor. They could eat disgusting food or scream as long as possible or watch Ek Tha Tiger on loop, who knows? And if the situation gets too much for them, they can buzz themselves out.
Moral of Bigg Boss 6: Pets on the show make it a wholesome family entertainer. Never mind that the host flashed a T-shirt on the very first episode of the season that read 'Tere Maaki Youth'.
Sharp as a tack, sitting on more hot scoops than she knows what to do with, M is a media professional with an eye on entertainment.