Watch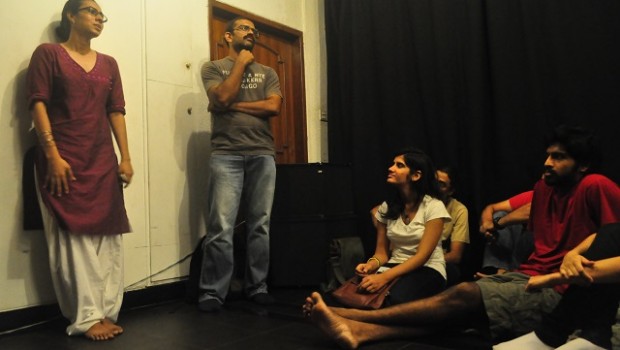 Published on March 25th, 2013
0
Strictly a Monday evening affair
Tonight, Vikalp@Prithvi showcases two powerful documentary films about women who challenge the norm, and women trapped in a barbaric tradition.
by Medha Kulkarni
On every last Monday of the month, Vikalp@Prithvi organises free film screenings at Prithvi House. Vikalp@Prithvi is a collaboration between Prithvi theatre and Vikalp, which conceptualised and started 'Films for Freedom' six years ago in 2007 and has since screened several award-winning documentaries and brilliant short films.
What's more, these films are made accessible to the general public for free.
The initiative is run by documentary filmmaker Anand Patwardhan and Chandni Parekh, psychologist and creator of online initiatives Chandni.org and Fund-A-Cause.
An assault on freedom of expression is an assault on democracy – this idea gave birth to Vikalp. What started off as a small festival has now morphed into a full-fledged movement. Vikalp insists that it is not an institution or a copyrighted idea, but is simply an inspiration, one that strives to ensure that voices of dissent will not be quashed or silenced.
Thus, the screenings that take place in various cities across the country are not necessarily in the name of Vilkap, although they do embrace its ideology. In Mumbai, there are specifically three venues that are said to be associated with this idea, namely the Tata Institute of Social Sciences (TISS) in Deonar; Alliance Francaise in Marine Lines, and of course, Prithvi Theatre in Juhu.
"All our shows are packed," says Chandni. "Right from students, NGO professionals and filmmakers to bankers…the crowd is diverse and the post-screening discussions are enriching."
Chandni says that the most memorable moment for Vikalp@Prithvi was in 2010, when they showed Deepa Bhatia's film on farmer suicides, Nero's Guests. "Many audience members voluntarily contributed to the donation box that we passed around to most of them at the end of the screening. We donated the entire amount of Rs 9,500 to Deepa to support the farmers in Maharashtra, whom she and journalist P Sainath have been helping," Chandni says.
If you're planning to catch a film today, you could consider these two powerful films at Vikalp@Prithvi:
Izzatnagari Ki Asabhya Betiyaan (The Immoral Daughters in the Land of Honour):
A documentary film about women who take on the powerful (and deeply misogunistic) khap panchayat is a powerful film that addresses the issues of 'honour' crimes, injustice and social boycotts. Directed by Nakul Singh Sawhney, the 93-minute long film chronicles the lives and stories of five young Jat women who rallied against the Khap Panchayts in their quest for freedom, justice and equality. The stories of these women are juxtaposed  with those of the Khaps. This poignant film exposes the double standards and violence that are conveniently kept out of sight and yet happen even today in a so-called modern India. The trailer of the film is here:
A Pinch of Skin:
This film talks about the hushed-up but rampant evil about the practice of female genital mutilation. The award-winning film exposes the brutal betrayal of innocent young girls, perprutated by a society that appears modern and yet retains the mindset of a cruel medieval one. In the guise of keeping a check on female sexuality, young pre-adolescent girls who have no control over what is being to them are the victims who have live with the burden of this life-long trauma. The narrative explores the voice of dissent (which sees this as politics of a sexual kind) intercut with those that insist that this heinous practice should be kept alive invoking the name of tradition. It is directed by film maker Priya Goswami who will be present for a Q & A session after the screening.
Screening Details: Head to Prithvi House, opposite Prithvi Theatre, Janki Kutir, Juhu Church Road, at 7 pm today, March 25. Entry is free, on a first-come-first-seated basis.
(Picture courtesy Chandni Parekh. Image is a file pic showing a post-screening discussion.)