Watch
Published on February 16th, 2015
0
Shop and explore art at Kurla this month
Phoenix Marketcity Kurla ties up with the art collective Dolna to present an art installation comprising work by renowned Indian artistes.
by The Editors | editor@themetrognome.in
Art continues to get the patronage it deserves in the country's financial capital, Mumbai. What is heartening is that contemporary art is stepping out of the confines of art galleries in the city and becoming accessible to the everyday Mumbaikar, in the spaces he or she frequents.
Taking the idea of making art accessible to all, Phoenix Marketcity Kurla has tied up with Dolna to present the 'Art Horizon Series' from February 15 to March 31, 2015. The idea behind the initiative is to allow every shopper to have a close encounter with art. This series opens with its first collection titled Eclectic Collection that mirrors the eclectic nature of life itself.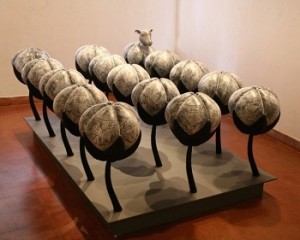 Through the Eclectic Collection, Phoenix Marketcity Kurla and Mithu Basu, Founder of Dolna, bring to Mumbai brilliant art curated from the studios of ace artists such as Shaam Pahapalkar (his work is featured above), Subodh Kerkar (his work is featured on right), Dr Sudhir Deshpande and Govind Biswas. "The aim of the exhibition is to take further Phoenix Market City, Kurla and Dolna's vision of widening the horizon for art, artists and the audience," says Mithu.
The Eclectic Collection consists of artwork and installations based on concepts such as reincarnation, the divide between rural and urban society, the daily life in a city, and many more contemporary concepts. The installations will be exhibited at the mall from February 15, 2015 to March 31, 2015.