Watch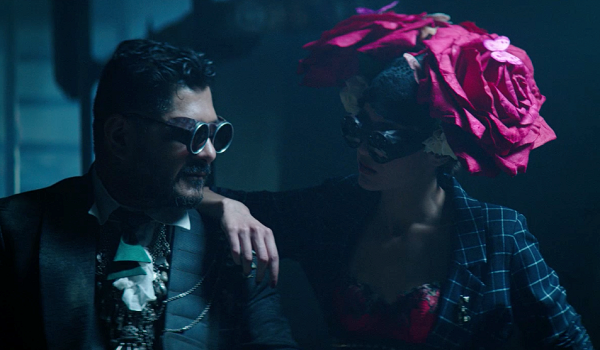 Published on April 13th, 2015
0
Dhruv and Ila go goth for 'Dhima'
Mumbai musician, lyricist and guitarist Dhruv Ghanekar and folk singer Ila Arun star in 'Dhima', a goth-inspired video for 'Voyage'.
by The Editors | editor@themetrognome.in
Mumbai musician Dhruv Ghanekar, after performing music across all genres and media, is now back with a new album, 'Voyage'. The single Dhima in this album is composed and performed by Dhruv Ghanekar and noted folk artiste Ila Arun. Dhruv is confident that the innovative video will make audiences sit up and take notice.
"The video for Dhima can be described as a hybrid of gothic rock, North African rhythms, and new wave," Dhruv explains. "The song is inspired by the desert of Rajasthan and North Africa. I have been listening to music from West and North Africa and found that there are so many intrinsic synergies in both the musical cultures. The marriage of these two sounds was screaming to be fused!" He adds that Ila Arun was a logical fit to sing the song as she is "the queen of folk music in India." Karim Ziad, who hails from Algeria but is a Parisian, performs on the drums while Linley Marthe performs bass. "This sort of video has not been done in the country. Director Razy Ghai has given it a Steam Punk Gothic vibe and created a visually stunning interpretation that challenges the viewer both sonically and visually," Dhruv explains.
He claims that the gothic grunge themed video features an eclectic blend of "the fantastic, the ghoulish, the bizarre and the forbidden". The crew was excited about Ila doing the video – she excelled, decked out in a dark gothic attire with her signature husky voice bringing a distinct sound to the single. The sexy, extravagant video explores the dark side of human nature with visions of anarchy, monsters, love and death set in a Burlesque Goth setting. She says, "When I was asked to collaborate on an ethnic folk song on Dhruv Ghanekar's international world music album with such a star-studded array of musicians from all over the world, I was thrilled and nervous. However, the experience of recording the song turned out to be fantastic and totally invigorating."
Watch the promo of the video:
For the uninitiated, Dhruv Ghanekar is a composer, producer and highly respected guitar player based in Mumbai. He has performed and recorded with some of the biggest names in music in India and in the international arena. He has collaborated and performed with Vieux Farka Toure, Richard Bona, Trilok Gurtu, Ustad Zakir Hussain, Bernard Purdee, AR Rahman, Raul Midon, Bob Belden, Scott Kinsey, Etienne M'Bappe, Dominic Dipiazza, Louis Banks and Ranjit Barot, to name a few. He has also performed at many leading festivals around the world as a leader of his band 'Dhruv', and composed music for over 3,500 commercials, many of which have won awards in India and abroad.
Dhruv has also scored music for many chart-busting film hits and several television programmes, including the prestigious BBC 1 – UK, Star TV, PIX, SONY and many more.