Tech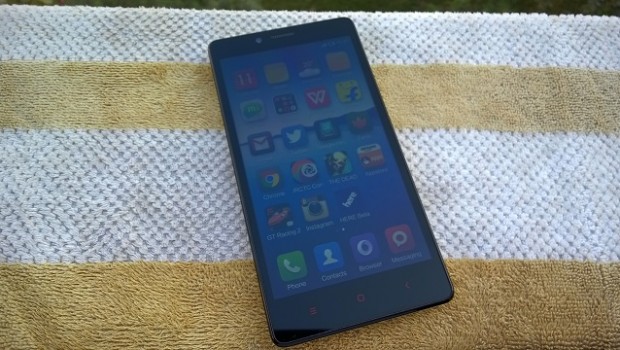 Published on December 16th, 2014
0
Review: Xiaomi's Redmi Note
With the new Redmi Note, Xiaomi sets its eyes on large-screen phone buyers, with a modest under-Rs 10,000 price tag.
by Manik Kakra | @Manik_K on Twitter
Xiaomi's entrance into the Indian market was quite a news story. While the company didn't sell as many units to set the market on fire lots of users, especially who were active over online portals, heard and talked about them. If you remember, we were quite impressed by the Mi 3, which performed really well despite in most departments despite priced under Rs 15,000. And with the Redmi Note, Xiaomi has set its eyes over large-screen buyers with a price tag of under Rs 10,000.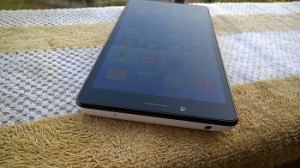 Looks and design. Xiaomi's Redmi Note (HM Note 1W) follows the large-screen-that-isn't-high-end trend. Weighing almost 200 grams and not being a thin device, the front has a 5.5-inch HD screen with Corning Gorilla Glass 3 on top. Three capacitive buttons – Options, Menu, and Back – below it, which glow in Red but aren't very bright. Above the screen are the front-facing camera, speaker grill and sensors along with a tiny LED notification light.
The back has a glossy thin plastic cover, removing which reveals two SIM card slots, microSD card slot and the removable battery unit that also stretches to the sides. The back houses the 13 MP camera with the LED flash next to it, loudspeaker towards the bottom and the Mi logo in silver. No doubt had the back been a little less slippery, or with a better finish, one would have found gripping the device more comfortable.
While the sides are plain, the right side has the Volume rocker and Power/ Lock key. These keys are not very premium to look at, but they are tactile to press. At the bottom is the primary mic and microUSB 2.0. On the top, you have the 3.5 mm headset jack and secondary mic. You could say the phone looks nothing extraordinary, and we would have liked the phone to be less bulky.
Screen. Its 5.5-inch (1280 x 720) screen is just about okay when it comes to resolution for phones in this price range. Images and webpages look quite sharp on the screen, though videos tend to appear a little washed out. The screen has decent viewing angles and can brighten when needed under various conditions. Games that support the given resolution, on the other hand, look just as nice as you expect.
Camera. The Redmi Note sports a 13 MP camera with an LED flash. Here are a few sample images.
The camera is no match for even a mid-range phone and just as good as most phones priced under Rs. 10,000. It takes sharp images under favourable conditions, but don't expect a lot. Photos in low-light, as you'd expect, are not at all worthy and you should avoid using this phone when it isn't bright with your subject being still.
Audio. Both in-ear and loudspeaker perform decently. You don't get any headset in the box, so you would have to get one yourself. Using a basic pair of earphones with the phone, expect a decent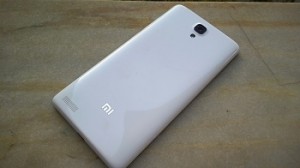 quality, quite loud but not too great. The loudspeaker on the back is also just okay and just about does its job while watching videos.
Battery. The device is equipped with a 3,200 mAh battery unit and it is the best thing about this device. You get more than a day of juice even with a bit of heavy usage. Having always sync on, watching videos for about half an hour, checking Twitter, playing a game like GT Racing 2 for half an hour, the phone's battery life stretches over a day, and with moderate usage, it should go even further. Being a large device, this is definitely a plus point.
Software and performance. The device runs on Android 4.2.2 coupled with MiUi. Under the hood, there is MediaTek's MT6592 SoC (1.7 GHz octa-core processor, Mali 450 MP GPU) along with 2 GB of RAM. The user gets about 5.8 Gb of available storage out of the box. All the apps are on your Home screen as there's no separate app launcher. You can make folders, change widgets on it and uninstall an app right from a Home screen.
MiUi is one of the active ROMs in the Android community and there are a lot of tweaks and mods available for it, if you want to try. It has been designed well with most things, like the Notification center, toggle buttons, icons, which go well with the OS's overall look and feel. Long-pressing the Options key gives a horizontal list of recent apps from where you can remove it; lock it apart from opening it. Or you can also remove each of those apps from the recent list and memory. Lock screen is simple yet useful: with a simple swipe-down gesture from a particular point to unlock it, or swipe it in other sides to directly open Messaging, Camera or Call Log.
The general performance of the phone leaves a lot to be bit desired. Initially, it seemed smooth to scroll, open apps and watch videos, but within two days of use, I saw quite a few issues. Many times when you come back to Home from an app, the launcher reloads; or if you go back to an app, it goes blank (works fine on other phones), which is a little surprising considering there's 2 GB of Ram in place. Plus, the phone is running on Android 4.2.2 that was released two years back and there's no word on when it will be updated to Android 4.4 (leave aside 5.0). Scrolling between Home screens, Settings, Dialler is mostly fine but you see signs of lag every now and then. Having said that, the phone handles games and HD videos without any troubles, this is one area that isn't going to disappoint you. To sum its overall performance, it is not really bad, but it's certainly not on par when you have used something like the Moto G (1st Generation) that is its competitor.
Concluding our review, the Redmi Note is a decent start from the company to kick off its 'phablet' plans. With a good screen, great battery life, decent camera and sub-par performance, anybody coming from a Mi 3 won't be very happy, but for those looking for a large-screen phone under Rs. 10,000, this could become a device to consider only if the company releases OS updates for it that includes a lot of performance improvement.