Tech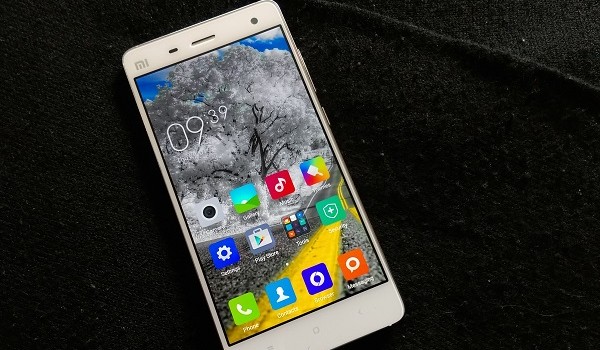 Published on February 18th, 2015
0
Review: Xiaomi Mi4
What's new and improved in the Mi4 model that the Mi3 didn't have? We do a check to find out.
by Manik Kakra | @Manik_K on Twitter
What comes to your mind when you hear the name Xiaomi? Good hardware specifications, reasonable pricing, and flash sale, right? And now, Xiaomi seems to be building further on those thoughts. With the Mi 3 making its India debut, the company made quite a few ripples in the online retail space – flash sale for a mid-range device that has hardware specifications you would associate with higher-end models. Does the Mi 4, with its revamped UI, upgraded camera, new design have what it takes to ship Xiaomi's ship further in the Indian market? Let's try and find out.
The looks. Xiaomi's Mi 4 (MI 4W) follows a different design language than the Mi 3. Having stainless steel frame around with chamfered edges, hard back with no curves and two vertical cuts on the top and bottom, the phone does have some heft to it and feels sturdy to hold. There are no creeks or random loose give to it. Besides the 5-inch full HD panel on the front, you see the silver Mi logo, sensors, ear speaker grill and front-facing camera while below the screen are the three touch keys – Menu/ Options key, Home and Back key, plus the oval-shaped LED notification light. These buttons and light lit up just about the right amount – not dull or too bright. On the left side panel, there's the micro SIM card slot, while the right side panel houses the volume rockers and Power Lock key, both are made out of metal, requiring you to press a bit firmly.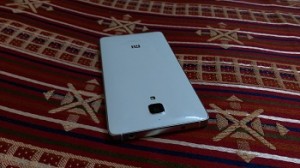 On the hard white rear, you'll see the 13 MP camera near the top-middle, surrounded by the LED flash and secondary mic, and the Mi logo towards the bottom. On the top, the infrared port and 3.5mm headset jack are placed; and the bottom sports the microUSB part and loudspeaker. The Mi 4 seems like having better design and feel than its predecessor, and it's good that Xiaomi didn't just follow its previous design pattern.
Screen. The device boasts a 5-inch (1920 x 1080) screen that's manufactured by JDI, which it claims provides a better solution than Gorilla Glass. The display produces good colours, is usable under direct sunlight and seems to have good viewing angles. Watching full HD videos and images, the screen won't disappoint, provided you haven't been using a high-end phone panel as the Mi 4 doesn't quite seem as sharp and vibrant as the most high-end phones, but it does the job pretty well.
Camera. Talking about the 13 MP (f/1.8) camera, the company claims it has been upgraded and vastly improved. Here are a few sample images.
The phone takes detailed, bright images when used under daylight conditions. Its shortcomings come to the fore when taking close-up shots and using it in low-light conditions. I liked the app, which has a lot of options and modes like Refocus, Burst, HDR, Panorama and also the manual mode, and yet the camera app is smooth and simple to operate. The front-facing 8 MP camera is more than capable in handling selfies and making video calls. Thanks to its wide-angle sensor, you can cover more area for group shots.
Network and call quality. The phone handles basics like network reception, call quality and network switches without any trouble. I didn't notice any network issues or call drops and WiFi, GPS and Bluetooth worked fine. Infrared connectivity, on the other hand, was a bit glitchy as it took me a while to sync and control a Samsung LED TV. On the audio side, the loudspeaker is loud and clear and not bad for games and videos, but it could have been placed ideally at a better place. You don't get any bundled headsets, but using a basic pair of earphones, the phone delivers above average in-ear output.
Battery. I found the 3,000 mAh battery unit a downside. The phone hardly ever lasted me a full day as it needed to be plugged in within 24 hours of a full charge. At about 30 per cent brightness,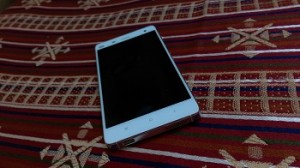 using Email, Twitter, Reddit and a bit of music and calls, you may end up with more juice when switching to the power-saving mode.
Software and performance. The Mi 4 runs on Android 4.4.4 with the new MiUI 6.3.9 in place. Under the hood, there is Qualcomm's Snapdragon 80 SoC (2.5 GHz quad-core processor, Adreno 330 GPU) coupled with 3 GB of RAM. Scrolling, swiping and opening of apps is fairly smooth. One thing worth mentioning is that the launcher often redraws, re-launches and you would have to wait a second or two to tap somewhere on your Home screen after exiting an app. This wasn't the case with the Mi 3 running MiUi 5, so hopefully there's a quick fix for this issue. With the 16 GB model, you get about 2.4 GB of storage space, so you might want to spend a bit more to get a 64 GB variant.
The new MiUI 6 seems like a more colourful, refreshing and minimal skin than earlier. With having all your app shortcuts and widgets on the Home screens and no separate app launcher, the setup isn't very different. What's different is the icons and widgets, which have been given a cleaner look.
Notifications have been given a major overhaul. You now get a pop-up like notification shade (similar to iOS) on getting an Email, SMS, etc. and can tap to reply no matter what app you're in. You can choose which app is allowed to show notifications in pop-up, preview its icon in the status bar and Lock screen. Status bar icons are redesigned also a bit more on the monochromatic side of looks. Clock has been shifted to the left side and Lock screen looks simpler now with the only shortcut being the camera app. App icons now show you if there's any unread message (showing a number), which is handy. Swiping down gives you toggle buttons and swiping left lands you at the notification shade. All in all, the new MiUI seems like a good step towards cleaner and neater UI, while there's surely shades of iOS at various places, there quite a few useful things and tricks to like in it.
Concluding our review, the Mi 4, which we would have appreciated if Xiaomi had launched sooner than six months of its initial launch, seems like a worth competitor in this mid-range. It has a good screen, average battery life, capable camera, it might not be as compelling as the Mi 3 for its price, but is a worthy competitor to the likes of the HTC Desire 820Q, OnePlus One, Lenovo Vibe X2, giving a bunch of good options to buyers to pick from.