Tech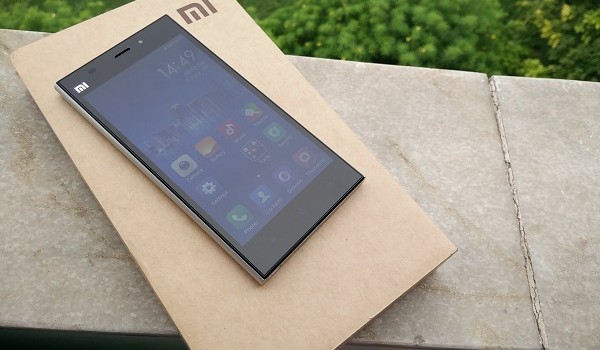 Published on August 20th, 2014
0
Review: Xiaomi Mi 3
Most Chinese smartphones in India are providing high end hardware at mid-range prices, but Xiaomi Mi 3 goes one better.
by Manik Kakra | @Manik_K on Twitter
We have seen a few China-based smartphone players enter the Indian market in the last one year or so, and now there's Xiaomi. Most of these companies compete on providing high-end hardware at mid-range prices, and Xiaomi, to add to it, bets at selling units near to cost and playing on sale units. The Mi 3 is Xiaomi's first device to be officially available in India, creating a quite a lot of online buzz – whether it's for the limited supply, or for their India launch – so, let's try and see if the phone actually delivers or not.
Xiaomi's Mi 3 (MI 3W) is a full-fledged mid-range Android 4.4.2 smartphone that tries to compete with its near-cost market price. The device follows a similar form factor that we are used to seeing these days. It sports a nearly all-black front and silver back and sides. Alongside the MI logo and sensors, are the speaker grill and the 2 MP front-facing camera on the other side.
The looks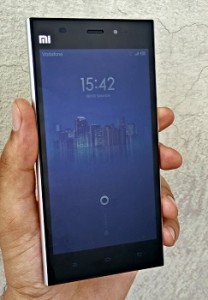 Other than the 5-inch full HD screen, the front has three touch keys – Menu, Home, and Back (from left to right). The keys are well spaced, but are a bit too dim relative to what we have been used to. The right side panel houses the volume rocker and Power/Lock key (near the middle); while the left side is completely plain.
The microUSB port and speakers sit at the bottom, and the 3.55mm headset jack and SIM card (normal mini SIM) slot are located right at the top. The first thing you notice on holding the device is that it has no aluminium build but hard plastic, which doesn't feel cheap or doesn't creak anywhere. There seems to be a decent effort taken to make the device grip well in your palm, thanks to the slight curve at the back and edges. It may not be a premium-built device, but it is definitely not something to complain about, either.
At the back, other than the logo and product ID, you have the 13 MP camera with twin LED flash and the secondary mic (sitting near the top left). One more thing you may realise is that the phone feels a bit heavier towards the bottom half, which may well be due to the battery unit placement (non-user accessible), but this isn't something you see in many other phones these days.
The screen
Coming to the phone's 1080p LCD touchscreen, this is a good, bright display. Videos, text, web surfing are nice and readable on the screen. On one hand, it is hard to see it toppling the high-end screens on the Ones and S5s, but on the other hand, this is pretty much the best screen on a phone at this price. So, we could say that the screen delivers and doesn't disappoint keeping the price in mind.
Battery
The phone houses a 3,050 mAh battery unit. I mostly got 22 hours from the phone with a good amount of usage, which included a few videos streamed (around half an hour), a lot of Twitter and emails, a few calls and about half an hour of music. Connectivity-wise, Bluetooth 4.0, GOS work well with no real qualms in pairing or locking the position.
Loudspeakers and audio
The phone's loudspeakers are placed right at the bottom. The speakers are single unit and are not at all loud. In fact, they are probably the worst unit I have seen on a smartphone for a long time. Forget multimedia, you won't be able to hear your phone ringing if it is a few feet away from you; due to this, I missed quite a few calls within a day of using the phone. I was sent a Chinese unit, so I am not too sure if this issue is particular to the Indian mode, too. In-ear audio and call quality reveal a different picture, though. Call quality is good, audio is loud and clear, plus, in-ear audio quality is also pretty decent and would be even better with your third-party headphones.
Camera
The Mi 3 boasts a 13 MP (EXMOR RS) camera on the back, along with twin LED flash. Here are a few sample images: http://imgur.com/a/7qBdU
The snapper on the Mi 3 doesn't disappoint. It is fast to focus and use in general. As you can see, the photos look detailed, quite sharp and colours come out pretty well, too. But,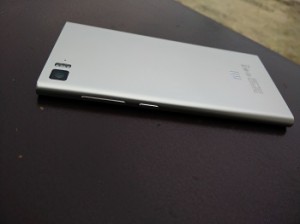 when used in dark conditions, the camera shows its weak spot. Photos come out noisy and dark enough to not be considered good by any means. The default camera app is smooth to operate with a lot of options to choose from. It is safe to say you won't be disappointed by the native app. Just to add, the front-facing camera isn't much to write about. It looks like a cheap 2 MP sensor, which does about its job just for the sake of it.
Software
Now let's talk a bit about the software on the phone. The Mi 3 runs on MIUI 5 (buil number 23.0), which is based on Android 4.4.2 KitKat. A lot of you who are into flashing custom ROMs and putting mods on your phones would be familiar with the name MIUI. The software has grown and improved a lot since its first version came out four years back. Xiaomi has done a lot of work on the OS, and the community, with an increasing number of moders and users, has been shaping up well.
The OS doesn't have separate app launchers and all your apps are placed on Home screens (something we have used on a couple of other OEM skins as well). The overall feel and look of the MIUI 5 OS is different from stock Android. Indian units come with Google services and apps loaded, but this isn't the case for Chinese users. App icons, UI, etc., all are well-thought out and appear they are not rushed into.
Long-pressing the Menu key brings up recent app view (horizontally put in the bottom half of the screen), long-pressing the Home key takes you to Google Now. You can change these settings, even add for the Back key, as per your wish, from Settings. There are a number of nifty tools like Permission Manager, which allows you to set which app can access what, cleaner to keep a check on traso and temporary items. , and so on. The notification center can be pulled down from any part of the screen and not just its top. Overall, MiUI seems a reasonably good and usable custom skin to use and the recent history is to be believed, you can expect a lot of updates and improvements from Xiaomi for the same. Oh, and for those interested, Xiaomi allows you to flash official MIUI ROM zips on the phone on your own without having to void your warranty.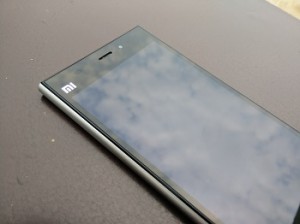 Under the hood, there is a Snapdragon 800 SoC (2.3 GHz quad-core processor, Adreno 330 GPU), along with 2 GB of RAM. The phone is smooth and fluid to work on. I didn't see any lags for the most part, and there wasn't any stuttering or any noticeable drop in frames while playing games or high quality games on the Mi 3. Overall, the phone breezes through general usage and handles a few apps running in the background just well.
Concluding our review, the Xiaomi Mi 3 is a very attractively priced Snapdragon 800 smartphone that delivers for most part and doesn't disappoint when keeping its price in mind. Good screen, decent battery life and camera, above average design, there isn't much to pin point where the phone lags behind. It will be safe to say that with Xiaomi and maybe a few more players in the market, the price wars have become more interesting, but, without having to compromise on performance, experience and design. The Mi 3 seems like the best phone (if you're okay with no storage option beyond on-board 16 GB) for a price around Rs 14,000 with no major shortcomings, which can only mean better choices for the user in the near future.