Tech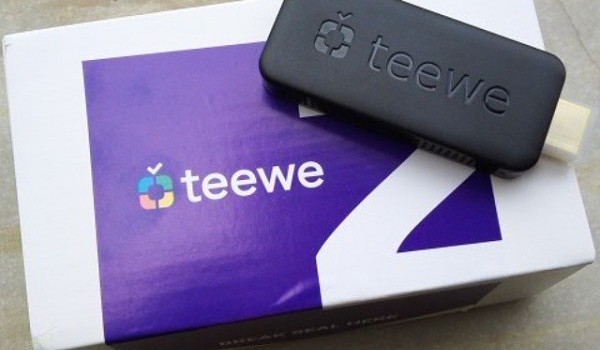 Published on June 24th, 2015
1
Review: Teewe 2
We test the recently released and improved streaming dongle Teewe 2 and come away pleased with its performance and features.
by Manik Kakra | @Manik_K on Twitter
More and more people these days want their TV to be a bit more than just an idiot box. We have had smart TVs in the market for a couple of years now, but haven't seen anything that provides any extra utility. This is where the likes of Teewe and Chromecast come in. Teewe, an Indian startup (MangoMan), came out with its first streaming stick last year; got good reviews, and is now out with the new Teewe 2, apparently better since they have listened to a lot of customer feedback.
What is it? Teewe 2 is a streaming dongle. It allows you to mirror or throw something that you're watching on your phone or PC or have it stored right on your TV's bigger screen. In the box, you get an HDMI cable, a relatively longer USB cable, power adapter, the stick itself and a setup manual. The stick is a little bigger in size than a usual thumb drive, but a bit smaller than the original Teewe.
The looks. It is all-black, made out of plastic, with the HDMI port right at the top and microUSB port on one side. Its internal hardware comprises a 1.6 GHz quad-core ARM Cortex A9 based processor, quad-core GPU, 1 GB of RAM and 4 GB of storage space (not accessible). It is essentially based on Android 4.2's development tree and the company provides firmware updates in the background.
Setting up the device. It supports Windows (requires Java installed), Mac OS X, Linux (JVM), iOS, Android, Windows Phone, and even has a plugin Chrome along with a Web app. Insert it in your TV's HDMI port, put the smaller microUSB side into the Teewe 2 dongle and its charging USB side either into a power socket (through the power adapter) or your TV's USB port.
While most TVs will provide for power through a USB port, if yours doesn't, you would have to make use of the long microUSB cable extending it to power socket. As soon as you switch your TV's HDMI mode and fire up the app on your device, the dongle will search for the device while connecting to a WiFi network. Keep in mind, both your device and dongle need to be on the same network.
What's good. I tried the device on Chrome and an Android smartphone, and found the app to be pretty decent. The Android app shows you content from YouTube (you can search further), local content on your phone like images, videos, and audio files. Using the Chrome plugin, you can either play some video or audio content from a Webpage or mirror a tab, so whatever is playing on that tab exactly mirrors on your TV. For movies stored on your PC, you can even have subtitles streamed and synced with any movie playing on your TV, but this feature is only available on Windows for now.
Performance. The stick streamed up to 720p at 60FPS for me. The Android app allows you to select from HD or SD, though you cannot do it while playing a video and have to select it from the app's main page once. Streaming worked smoothly and I rarely found a stutter. If you're streaming from, say, YouTube, its loading and playing time obviously depends on your Internet connection. If you're playing local files, the dongle uses FTP, and it worked well for me, whether high quality images, audio files or a video. I couldn't get the Teewe 2 stick to do full HD 1080p, though. For now, it doesn't mirror your entire phone or PC, but the company is working on it. Buyers also get 60 GB of additional broadband data if they're using an Airtel connection, and two months of free EROS service via the Teewe 2 apps.
The verdict. All in all, I think the Tewee 2 does its job really well. It is mainly for streaming content from the Web or local and has no fancy, useless features that would make it perform poorly. My only concern is with the ChromeCast 2 launching quite soon, but if you aren't bothered to wait, and are looking for a good option to make a better use of your HD TV, the Teewe 2 could well be a good buy for you under Rs 2,400.
Would you try this device? Tell us in the comments section below.