Tech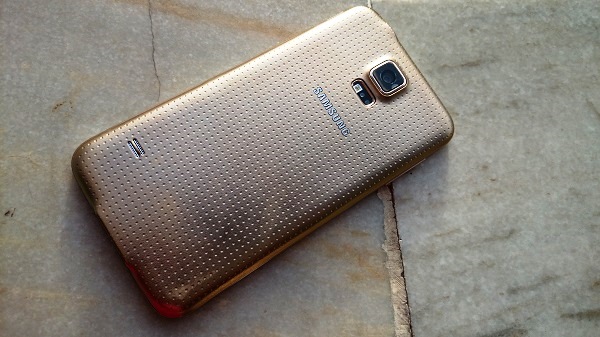 Published on June 17th, 2014
0
Review: Samsung Galaxy S5
Samsung is going great guns in the phone market. We review what their new flagship phone, Galaxy S5, is about.
by Manik Kakra | @Manik_K on Twitter
Looking at the phones people are using, I am quite sure a lot of phones would be made by one phone giant – Samsung. Samsung's success, especially with the Android platform in place, has only matured over the last two years or so. Millions of Galaxy units have already been sold out, and the series continues to reach newer heights for the Korean giant.
So, Samsung's Galaxy S5 comes at an interesting time. Many other manufacturers, just like previous years, have released their flagship device, but this time, it seems, Samsung may require more steam to reach new consumers than it has ever in these last two to three years. Without further ado, let's check what really this new Samsung water-resistant, dust-resistant flagship is about.
Hardware and performance
Samsung's Galaxy S5 (SM-G900H) packs pretty much the latest when it comes to its internals. As far as design and materials are concerned, it doesn't inspire this time.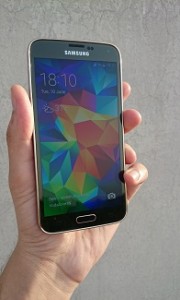 The first time you hold it, you realise the dotted, textured back is better for grip than the S4's hyper-glossy rear. The front, dominated by the 5-inch full HD screen, with a slightly new button layout below it – Multi-app view, Home (which also equips the fingerprint scanner), and Back button – doesn't appear very different from the S4's.
On the screen's top, you get the usual LED light, Samsung logo in the middle, front camera on its other side and several sensors hidden. The rear, boasting a 16 MP camera with the heart rate monitor (and the LED flash) right below it, also has the loudspeakers, which actually make the whole bottom half of the phone vibrate when playing some music or game at high volumes.
The top has the 3.5mm headset jack; microUS3.0 port (supports 2.0, too) sits at the bottom under a plastic flap; and volume rockers and Power/ Lock button on left and right side panels, respectively. If you try them a few times, you'll soon notice the clickety sound these physical buttons – volume and Home – produce. Some people may not like this, especially the Home button, given how frequently you're going to use it.
Coming to the phone's 5.1-inch full HD S AMOLED screen, it is, as expected from Samsung, a fantastic panel. The AMOLED technology is now mature enough to stand with LCDs when it comes to rich colours that are not black or white. Black levels are just as good as we have been seeing on AMOLED panels, and viewing angles are not bad, either. Full HD videos look really nice on the phone's bright screen, and this is definitely one of the best things about this Galaxy device. You're not going to be let down by it. Oh, and if you want, you can choose from different screen modes, whichever colour gamut you prefer on the phone.
Camera
Moving to the 16 MP (fast AF) f/2.2 rear camera, Samsung seems to have put in a lot of effort to improve its camera app and also give better images from the S4, which was already a good camera phone. There are some pretty neat tricks in the camera app. Apart from the usual HDR and Burst mode shots, you can choose to switch on Selective Focus (HTC calls its own trick as UFocus) in the camera app, which allows you to change the focus subject in your image later. It defocuses according to your need, and that's why mostly works in good lighting conditions.
Under low light, it may not capture or the option to start Selective Focus might not even show up because of low light. As far as image result goes, this is great performer. You can view a few sample images here.
The camera is capable of capturing good detailed shots, and is decent under low light conditions. You can even shoot 4K videos or HD videos at 120 FPS.
Sound
Talking about the phone's sound quality, due to the thin rear cover, whenever you play something on higher volumes, it sort of vibrates the lower half of the phone's body. Other than that, the phone is quite loud, clear, and in-ear box headphones are a decent pair. Call quality on the phone is top notch, and there was no issue regarding network reception during the usage period.
The S5 is IP67 certified, meaning it is dust resistant, and it can hold well when put into water up to a metre for about half an hour. Every time you switch on the phone, you are prompted to check if the back cover has been put on properly, and similarly, after you remove the charger, the phone notifies to check if there flap has been properly put or not. Just be a bit careful with that flap, it seems very delicate and might just come of the body after a few weeks.
Software and performance
The Samsung Galaxy S5 runs on Android 4.4.2 out of the box, along with Samsung's own TouchWiz Nature UX 3.0 on top. Credit to Samsung for not shipping the phone with a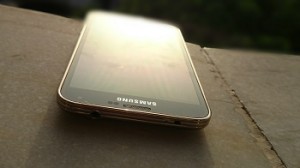 previous Android OS version and providing KitKat from the start.
Samsung was quite vocal during its Galaxy S5 has got a much better, tweaked version of TouchWiz, and it shows that the whole software has gone a few changes as soon as you start using the smartphone. While the basic Home screen setup remains same, there are now a lot of new and improved looking icons. Even under Settings, Gallery, etc., there are a few minor changes and those are welcome.
However, the more you use it, you will see there hasn't been much done for making the whole experience smoother or less confusing. More on this in a bit. The leftward-most screen gives you a personalised magazine where you can add you news, content as per your liking. For App launcher, again, it appears a little changed and for better. You now have to drag an app icon upwards and then to your desired Home screen, in order to make a shortcut. Folders, with your desired name and colour, can be made in the app launcher as well as Home screens. As for S features are concerned, there are loads of them, just like the S4.
The battery backup of the device was about 20 hours on an average. Samsung has added Ultra Power saving mode, which basically makes your smartphone a dumb-phone as you can only make and receive calls and text messages or set an alarm. It could be quite handy in times of emergency, giving a seriously long time of battery juice.
Moving to the S5's much-talked about fingerprint scanner, it can be used to unlock the device. You have swipe your finger or thumb over it, or you could also opt to use an alternative password in case it the screen needs to be unlocked. When I tried to use the fingerprint scanner with my finger, it was a hit and miss case; worked about half of the times, but when I used my thumb, it worked, liked, 8 out of 10 times. The thing is, it probably doesn't recognize various angles.
All in all, Samsung has done a good job with the Galaxy S5. If you're looking for a new smartphone at the high-end range, this is good time to be in the market. If you've used a Samsung flagship in the last two years, you know the good and bad, but coming from another manufacturer, the transition might not be that smooth. The S5's price hasn't held too well in the market so far, and this might well be a reason to check it when doing your phone search.