Tech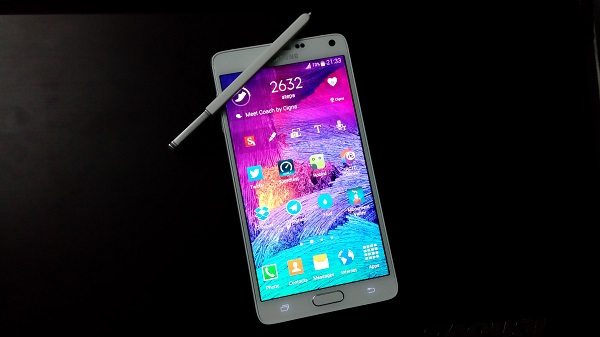 Published on November 24th, 2014
0
Review: Samsung Galaxy Note 4
Samsung's newest smartphone has everything you need and much more – and it's larger, with a smarter S Pen, too.
by Manik Kakra | @Manik_K on Twitter
Just about every smartphone manufacturer is coming out with large phones. And why not, people want to consume more content, watch videos, see more high quality images, and more. It won't be wrong to say that if there's one company who started this trend and is leading it, it's Samsung. The Korean giant's Note series is one of the most popular smartphone names, and they've just come out with the Galaxy Note 4 priced at Rs 55,000.
The looks. Samsung's Galaxy Note 4 (SM-N910G) is (after the Galaxy Alpha) is what the company's design will be for its near future. The phone comes with a different chassis that you wouldn't find in any of the previous Note handsets. With dual chamfered edges (squared at four angles) and polycarbonate rear cover with textured surface, the phone feels very different and better from the Note 3 or even the Galaxy S5.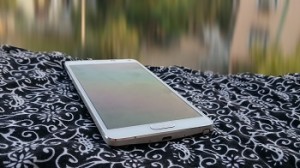 Of course, the device is really large (which is a given for a Note smartphone), but it is nice and not too uncomfortable. The front, with the 5.7-inch Super AMOLED, also sports sensors on top, 3.7 MP front camera, ear speaker grill in the middle next to the Samsung logo, and the LED notification light on the other side.
The screen's bottom has the physical Home button with Recent apps key on its right and Back key on its left (no Menu key). At the bottom, apart from the noticeable curved back cover, you see two mics, microUSB 2.0 and the S-Pen slot that embeds in the rear neatly. The top has the 3.5 mm headset jack, another mic, and the Infrared port.
On the back, the textured surface houses the 16 MP camera with LED flash and Heart rate monitor, Samsung logo, 4G sign and loudspeaker grill (going from top to bottom). There are volume rockers on the left; and the Power/ Lock key on the other side, finished similar to the Galaxy Alpha. The Note 4 is a large device, and Samsung has done most things right to get the design correct including thin bezels and durability, and it's a good thing if Samsung follows up on this design line for its upcoming flagships.
The Note 4 is a lot about that 5.7-inch Super AMOLED that has a curved Gorilla Glass 3 on its top. The glass on top gels very well with the phone's body to give you a smoother experience while scrolling on the screen. While there's some difference between the body and the glass at one side of our review unit, which might welcome some dust at prolonged usage, it isn't much of an issue and probably even sorted with current retail units.
The screen. This is Samsung's AMOLED at its best. With a 2560 x 1440 high resolution screen, watching videos is a great experience. What makes it better is reading text, where even finer text would appear very nice and a joy to read. The colours look vibrant, sharp and different from an LCD, which is expected, and the deep black levels are very high. Using the screen under direct sunlight is good too, as it's readable without having to crank the brightness level to maximum.
Camera. Another interesting feature in the Note series has been Samsung's camera, which is often the best that the company offers in its line-up. The phone boasts a 16 MP (AF) camera with an LED flash, which can reconrd 2160p at 30 FPS videos, or even 720p videos at 120 FPS. For images also, there are various resolution settings you can choose from. Here are a few sample images.
The camera on the Note 4 can take good, detailed shots. Thanks to the OIS capabilities, its low-light performance is not bad (but it can be dodgy). The camera app is smooth, has plenty of options,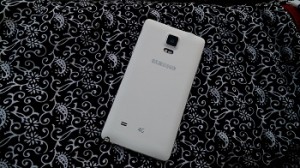 and quick to change and select modes from. The selective focus, HDR, etc. work very well, better than on the S5. For those who find it uncomfortable to use the Note 4 to take photos, they have the option to try switching to taking shots by pressing the volume buttons. You could say that the Note 4's camera is one of the best to come out this year and every kind of user will find something useful in there.
Battery life. Powering up all those bells and whistles is the 3,220 mAh battery unit that is accessible by removing the back cover (and also reveals the microSD card slot and micro SIM slot). More often that not, battery life on the Note phones is said to be among the top few smartphones, but the story is a little less sunny with the Note 4. More often than not, the Note 4 just about lasted me a day, which isn't bad, but you expect a Note phone to last you a little longer than that. With brightness level at 30 per cent, lots of Emails, S Health, Twitter, half an hour of gaming and music playback, you should be fine for about a day long usage. The phone comes with a higher-capacity for charging the device quicker. The Note 4 gets charged from zero to 50 per cent in half an hour, and fully charged from zero in about 90 minutes, which is great.
Connectivity. The Note 4 has plenty of options and all of which I tried worked just as they should. The network reception on the Note 4 is as good as you need. In-ear call quality is top-notch, too.
Audio. Audio quality of the phone with the loudspeaker seated on the back is pretty good. It is not bad at all for games and videos, but it would have been certainly better had Samsung not gone with mono speakers and also placed them at the front.
Software and features. The Note 4 boasts a Snapdragon 805 SoC (2.7 GHz quad-core processor, Adreno 420 GPU), along with a whopping 3 GB of RAM. Specifications-wise, you need not look elsewhere. The phone runs on Android 4.4.4 with TouchWiz on top.
One of the USPs of the Note series has been its S-Pen. The Note 4's S-Pen is actually much improved and has a few handy features to work with. As soon as you pull out the S-Pen, after a brief vibration, you get four options in a pop-up. From here, you can choose to make a memo by writing with the S-Pen, take a screenshot and edit it, or take a clipping of what's currently on your screen and share it, or share an image from one app and paste into another.
The Note 4 also has Samsung's popular multi-window feature that lets you access and check on more than one app at once. The Multi-Window mode can be enabled by long-pressing the Back button. You can make an app window smaller by swiping from one of the top corners. Many pre-loaded apps like Gallery, Chrome, S Note, Twitter for Android support this functionality and it actually works better than ever. The whole experience of running two apps on your screen at once offers much less stuttering than before.
Performance. The phone is smooth to watch videos, navigate through Home screens as it should be, but it lags a little in Settings. It is smoother than the S5, in my opinion, but with multi window and Gallery opened (just an example), the phone starts to slow. For the most part, the experience is quite smooth and almost lag-free. Samsung has also done a few changes to its software's look; Settings now shows you most used options at the top followed by the usual list order. You can now lock the screen while watching a video in order to not have any screen operations by mistake by just tapping the Power key within the native Video app.
As far as Home screens and Menu launcher are concerned, the look and feel is the same. The functioning is no different, and I would still say that Samsung could really do with a step up on their icons and font in use. The 32 GB variant has about 24 GB of storage space for the user.
Concluding our review, the Galaxy Note 4 is surely one of the best smartphones out there. It has an excellent screen, a great camera, decent battery life, and improved design and S Pen functionality, so if you are looking for a large screen device and have the required budget, you should surely take Samsung's latest Note in consideration.