Tech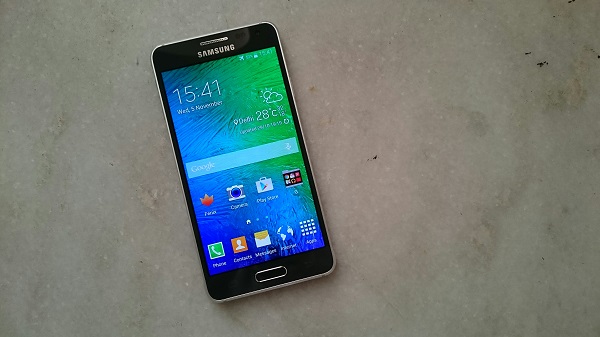 Published on November 7th, 2014
0
Review: Samsung Galaxy Alpha
Samsung has upgraded its design and done away with some irritating features, but little else has changed for their newest phone.
by Manik Kakra | @Manik_K on Twitter
If there's anything in the Android space that's withstood lots of tests, it has been Samsung's Galaxy S and Note series. The two series have done exceptionally well in various markets, but now Samsung is thinking differently, and working to improve their phone design and looks. In the last three years or so, the company has been lauded for great phone features and offerings, but it has also been criticised for not thinking over its design and material choices. This is where the Samsung Galaxy Alpha comes in.
The looks. Samsung's Galaxy Alpha (SM-G850Y) has a dual chamfered aluminium frame with slightly narrowed edges –a big change in a Samsung smartphone. Samsung has gone with chrome edges quite a few times, but these looked like fake metal and didn't last long. But as soon as you pick this phone, you will notice how nice the phone feels and how comfortable it is to grip. With its 4.7-inch 720p screen with decent-sized bezels, lightweight profile (115 g), the phone feels compact and is surely not a bulky handset by today's standard.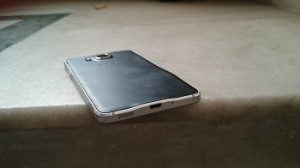 The front, other than the screen, sports the speaker grill, Samsung logo, front-facing camera and sensors at the top; and three navigation keys – Menu, Home (physical), Back – at the bottom. The left side panel locates volume rockers (single body that sort of flats towards the middle part); while the right side panel carries the Power/Lock key. Again, if you look at these physical keys, you realise the company has chosen materials thoughtfully. Though it would have been better had these buttons been required to press a little less firmly, they look nice and give just right feedback on pressing.
Coming to the back, you see the main camera with the LED flash and heart rate monitor embedded inside, and the Samsung logo and loudspeakers towards the bottom. The back panel is made of a thin plastic sheet, which is probably the only design flaw that could have been handled better. The back sports a patterned design, a bit different from the Note 3 and definitely better to look at on first glance. The 3.5mm headset jack and secondary mic are placed right at the top (where you can also see two plastic cut-outs for antenna purpose); and the microUSB 2.0 has been neatly placed at the bottom
Screen. The 4.7-inch (1280 x 720) Super AMOLED screen is far from being one of the best out there. The S5 has a full HD Super AMOLED, but the Alpha has an HD screen that does a good job for viewing videos, playing games and when used under direct sunlight. The black levels are deep, colours look vibrant and quite saturated (red and green), which you expect from a Samsung AMOLED. But it doesn't quite show accurate colours. The screen has good viewing angles, and its flaws are not deal breakers.
Audio. The loudspeaker at the bottom is actually fairly loud and mostly clear. If you are okay with its placement and don't find yourself putting your hand on it unknowingly and muffling sound, it performs well for videos as well as games. In-ear audio quality with the bundled headsets is also decent. It does its job well, giving clear audio for most basic use and handling beats and treble quite well as a default smartphone headset would.
Camera. The phone sports a 12 MP camera (f/2.2) at the back with an LED flash. The native camera app is exactly what we have on the S5 that is simple and smooth to use. Here are a few sample images
As you can see, the phone can take sharp and quite detailed photos. It performs pretty well in good light conditions, but struggles in low light. The camera takes a little with noticeable contrast while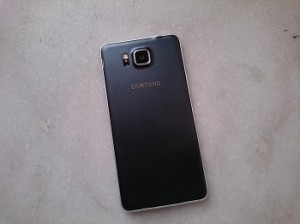 to focus in low light (with stabilisation) and clearly isn't that good in that department. With default settings, though, you can take pretty good shots. There are plenty of modes to choose from, like HDR, Panorama, Selective Focus, which works as well as the S5.The camera can also take ultra HD videos, which can also be edited later.
Battery. The phone houses a 1,860 mAh battery unit. It is not too large by any modern smartphone standard, and it shows in the battery life. I found the phone struggling to go beyond 20 hours of usage. Having said that, with moderate usage, it can give you nearly a day's use. With a little high brightness level and playing a couple of games, checking Twitter, and Emails, you will find yourself having to charge the phone more than once every 24 hours. With that thin profile, seems like battery life took quite a toll on itself. Connectivity-wise, the phone doesn't give any troubles. Bluetooth, GPS lock-in, NFC, WiFi perform just as you would expect from a smartphone.
Software and performance. The Indian Galaxy Alpha variant has Samsung's Exynos 5430 (1.8 GHz quad-core processor + 1.3 GHz quad-core processor and Mali-T628 GPU) coupled with 2 GB of RAM. The phone runs on Android 4.4.4 with TouchWiz UI on top. This is a 32 GB model with around 25.8 GB of usable storage space. Talking about the phone's software and performance, it is similar to what we saw on the Galaxy S5. The phone can handle heavy webpages, games, closing and resuming apps just fine. But you will find the UI stuttering a little every now and then. One out of five times on pressing the Power/ Lock key to unlock the device, you will see the screen doesn't light up for three to four seconds while two navigation keys illuminate immediately – a bug. Also, on pressing the Recent apps key, there's some delay when the recent apps line-up and you can press the app of your choice. It would have been nicer had Samsung done a few subtle changes with its TouchWiz, maybe marking the start of better iconography, fonts and toning down on how heavy TouchWiz feels at times.
The Galaxy Alpha is more about Samsung's change in design for its upcoming devices and less about this device itself. The phone clearly performs better in the design department compared to other Samsung phones during the last two to three years. With a decent screen, good camera, average battery life, it's a bit hard to suggest this phone over the S5, but for those looking for a Samsung phone that doesn't feel tacky and is comfortable to hold, this might be a good option.