Tech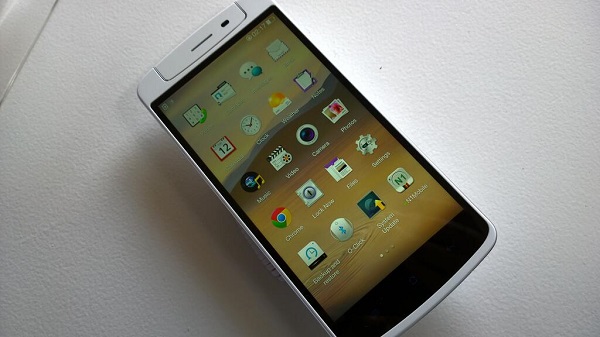 Published on April 30th, 2014
0
Review: Oppo N1 phone
We take a look at the Chinese entrant's new phone in the Indian market and come away more than impressed.
by Manik Kakra | @Manik_K on Twitter
Oppo has entered the Indian market this calendar year, and we have seen a few other Chinese manufacturers foray into India recently. The N1 is company's first flagship device launched here, and it has quite a few firsts. This Oppo phone has a swivelling 13 MP camera that rotates 207 degree, it also comes with an accessory called O Click (more on that later), and it also packs a touch-sensitive back panel with control capabilities. So, let's get started with our review.
Hardware and design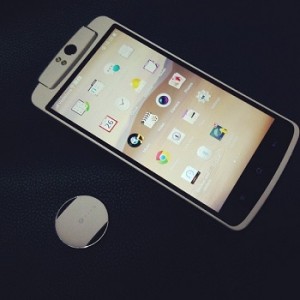 The Oppo N1 sports a 5.9-inch full HD display, and follows a similar phablet (larger phones) form factor. With a slightly curved back and rounded edges, the device does fit quite well in the hand, if you have a bit large hands, but it is, without a doubt, a bit on the large side. Many people may feel uncomfortable handling it for their day-to-day usage, but then you would have bought one already knowing its size and weight. The build quality and finish is actually pretty nice. The phone doesn't creek or produce any weird sounds and I didn't notice any bendable or loose parts anywhere on the body, and thanks to ceramic finish, there're almost no fingerprints to be seen on the body. Coming to the right sidepanel, it sports the Power/ Sleep button, and volume rockers below them. On the left sidepanel, there's only the SIM tray to be seen. On top, you have the camera module and two LED flash; while the 3.55mm headset jack and loudspeakers are placed right at the bottom.
The phone's 5.9-inch full HD IPS display, which dominates the front, is crisp to look at. The colours come out vibrant, and it is decent for outdoor usage. Viewing angles are good, and there isn't any loss while viewing HD videos or playing graphic intensive games on it. While the PPI count may not be the highest out there, it is definitely a good screen.
Camera
The 13 MP f/2.0 camera with two LED flash and swivelling mechanism in place is certainly one of the USPs of this device. You can rotate the camera to use it has the front-facing camera, or just adjust its angle as per the subject of your photo. The rotating module is fitted well and doesn't give any problems. The company says it has been tested for 1,00,000 rotations. The camera takes sharp and very nice photos. I got well-contrasted and clear photos pretty much every time.
The only time you feel that the camera could have done better is when used in low-light or indoors, when you get some noise. And because it doubles up as the front-facing camera, you get higher quality video calls and selfies (if you're into them). Also the camera app is very nice and simple to use. The settings options are clear and there's a lot to choose from. All in all, this camera is one of the best things about the phone, delivering good shots majority of times.
Audio quality and battery
The in-ear audio quality is clear, though it could have been a bit on the louder side. Use your third-party headset and then the phone delivers. Call quality is very good, and I didn't notice any abnormal or strange network reception issues throughout my usage of the phone.
The N1 comes packed with 3,100 mAh battery, and it lasted me a full day on a single charge, like, 8 out of 10 times. I was less and less worried about the battery life the more number of days I used the device, meaning its battery is not bad at all. The usage mainly includes lots of Emails, Twitter, a few videos and games, one or two calls and a bit of Web.
O Touch
The phone is also equipped with something called O Touch. Basically, there's a small square on the back that has is touch-sensitive, and you can scroll the screen using your finger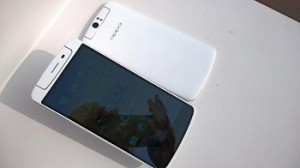 on the O Touch area. It works but not very neatly and accurately; not something you would use frequently.
O Click is a fancy accessory that you get along with the phone. It can be paired with the phine via Bluetooth – and can be used to do a few things. You can, using the available settings options, use it to click a photo on clicking the O Click; program it to alert you when the phone is away (pre-specified distance) from your O Click.
Software and performance
Running on Android 4.2.2 with the company's own ColorOS, the Oppo N1 has hardly any stock Android feel and design intact. ColorOS is quite different and looks nothing similar to stock Android. With three Home screens in place by default, you also get a separate screen for Camera. When you plug in your headset jack, you automatically get another screen with Music player widget in place. There are few added Settings options to like here. It allows you to choose from your network carrier's logo or name on the notification; you can add custom gestures to a separate notification centre, which can be pulled down from either left or right hand top side of the screen (conventional notification centre from the rest of the screen's top). Notification centre gives you a lot of options to select from, including an 'End All' option, which ends Sync, WiFi, etc, just about every connectivity option, except voice calling.
Under the hood, there is a Snapdragon 600 SoC (1.7 GHz quad-core processor and Adreno 320 GPU), along with 2 GB of RAM. The phone, with its ColorOS, runs smoothly and doesn't lag in almost any department.  Apps run and open without any glitch and you get a very buttery, responsive experience. It comes in 16 GB storage option for Indian customers (around 9.5 GB of available storage space) with no expandable microSD storage option.
Another USP of the device is that it's the first phone to be officially available on CyanogenMod. Any user, whether using this ColorOS model, can flash CyanogenMod on the device without havin to worry about losing the phone's official warranty. CyanogenMod is one of the most popular custom ROMs in the Android community. You can flash it using the stock recovery in place. If any of you would like to know, the latest stable CyanogenMod for the phone runs very wel and supports O Click to be used with the device. And going back to the original ColorOS firmware is also a convenient thing to do. PS: Try a custom ROM only if you're familiar with this stuf about flashing and moding before.
Concluding the review, the Oppo N1 is indeed a step in the right direction from the company to foray its business in the Indian market. Two things, I think, are very much required for the company to make their mark in the Indian market today – price according to the available devices and what their own devices offer, and try to provide software and firmware upgrades to their existing phones, which could give them an edge over some of the other players. The N1 is one of the recommended devices to use for camera, watching videos and just about every general use from your phone for people who prefer smartphones with larger screens, and gives the company a solid start in the Indian market.
Will you try out this device? Let us know your thoughts in the comments section below.