Tech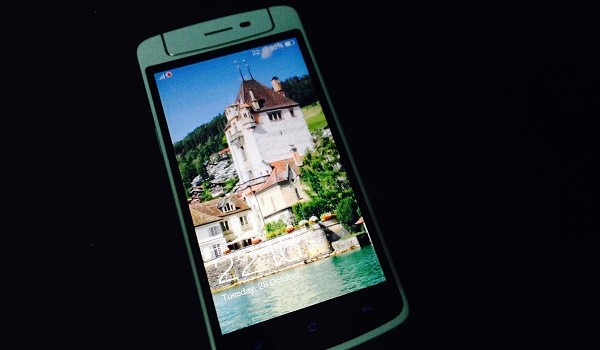 Published on October 30th, 2014
0
Review: Oppo N1 Mini
Android phones are getting smaller and smaller with each passing day. Oppo's N1 Mini joins the bandwagon, but not very convincingly.
by Manik Kakra | @Manik_K on Twitter
Coming up with small-sized devices seems to be the trend in the Android space for quite a few months. We have seen HTC, Samsung and now Oppo launching small variants of their previous flagships, but so far only Sony has been able to nail the concept. Many companies are unable to match the experience in their small package, citing price as the factor. Oppo's N1 mini is the company's latest smartphone that is touted, as per the name, the N1's variant for those who want a smaller device. Let's see how good this phone is.
Oppo's N1 mini (N5111) looks and feels a lot similar to the original N1. With dual silver linings running across the frame, thick bezels around the screen, rounded edges, and smooth plastic back, the phone feels decent to hold, even for large hands. With a swivelling camera module on the top and a curved bottom, there's enough to say it's the N1's less-than-behemoth variant.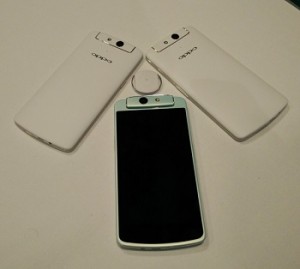 The swivelling module also houses the two sensors, but there's no LED notification on the phone, something that became standard on Android phones long time back. The three navigation buttons – Menu (Options), Home and Back – get illuminated when pressed, but are not too bright.
Coming to the bottom, you have the loudspeakers, microUSB port and 3.5 mm headset connector all neatly placed. The right side panel has the volume rockers; while the Power/ Lock button is located on the other side. Even though this is a 'mini' phone, it is hard to see it being a relatively compact phone and that has lot to do with the phone's thick bezels. Oh, and our unit is a unique mint colour, which looks nice.
The phone boasts a 5-inch (1280 x 720) LCD that is the USP of being smaller from the 5.9-inch one the N1 has. The screen is actually really bright with good colour contrast and viewing angles. You will mostly struggle to use it under sunlight, unless switched to the highest brightness, but on the other hand, it's capable to be used for watching HD videos, playing games.
Talking about the phone's battery life, the 2.140 mAh battery unit the phone comes with is, if used moderately, can last about 20 hours, but when used heavily, struggles to power the screen. You can stretch it to a day if not used for watching videos, playing music, or by using the in-built Power-saving mode, but battery life was short of being impressive.
Regarding the audio quality, the loudspeakers at the bottom are quite loud and punchy for videos and even games, provided you are okay with the placement while holding the phone in landscape orientation. Similarly, the N1 mini's in-ear quality with the bundled headsets is also satisfactory. People used to bundled headsets should find the quality to be pretty good.
The phone's 13 MP (f/2.0) camera is another of its USPs. Its swivelling mechanism is smooth to use and doesn't feel like it will break anytime soon. Here are a few sample images
As you can see, the phone can take good photos. Though it struggles in low-light and close up photos, you can take decent shots in daylight. The native camera app is also similar as before and is simple to use and work around. You can try HDR, which works well, but the camera at times struggles to focus properly. For those taking lots of selfies, this camera should be more than capable.
Call quality and network reception on the phone are top-notch. There's no trouble with these basics throughout my usage, with no network issues, strange call drops or call's sound.
Connectivity options – WiFi, Bluetooth, NFC, and GPS – all work without a glitch.
The phone is powered by a Qualcomm's Snapdragon 400 SoC along with 2 GB RAM. It runs on Android 4.3 with Oppo's own Color OS 1.4 on top. It is a bit disappointing that the phone is yet to get upgraded to Android 4.4 despite it being out for months, plus, there's no official word of when the phone is expected to be updated.
The overall look and feel of the OS is very similar to what we had on the N1 and Find 7. With the O-Click accessory and a few gestures we have already seen on the company's previous phones, the company tries to stand apart, but doesn't really succeed in doing so. At times, your gestures come in the way of usual navigation and get annoying when not required. The phone is no slouch, however. It can handle games and high quality videos well, with almost no lags or stuttering while going in between apps or switching between them. The OS feels polished, smooth to use and is definitely a strong point for Oppo. The company has surely done a great job with its Color OS, and it continues to show with the N1 mini. With two Home screens by default and separate panes for images and for when you have your headsets plugged in, you can edit and customize them just like any other Android phone.
In conclusion, the N1 mini has two shortcomings – its high price (over Rs 26,000) relative to other phones today and its outdated software. On the other hand, its camera, screen and performance are on course. If only Oppo gives the phone its deserving software update and maybe a needed price cut, this could then only be a very competitive smartphone in the Indian market.