Tech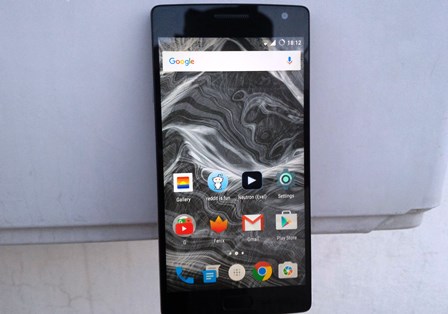 Published on October 3rd, 2015
0
Review: OnePlus 2
We review the newest OnePlus phone and find that it has some good features while it lags behind on some others.
by Manik Kakra | @Manik_K on Twitter
OnePlus has been among the most talked-about phone manufacturers in the last one year or so – whether for a good reason or a bad one is debatable. The OnePlus One helped usher in this new era of affordable smartphones that give bang for the buck when it comes to overall performance. Does the OnePlus 2 justify itself? Let's find out.
The looks. OnePlus 2 (A2003) follows a similar form factor, but is noticeably narrower and denser. Its Sandstone rear panel is still there, and you get unique rear cover options like Kevlar, Rosewood to add if you like. This time, the company has also added a silent/notification switch on the left side, so that you can switch between silent and alarm (as per Android Lollipop's changed notification system) where you can choose what alerts you and what doesn't without having to turn the screen on.
On the right, you have volume rockers and Power/Lock key. Another change is the new USB type C port (more on it later) at the bottom around the mic and loudspeaker grill at the bottom. On the back, an annoying thing, at least for me, is the metal case around the infrared laser focus, camera and dual flash. The metal ring isn't flush with the surface, and you keep hitting it with your finger.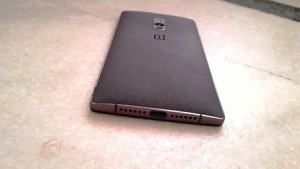 The aluminium chassis around the phone and thinner bezel are definitely welcome changes. The phone feels a lot more solid in hand. It isn't a small phone by any means, but that curved back, Sandstone back cover and rounded edges help in gripping a bit more comfortably.
Screen. The OnePlus 2 boasts a 5.5-inch full HD LCD with Gorilla Glass on top. I found the screen a little brighter than the OnePlus One, and has good viewing angles and decent colour reproduction, but some might spot washed out colours coming from a better panel. Visibility under sunlight is okay and full HD videos and high quality images look pretty good on it. It isn't the best LCD on a phone today, but certainly not bad either.
Sound. The loudspeakers at the bottom are just about okay for videos and games, but not as punchy as the best out there. It has modes like time lapse for video, HDR and Panorama for images.
Camera. On the back, there is a 13 MP (OmniVision sensor) camera with dual LED flash and an infrared laser focus. Here are a few sample images.
The camera can take good detailed shots. It struggles in low-light conditions (improved with last two updates), giving grainy shots, but performs well enough in decent lighting condition. The camera app was a little sluggish to use and had some shutter lag in the beginning, but has improved with the last update, too.
Battery. The phone is equipped with a 3,300 mAh battery unit that is not user replaceable. I found its battery life to be decent – quite a few times it lasted me almost a day for light to moderate usage; while requiring to be charged in about after 20 hours (4 hours of screen on time) with quite heavy usage (single SIM card). It isn't as good as the OnePlus One, but not below the average Android flagship today.
The phone has a USB type C port, meaning no more juggling which side of the USB cable goes up. On the contrary, there is no quick charging, which a lot of people will miss having seen or used it on many Android phones launched earlier this year. The phone takes almost two and a half hours to charge from 0 to full.
Software and performance. The device runs on Android OxygenOS 2.1 that's based on Android 5.1.1. If you're familiar with stock Android (mainly seen on Nexus and Android One devices, as well as Motorola phones), you should be at home while using this phone for the first time.
There is something called Shelf on the left-most Home screen that shows weather, your most used apps and contacts and you can also all widgets on it, not of much utility at this time. You can now change the phone's screen colour temperature (added in the latest update). Customisations options include the option to change what LED colour for a particular type of alert; using any icon pack from the Play Store in the default launcher, which is same as the Google Now launcher in most ways. You can also decide between physical touch buttons or on-screen keys, and later assign which key does what function.
Under the hood, there is a Snapdragon 810 SoC (1.8 GHz octa-core processor, Adreno 430 GPU) along with 4 GB of RAM (that's for the 64 GB storage option; 3 GB for 32 GB storage). I found the OS to be quite smooth and stutter-free. Leo's Fortune, a popular game, runs smoothly on it and doesn't drop frames. Having said that, I found strange issues like the default dialer lagging, or Home button not recognising a single tap, quite a few times. Though the fingerprint scanner itself works really quickly and about 8 out of ten times. Oh, and it certainly gets a bit hot around edges and camera module after a bit of gaming and watching HD videos.
All in all, the OnePlus 2 seems like a great device under Rs 25,000, but doesn't leave a great impression that its predecessor once did. It has a good screen, decent battery life, one of the best cameras in this price budget, but lags behind a little due to its software issues. And while you might want to buy a OnePlus 2, you still need an invite to purchase one from Amazon.
(Pictures courtesy Manik Kakra)