Tech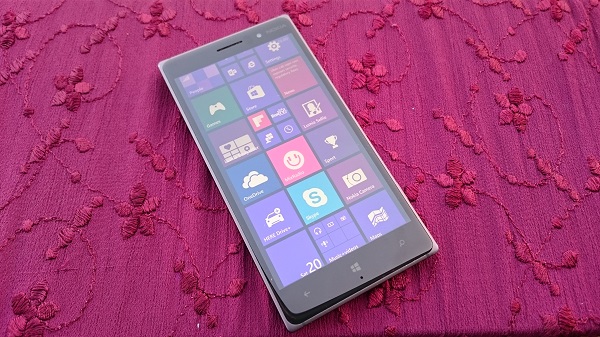 Published on December 24th, 2014
0
Review: Nokia Lumia 830
The last Windows phone with the Nokia branding, the Lumia 830 is a solid buy at a Rs 24,000 price.
by Manik Kakra | @Manik_K on Twitter
The Lumia series has been gradually establishing itself in the low and mid-range segments, maybe a bit too slowly, but it is getting there. With the Lumia 5, 6 and 7 series, Nokia provided decent handsets, and now it has upgraded its old Lumia 820 to take on the likes of the Nexus 5 in the Rs 30k price range. So, let's see if the Lumia 830 lives up to its name or not.
The looks. Nokia's Lumia 830 follows a slightly different fabula design with a solid feel. The first thing you'll notice is its metal frame around the body. On the front, apart from the 5-inch HD screen with Gorilla Glass 3 on top, are the capacitive touch keys – Back, Windows (and the primary mic below it), and Search, which don't glow on being used, front-facing camera, sensors and speaker grill.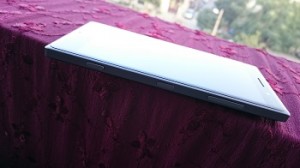 The right side panel houses the Power/Lock key as well as volume rockers and dedicated camera key, all three of these physical keys are made out of aluminium but aren't very dependable for tactile feedback, while the left side panel is plain without any buttons or port. The microUSB port and 3.5 mm headset jack are located at the top and the bottom is plain.
At the back is the familiar polycarbonate cover that has a fairly large 10 MP camera sensor (reminds you of the Lumia 1020), the Nokia logo imprinted in the middle, and the loudspeaker grill near the bottom. You can remove this rear cover from the bottom to reveal the nano SIM card slot, battery unit and microSD card slot. The design and look part of the device scores well for me. Despite having a metallic frame and angular four edges, I liked its grip and didn't have problems carrying it around.
Screen. The Lumia 830 boasts a 5-inch (1280 x 720) LCD screen powered by Nokia's popular ClearBlack technology. The screen, as you would expect, has good deep black levels and is not a pain to use under sunlight. It has vibrant colours and videos appear quite sharp on it. The screen isn't full HD, but it does the job fairly well, especially for how the Windows Phone OS has been designed.
Camera. Nokia has touted the Lumia 830 as a flagship camera device that isn't priced as a high-end one. The phone boasts a 10 MP PureView camera (Carl Zeiss optics) with an LED flash and also features OIS. Here are a few sample images.
The camera can take a lot of good photos. Most of the time, photos come out sharp and detailed. There are a plenty of options to choose from while taking a photo – ISO, exposure, shutter speed, etc. You could say the low-light performance isn't the best, but overall this camera is a really good performer. Other than the default camera app, there are three camera apps. The default app seems much quicker to capture shots than what I saw on earlier Lumia devices. Other camera apps include Nokia Camera, Lumia Selife and Lumia Refocus, most of which are mainly useful for post-shot use.
Audio. The device has solid audio quality – whether it is in-ear or through loudspeaker. The loudspeaker, though could have been placed better, is more than capable to produce good audio when playing games or a track. In-ear sound is top-notch, plus, there's nothing to complain about network reception throughout our usage. Call quality seemed fine with no unusual call drops.
Battery. Equipped with a 2,200 mAh battery unit, the phone gave about a day's use on a single charge. Even when used with 3G and not much of WiFi (with low screen brightness) for Outlook,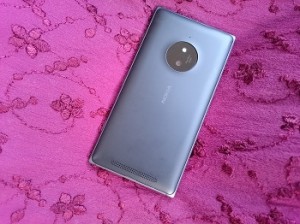 Twitter, music and general calls and messages, it lasted about 23 hours. You can switch on the in-built battery saver mode if you need some more juice out of the phone. It charges from zero to full in about two and a half hours. Being able to charge wirelessly with a compatible rear plate is also an option.
Software and performance. Under the hood, this Windows Phone OS 8.1 Update 1 (with Denim Update) has Qualcomm's Snapdragon 400 SoC (1l2 GHz quad-core processor, Adreno 305 GPU) with 1 GB of RAM. There's also SensorCore in place, but I had Motion Data off during my usage.
The Lumia 830 performs and feels as smooth and fluid that you generally associate with the WP OS. Glance Screen is something I really like. Many previous Symbian users might remember having time, call and message notifications show right on the screen even when it is off, giving you useful information without taking a toll on battery life. You can double-tap to wake the entire screen and it works well.
The phone handles games and regular OS tasks quite well. Having said that, when it comes to the OS experience, Windows phones still have a lot of work to do besides having a clean and neat look. Every now and then, you still get to see the loading or resuming screen on pressing the back button, or going from one app to another even though you aren't doing very intensive work on the phone.
There are a few noticeable improvements done by Microsoft (and Nokia). Live Tiles on the main Start screen are actually live – giving you a bit of current information without having to open the relevant app and refresh it. You can now make folders on the Start screen, apply wallpapers that follow your screen and tile patterns and also have the option to have different volume levels selected for your media and calls. The pull-down notification bar also gives you toggle buttons for WiFi, Location, and more, but for some reason, there's still no data toggle button, which means you have to go into Settings and switch it on or off from there. Apparently, it is coming in the next update.
When it comes to apps and services, Windows Phone isn't a half-baked OS any more. Most of your popular apps and services run on the OS, while a few of them only have third-party options. With Nokia's HERE Maps, Outlook, OneDrive, good Twitter and Reddit apps, I didn't have too many problems in this regard, but there's surely something missing if you're dependant on Gmail. The user gets about 14 GB of internal storage space, which can be expanded using a microSD card apart from 15 GB of free storage he/she gets from Microsoft's OneDrive service. In my opinion, the OS has still a lot to cover and add (including a couple of points mentioned above), but seems to be doing so, but probably at a rate that could hinder its position in the smartphone market.
Concluding our review, the last Windows Phone with the Nokia branding, the Lumia 830, seems like a solid device. It has a great camera, good battery life, decent screen, high quality audio and premium design for this price, and an improved OS. With a price tag of about Rs 24,000, if you're looking to try your first Windows Phone device, the Lumia 830 feels like a really worthy option for now.