Tech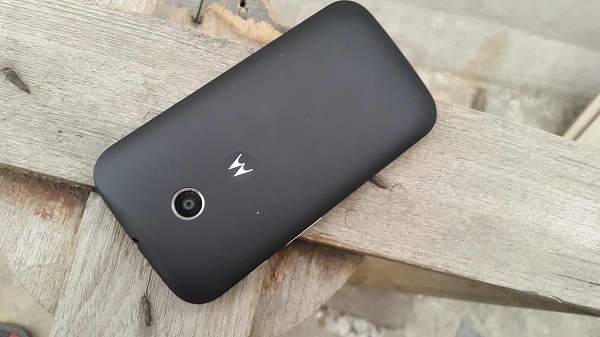 Published on May 27th, 2014
0
Review: Moto E (XT1022)
We check out the latest Motorola device and come away more than impressed with a phone that is budget friendly.
by Manik Kakra | @Manik_K on Twitter
Motorola has been making quite a stir in the Indian market of late, and rightly so. Making its comeback solely via the e-commerce route, the company seems well determined to capture its lost glory, and to do this, has been on a spree of launching budget, yet good, smartphones.
First it was the Moto G – terrific performer for a phone under 14k – and now it's the Moto E, going into the sun 8k category. Motorola has essentially taken on all the low-end Android smartphones, which haven't been very good so far, and the likes of the popular Lumia 520. With its pricing and offering in place, let's check out of Motorola delivers this time.
Hardware and design
Motorola's Moto E (XT1022) follows similar design and material like the Moto G. It has a curved, soft rubberised back, fitting pretty well into your hands. You get the Moto logo right under the 5 MP camera on the back. Once you notice the front – 4.3-inch screen (Corning Gorilla Glass 3 on top), thick bezel, and chrome rays on both the sides of the screen – forming the speaker and mouthpiece,  the similarity with the Moto G ends.
The phone feels sturdy and hefty to hold. Motorola could have done a better job keeping the phone's bezel thinner for making it even more compact to fit in your hand, but this doesn't mean you won't be able to operate this phone with just one hand. Coming to the right side panel, the volume button, raised just enough from the body surface, again sports a chrome finish. The Power/Lock button sits on the same side just above the volume rocker. On the top is the 3.5mm headset jack; while the microUSB port sits right at the bottom.
Screen
Talking about the screen, the 4.3-inch (960 x 540) is pretty much what you would expect. It's quite bright, just decent for day-to-day use and nothing outstanding to talk about. The colours do look quite good, but you will quickly realise the difference if you have been using a higher resolution phone screen for some time. Also, the phone doesn't play full HD videos natively, but you could install a third-player app to play one. All in all, this is just a decent screen, and not a bad one for the price.
Audio
On the audio side, the phone performs well. The loudspeaker is loud, but tends to distort sound when played at the highest volume level. There was no problem in hearing or speaking during calls, and I didn't notice any network reception issues with this phone, either.
Camera
Now for the bad – Moto E's camera. The 5 MP snapper on the back is…well, just not the one you would really like to use. The fixed focus sensor gives average and out-of-focus shots more often than not, and this seems to be one part where Motorola has saved on cost, and the user would be disappointed if he/she would like to use the phone's camera a lot. Only once in a while, in good light conditions, you may get a nice shot with this camera.
Battery
Coming to the phone's battery life, it is much better than what I expected it to be. The 1,980 mAh battery unit lasted more than a day mostly, and with light usage could even touch two days. Good to see a budget handset scoring high on the battery side. The usage included lots of emails, Twitter, watching a few YouTube videos, 5 to 10 minutes of calling (single SIM). When using both the SIMs in place, the battery life is bound to take a dive, though.
Software and performance
The Moto E has got Qualcomm's Snapdragon 200 SoC – 1.2 GHz dual-core processor, Adreno 302 GPU, along with 1 GB of RAM. The phone runs smoothly for most parts. I didn't find any stuttering when moving from one app to another. However, with a few heavy webpages opened and a couple of apps running in the background, you will see some lags here and there compared to, say, Moto G. Having said that, this is probably the best performance we have seen from an Android phone at this price point, and Motorola deserves some credit for providing a smooth operating phone for what the phone costs.
Running on Android 4.4.2, the phone is untouched for most part, just like the Moto G. Adding a few own apps and services, like Motorola Migrate, as with the Moto G, Motorola has also built in something called Assist. This is basically an app for your assistance regarding putting your phone in silent mode when you're in a meeting or during your sleep hours, etc. There's also something new called Alert, which allows the user to quickly send an SOS-like message to a pre-defined number in case of an emergency. Sounds useful, doesn't it? Retaining almost all of what we have been seeing on stock Android – lock screen, app launcher, fonts, notification center, Motorola hasn't touched most of these aspects, and also guarantees users at least one update to this phone.
Concluding the review, the Moto E is a great phone for the consumer, not just from buying an Android phone for this price, but also for making other manufacturers pull up their socks and offer better phones and not just the ones that appear fancy in advertisements. Motorola's Moto E scores well with respect to battery, build quality, audio experience, even though it is not outstanding when it comes to the camera or even the screen, this is certainly a phone to watch out of you're looking for a budget smartphone, or maybe buying your first smartphone. This, along with Windows Phone devices under 10k, makes for the low-end smartphone segment to become more interesting, better choices for the buyer, which will hopefully bring more phones that do not compromise on the experience side.  That is why this phone is important for this segment. The likes of Micromax and even HTC will probably gear up to bring phones that provide a richer experience under Rs 10,000 in the Indian market.