Tech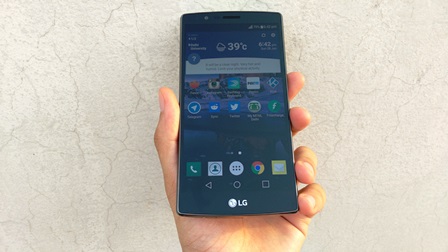 Published on July 14th, 2015
0
Review: LG G4
We check out LG's newest smartphone and find that the Rs 45,000 phone has great hardware but its software needs improvement.
by Manik Kakra | @Manik_K on Twitter
For the last two-three years, LG has been one of those Android players that are slowly but steadily climbing the market ladder thanks to their improved offering. It started with the Optimus G, then came along the G2 and G3, has now culminated with the G4.
The looks. We go the Korean LG G4 (F500L) unit for review, which is different from the Indian SIM unit one. The phone follows a similar design language as the G3. With the volume rocker and Power/Lock key placed at the back, the phone carries no keys or slots on sides. It comes in plastic and leather options. The back has a nice vertical double lined stitching across the body center, which seems quite unique for a smartphone today.
The keys are more tactile and require a little getting used to. You can remove the rear cover to access the SIM slot, microSD card slot and 3,000 mAh battery unit. On the front, the phone has slightly different, less shiny chin with the LG logo. Just above the screen is the LED notification, sensors and 8 MP front-facing camera. The top has the secondary mic and small infrared port; while the bottom houses the 3.5mm headset jack and primary mic.
Apart from the curved top and bottom curvature, the phone is noticeably curved, that and less pointy edges make the G4 more comfortable to carry around. While the 5.5-inch (quad HD screen) still makes it a big phone, thinner bezels and less slippery plastic ensure it grips well.
Screen. The device sports a 5.5-inch (2560 x 1440) LCD with something called quantum dot technology. The screen is covered with Gorilla Glass on top and is quite prone to smudges and fingerprints. The screen has much better colour reproduction, brighter and just generally nicer to look at than the G3. It is also more usable under direct sunlight.
Camera. LG has been quite vocal about the G4's 16 MP (f/1.8) camera with enhanced OIS. Here are a few sample images.
You can quickly launch the camera by double-tapping the volume down button. The camera is fast to focus. The camera app itself is okay. As for camera performance, the G4 generally performs really well. Photos are detailed, have a lot of saturated colours, and even in low-light, the camera's wide aperture sensor doesn't disappoint.
Battery. Coming to the battery life, the G4 carries a 3,000 mAh battery unit. I hardly got a day's usage from the device. With brightness level set at 30%, two Email Accounts in sync, a bit of HD videos on YouTube, a lot of Web browsing and Twitter, the phone couldn't last 24 hours on a single full charge. It supports QuickCharge 2.0 and takes around two hours to charge from zero to full.
Network reception. Bluetooth 4.1, WiFi, NFC, 3G and USB OTG didn't cause a problem, and while Delhi has just got its first 4G LTE service (Airtel), I am yet to get my hands on a 4G SIM card here, so I couldn't really test the phone's 4G capability. In-ear call quality and mic perform like a flagship device should and so did overall network reception, which didn't require any troubleshooting.
Software and performance. The device is equipped with a Qualcomm Snapdragon 808 chipset (hexa-core processor – 1.8 GHz dual core + 1.4 GHz quad-core, Adreno 418 GPU) along with 3 GB of RAM. The phone runs on Android 5.1 with LG's new UX 4.0 on top. The G3 had its share of problems when it came to performance and software design.
Does the G4 do any better on those points? Yes and no. While the device's general performance seems much better, the software look and design have a lot to improve on. Scrolling Settings, navigating the OS work well, but there's still occasional stutter a few times in a day. LG's icon, general UX design has still require a lot of work. The whole design is inconsistent just doesn't feel like something from a company in smartphone business for this long.
While LG says a lot has been done to refine their skin, it doesn't seem so on the ground. Home screens now have Smart Bulletin on the left-most screen that provide one-stop center for your fitness, calendar schedule, and something called Smart Settings. Through Smart Settings, you can configure your phone to open certain apps or perform tasks based on your location. For example, programme it to switch on WiFi when you are at home, or open an app when you plug in your earphones. The user gets about 22 GB of storage space, which is of course expandable up to 2 TB using a microSD card.
The G4 is one of the best smartphones out there for when it comes to hardware — fantastic camera, great screen, unique design. While the software leaves a lot to be desired, it's not that big an issue for some considering the phone holds quite well in general day-to-day usage.
(Pictures courtesy Manik Kakra)