Tech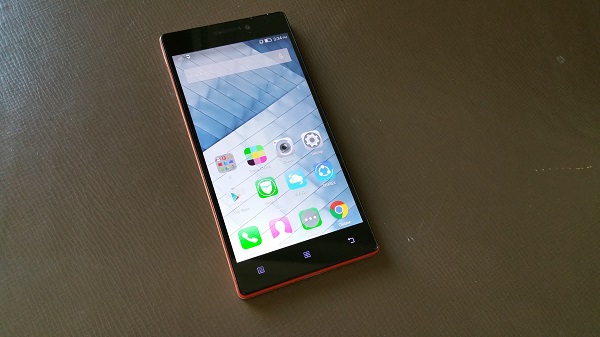 Published on December 5th, 2014
0
Review: Lenovo Vibe X2
It is almost love at first touch with the Lenovo Vibe X2, which scores with its design and software performance.
by Manik Kakra | @Manik_K on Twitter
Lenovo has been a dark horse in the smartphone race; the company has steadily been leaving its mark in various smartphone markets. Now, it seems to be focussing on the mid-range segment of smartphones, with the Vibe X2.
The looks. Vibe X2 (X2-AP) has quite a unique design language. With three layers (all different and bright orange, peach and light bronze) besides the screen, the manufacturer gets credit for the first look. Further, you can attach a couple of accessories like an external battery unit or speaker making it the fourth layer minus a shabby look. There's a lot of Magnesium in use here, the phone weighs about 120 grams and is 7.3mm thick, which makes it comfortable to carry around.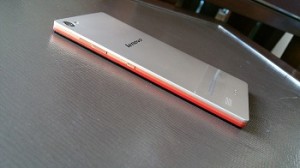 Around the sides (with the three stripes running), you have the dual SIM tray (houses a nano SIM and micro SIM) placed underneath the left side panel, and the volume rocker and Power/ Lock key on the other side. I would have liked these physical keys to be a bit more tactile and less flushed to the body surface as you will often find them inconvenient to spot and press without having to look at them. The microUSB port and primary mic sit at the bottom, and the 3.5 mm headset jack is at the top.
On the front, there's the 5-inch full HD panel, along with the 5 MP front-facing camera, sensors, speaker grill, and a tiny LED notification light on its top; while there are three capacitive buttons – Option (Menu), Home and Back button placed below the screen, which are not very dim. The rear seems usual – Camera and LED flash on the right corner, then the secondary mic, Lenovo logo in the middle, and loudspeakers towards the bottom.
Display. The phone boasts a 5-inch (1920 x 1080) LCD touchscreen. The display of the phone is sharp, quite bright and decent for using under sunlight. The colour reproduction, though, does not pop as a high-end device, but it's not bad. Viewing angles are also on par with most full HD panels, and videos and high resolution images appear pretty nice on the screen.
Camera. The Vibe X2 sports a 13 MP (AF) camera along with an LED flash. Here are a few sample images.
The phone's camera isn't its best feature. More often than not, pictures turn out to be just okay. Colours sometimes appear washed out, and only decent when the camera is able to focus well, which is another place where it struggles. Low-light shots aren't much to talk about. With decent conditions, you can get a few detailed shots, but don't expect more. You are better to try taking shots in the HDR mode than normal as it turned to be more than useful on several occasions. The 5 MP front-facing camera is not bad for making video calls or taking a selfie. The camera app, in contrast to the rear camera, is smooth and simple to work around.
Battery. With a 2,230 mAh battery unit inside, you will have to charge it up in about 15 to 16 hours. With brightness level at 20 per cent, and always on WiFi, the phone's battery is not a great performer. Also, the Vibe X2 doesn't support fast charging.
Audio. Audio on the phone is also not that great. Though loudspeakers are on par with most smartphones when it comes to videos and games, in-ear sound quality is average. Using the bundled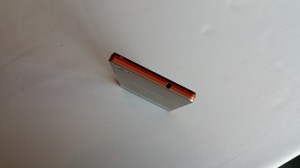 headset with another phone gives you a noticeably better sound, meaning the Vibe X2 (with the bundled headset) isn't much of a standout.
Software and performance. The device is equipped with MediaTek's MTK 6595 SoC (1.7 GHz quad-core and 2 GHz quad-core processor, PowerVR GPU) along with 2 GB of RAM. It runs on Android 4.4.2 with Lenovo's Vibe UI in use.
If you have used another Lenovo phone from last year, you are going to notice and mostly like what changes the company has done to its software. There's no separate app launcher like before and all your app shortcuts appear on Home screens, but the whole look, icons, arrangement of UI elements is much better. The phone is fluid to open apps, reboot, responsive to play games on, and hardly ever stuttered during my entire usage.
The notification center and Settings have also been given a facelift. You can edit which toggle buttons appear above the notification bar, and also take a screenshot. Lockscreen now allows you to directly jump into Call Log, messages or open the Camera app. Status Bar changes its colour depending upon the app you are currently on. It is white by default, but, for instance, if you move to Settings (which has a White background), the status bar and icons turn black.
You can also double tap to wake the screen, which works well. Long-pressing the Options key brings up recent key (in iOS manner), and long-pressing the Home key pops Google Now up (by default). The user gets about 26 GB of accessible storage space. All in all, one can sum up the software and performance experience by saying Lenovo has done a lot of good work in improving its software and making the phone a stellar performer.
To sum up, the Lenovo Vibe X2 seems to be a great value for money purchase about Rs 20,000. With a good screen, great performance, average battery life, if you aren't too concerned about the camera performance, this smartphone surely comes as a great option for this price.