Tech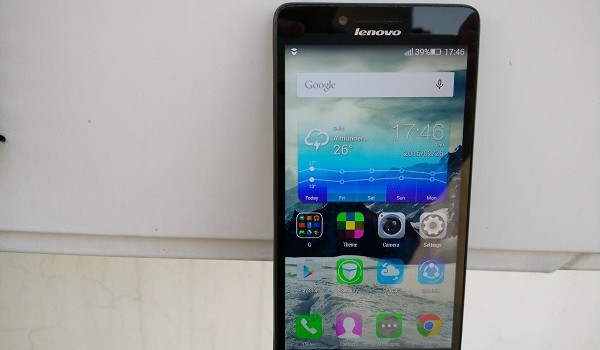 Published on March 4th, 2015
0
Review: Lenovo A6000
Lenovo's lowest-priced smartphone in India is a 4G device with, unfortunately, not much going for it in terms of performance.
by Manik Kakra | @Manik_K on Twitter
Lenovo has been one of the players to bring price wars in the smartphone race. Its range of devices, along with Xiaomi and Motorola, gave us good phones at reasonable pricing without having to sacrifice on the performance. The A6000 is the lowest-priced 4G smartphone in India and has a lot going for it on the paper.
The looks. The A6000 (Kraft A6000) follows a similar rounded-edges and soft back design as quite a few other smartphones. On the front, above the 5-inch HD screen is the Lenovo logo, long ear speaker grill, sensors and the 2 MP front-facing camera. Below the screen we have the three touch buttons – Menu/Option, Home, and Back – these keys don't light up, neither is there any LED notification on the phone.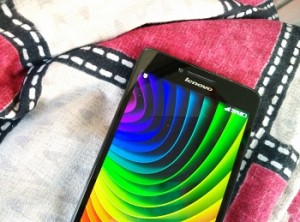 The screen gets a lot of smudges and fingerprints and requires to be wipe cleaned quite often. On the top, you have the 3.5mm headset jack and microUSB port in the middle. The volume rocker and Power button (in the centre) are placed on the right, leaving the left side panel plain and bottom with the primary mic. Coming to the back, the soft plastic rear cover extends to sides and gives the phone a good grip. The 8 MP camera (with a silver circular ring surrounding it), along with the LED flash and secondary mic, can be seen near the top-left corner. The loudspeaker with Dolby imprinted sits near the bottom and the familiar Lenovo logo in the middle. Removing the back cover gives you access to the battery unit, microSD card slot and two SIM card slots
Screen. The device sports a 5-inch (1280 x 720) screen. It has good resolution for a phone at this price. Videos look nice; images and text appear just fine. Colours, at times, look washed out and you may also notice a lack of sharpness when viewing high-quality images. Having said that, it is not a bad screen for watching 720p videos and handling games well, especially considering the price point.
Camera. On the back, the phone boasts an 8 MP (AF) camera. Here are a few sample images.
The camera takes good contrast images in day light. It is capable of taking detailed shots, but clearly struggles in low light, giving grainy shots. The camera app is same as earlier and has HDR, Panorama and Continuous Shot. It takes decent shots and not very good photos in conditions you don't expect a budget phone to.
Audio. The loudspeakers on the back of the device are loud and clear for videos and games. They are Dolby Digital- certified and are among the best in this price range for sure. It would have been even better had Lenovo placed it somewhere else as sound gets muffled when the phone is placed on a flat surface. In-ear quality, though, isn't great. Not only are the bundled earphones uncomfortable to wear, they also sound below average, so you'd better buy a decent headset yourself. There's no complaint about the phone's call quality. Also, it handles network reception and Wi-Fi without hiccups. For those interested, the phone supports 4G FDD and TDD, but I couldn't check it as there's no 4G LTE service in Delhi so far.
Battery. Talking about its battery life, the phone lasted me a full day with moderate usage more often than not. With Email, Twitter and a few cams, its 2,300 mAh battery seemed to do fine, but struggled once I started watching videos and playing games on the phone; so you have to give it a charge in about 16 hours. I used the phone with one SIM card (requires micro SIM cards).
Software and performance. The device is equipped with the Snapdragon 410 SoC (1.2 GHz quad-core processor, Adreno 306 GPU) and 1 GB of RAM. It runs on Android 4.4.4 with Lenovo's Vibe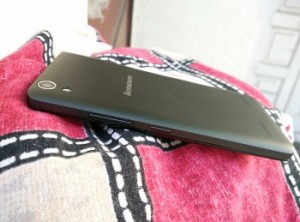 UI on top. The overall performance and handling of tasks on the phone is a bit disappointing. Scrolling and swiping though Home screens is smooth at first, but once you start using a few apps and switch between them, the phone struggles to keep up. On long-pressing the Menu key, which gives you the list of recent apps, you can notice the phone cannot switch between apps quickly and even loads up the whole launcher (taking good two-three seconds) when going back Home. The overall look and feel of the OS is exactly what we saw on the Vibe X2, with the only noticeable changes being done in the swipe-down notification shade and toggle buttons where more toggle buttons and Settings can be accessed.
Lenovo continues to load its phones with a separate anti-virus and clean-up utility apps, though we are sure neither of them help to boost its performance. All your apps and Settings are on the Home screens and Widgets can also be added there. Looks of folder, icons and dock at the bottom have not been changed either. The Lock screen is simple, where you have to swipe up unlock (or enter the required pin/pattern if you have enabled that option). Not much has changed in the Settings pattern, Email app and volume settings. You get about 4.6 GB of internal storage space, which can be expanded using a microSD card.
All in all, the Lenovo A6000 is not as good as it previously seemed to be when announced back at CES this year. While it has a few good things going for it like the decent camera, loudspeaker and screen, its performance clearly lets it down and this could mean struggling to compete with other new devices in this price segment. At Rs 6,999, it might not be best in performance, but is still the only 4G device for a few who care right now.