Tech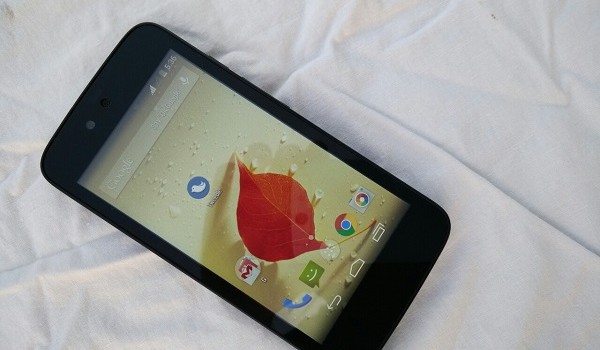 Published on October 6th, 2014
0
Review: Karbonn Sparkle V (Android One)
Backed by Google, this Karbonn phone is one of the latest to join the low price, high feature smartphone bandwagon.
by Manik Kakra | @Manik_K on Twitter
The Android space has been buzzing with the launches of low-priced handsets that offer better user experience than the OS ever has before. We have seen the likes of Motorola and Xiaomi bringing affordable Android phones and proving that its experience doesn't have to be bad, as a result, many companies have been caught off guard and are now rushing to have a better low-end offering.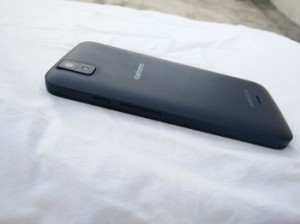 Along comes Android One, a new project backed by none other than Google, to partner with various phone manufacturers and chip suppliers aiming to give good Android experience at a sub 10k pricing. Karbonn is one of the first manufacturers that Google joined hands with for this project and the result is the Sparkle V.
Karbonn's Sparkle V, as with other Android One devices, comes with the promise of guaranteed OS updates, something we have not really seen in the past for when it comes to budget Android phones. The phone is very similar to the Micromax Canvas A1 and Spice Dream Uno, except for its design and material. The Sparkle V features a 4.5-inch (854 x 480) touchscreen with the 2 MP front-facing camera and circular speaker grill above that screen.
On the right side panel, you have the volume rockers and Power/ Lock key towards the top – both are quite slim but not bad, giving nice feedback when pressed. The left side is plain; while the 3.5 mm headset jack is on the top; and the microUSB port at the bottom. Coming to the back, there is a 5 MP camera alongside flash and the camera module protrudes a bit from the surface, though not too much. The Karbonn logo in the middle and speaker rill towards the bottom complete the rear.
The looks. The phone uses decent plastic materials and has a matte back. The front, including the screen, are prone to smudges and fingerprints, so much so that you might want to carry a small piece of cloth for cleaning them up with every now and then (or you could use a decent screen guard, if that's your thing). The phone's bezels aren't thick, but it is still a relatively good-sized phone to carry even for a person with small hands. Rounded edges and grippy back means you can carry it without having to worry about dropping the device.
The Sparkle V sports a 4.5-inch (854 x 480) screen that is, just as you expect, an average display in the crop of phones available today. The screen resolution is on the lower side, but colours actually look decent and the screen holds quite well for reading small articles. It is far from being a USP of the device, but it isn't something you're expecting to be excellent on the first place anyway.
Camera. Talking about the phone's camera, this 5 MP (AF) camera can take nice shots in good light conditions. The camera app is the default Google camera app, which seems familiar to use as soon as you switch on the camera for the first time. There are a few setting options to choose from, like HDR, Panorama or even switch to manual exposure. Here are a few sample images
The camera can take nice shots, but clearly struggles with low light. There is also a bit of a problem with its focus, which means your exposure and contrast could suffer. You would not want to click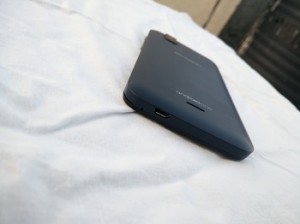 your own pictures with the front-facing camera, but it works for video calls.
Sound. Coming to the phone's sound quality, the bundled headsets are actually decent but not very comfortable to wear (depending on your ear size), especially while commuting. The sound is quite loud, clear for vocals and FM Radio. The loudspeakers on the back are also loud but they struggle to give a reliable experience for games and videos. There aren't any strange call drops or network issues and in-call audio is also clear and without distortion on the other side. Also, PS lock-in, WiFi connections, etc were also reliable, with no drop-outs or bugs.
Battery life. The phone comes with a 1,700 mAh battery unit. This isn't a particularly high capacity for smartphones today. The phone lasted me less than 20 hours on heavy usage. There's no inbuilt power-saving mode and you might want to use a separate app for that. More often than not, you would have to charge the phone twice a day in order to get your tasks done. It would have been appreciated had Karbonn gone with a higher capacity cell or even done a better job with the software regarding battery optimisation.
Software. The phone runs on Android 4.4.4 with near-stock look and feel that we are used to seeing on the Nexus devices. There are just a few pre-loaded apps other than the ones you usually see (like the OLX app, PayTM, and Saavn). Even the boot animation is quite similar to the one we had on the Nexus One.
The phone is powered by MediaTek's 6582 chipset (1.3 GHz quad-core processor, Mali 400MP2 GPU) with 1 GB of RAM. There is an occasional lag you may notice. There were hardly any app crashes during my suage and I felt it is one of the few Android phones that are under Rs. 8,000, which doesn't perform poorly. It isn't as smooth as the Moto E, but it is surely not a frustratingly-slow phone. It can handle games like Asphalt 8 well, but the things aren't too good on the graphics side.
Navigating though the OS, closing and resuming apps are quite smooth. There is a minor bug in the OS where the notification center doesn't show you the percentage an app has been downloaded or updated while it is being downloaded or updated in the Play Store. With a left swipe (leftward-most), you arrive at Google Now. Making and editing folders, modifying Home screens, on-screen keys, lockscreen, Dock, app launcher, Settings are all just like stock Android and familiar to use.
15 months of manufacturer warranty, plus, MediaTek has open-sourced its kernel sources and other stuff, which it didn't have for so many other phones, so you can expect custom ROMs for the device soon – make this a much better package. Oh, and you require a microSD card to take an image or video or even take a screenshot as the internal storage space can't be used for that because it's reserved for the OS and your apps (you can move your apps to your microSD card, though).
Concluding our review, this phone (along with other phones in the line) is much more than just another Android phone. This is Android One that promises updates that no other low-end devices do. At about Rs 6,000, this is a good deal. The overall experience with the phone – sturdy body, decent screen and camera, below average battery, satisfactory performance – is rather good. But it makes me look forward to the second line of devices under Android One, especially with the likes of HTC, Qualcomm and Lenovo joining in. The project is off to a decent start and seems it can only get better and bigger from here on.