Tech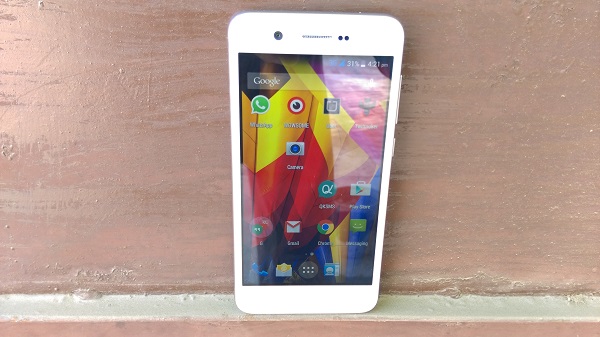 Published on February 24th, 2015
1
Review: Karbonn MachOne
Karbonn's new under-8k price range phone is a satisfactory device but needs a few corrections in its battery and camera performance.
by Manik Kakra | @Manik_K on Twitter
Karbonn has been one of the Indian players to capture a considerable amount of phone sale share and keep its brand value intact over the last couple of years. One of the things working in its favour has been low-end smartphones. The MachOne Titanium is another such device from the company that caters to sub-8k price segment without having to sacrifice on the performance side, as per Karbonn. So is it worth spending Rs. 6,990 on this phone?
The looks. Karbonn's MachOne Titanium (S310) follows a typical form factor that you expect to see from an Indian manufacturer. With its silver curved sides, thin plastic sheet used for rear and a front design that isn't very unique, the design is just okay and not something that would wow you on the first look. You might even say they could have done better by not trying to imitate the iPhone 6 (check those speaker grills at the bottom), and I won't disagree.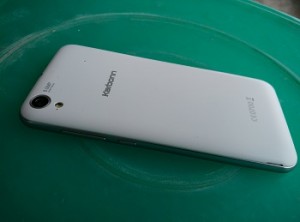 The front sports the 4.7-inch HD screen along with the 5 MP front-facing camera with the LED notification light tucked in, ear speaker grill, and sensors as well LED flash for the front camera. The screen is prone to smudges and dust, so do wipe it clear often. At the bottom of the screen are three touch buttons – Multi-app view, Home and Back – which lit up dully. The top houses the microUSB port as well as the 3.5mm headset jack; while the plasticy hard volume rocker and Power/Lock key (nearer the middle) are placed on the right side panel, leaving the left side panel plain.
The camera is on the top-left corner next to the LED flash, with the Karbonn logo, and a secluded secondary mic. You can open the rear cover using your finger nail through the slight opening on the left side, revealing the battery unit, two SIM slots and microSD card slot.
Display. The phone's 4.7-inch (1280 x 720) display is the best thing about the device. It is not a bad screen at this price. You can watch HD videos, view images and read webpages well. There isn't a wow factor to its colour production and sharpness, but there's not much of a downside considering other panels in this price range.
Camera. The MachOne boasts an 8 MP (AF) camera. Here are a few sample images.
The camera takes decent photos in daylight but struggles in any mode that doesn't have good light. Images usually look grainy and only once in a while did a photo appeared detailed and quite sharp. You might want to try the HDR mode more often. The app seems similar to the Google Camera app, but the camera is definitely not worth much more than shooting outside for casual shots.
Audio. The device has a decent in-ear output using the bundled headset, and the loudspeakers, though distorted at the maximum volume, is loud and usually clear for games and videos. Call quality is fine and network reception as well as WiFi network connections didn't give any trouble.
Battery. Battery life of the phone (using one SIM card) was inconsistent. At times, with moderate usage, its 1,800 mAh battery unit lasted nearly a day, but at other times, with similar usage, it struggled to give over 18 hours. There were three minor firmware updates within a week I started using the phone and were aimed at better battery (besides a few other things), so Karbonn may well be aware of it. There's a built-in Stamina mode, which you can select to switch on at 20% battery level to get a bit more phone uptime.
Software and performance. The device runs on Android 4.4.2 with very little added or changed from stock Android look and feel. Under the hood, there is a MediaTek 6582 SoC (1.3 GHz quad-core processor, Mali-400 GPU) coupled with 1 GB of RAM. The user gets about 5.5 GB of available storage space, which can be expanded. The general performance of the phone seemed satisfactory. Apps opened without any hiccups, scrolling through Settings, swiping though Home screen and going back and forth between apps was easy.
With a few days of usage, I wouldn't call it to be a very snappy smartphone, but it did handle most tasks pretty well. You shouldn't have much of a problem in playing HD videos or viewing and swiping through images. As for additions done by Karbonn, the screen supports double-tap to wake as well as double-tap on a Home screen to lock it, and this handy feature works well. Karbonn has also added a few gesture modes, by which you can unlock the screen by writing a letter in the screen to land straight into the app pre-set for that letter.
Lock screen has also been revamped a bit. Apart from the usual camera and battery setting shortcuts, it shows you notifications on it – missed call, SMS, and if you swipe left on a notification icon, it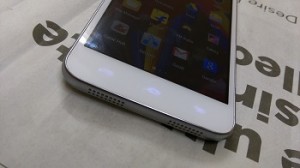 gives you the option to call the contact directly. There are two themes available under Settings – Dark (default) and White. There are few more colour options available for Home screen options, but that option only gives you coloured icon backgrounds, which look quite ugly, so you wouldn't want to change the default transparent style. Other than that, the overall look, customization options and features are a standard set associated with a low-end Android phone.
Notification centre and toggle buttons appear in one screen and you have to swipe left to access more toggle buttons from the swipe-down center. Dual SIM handling and data connectivity option are handy and most users shouldn't find it difficult to switch between them. While it does have satisfactory performance for a budget device, it would be great if Karbonn could give the Android 5.0 update soon. Not only will it give it an edge among many other smartphones available out there, but also give a better impression that the company is actually serious about software upgrades.
To sum up, the Karbonn MachOne Titanium seems like a phone that does most things quite well – satisfactory performance, useful screen gestures, good screen, but lacks a bit on the camera and battery parts even at this range. All in all, the device seems like a worthy option in a segment that's getting a lot of attention these days.