Tech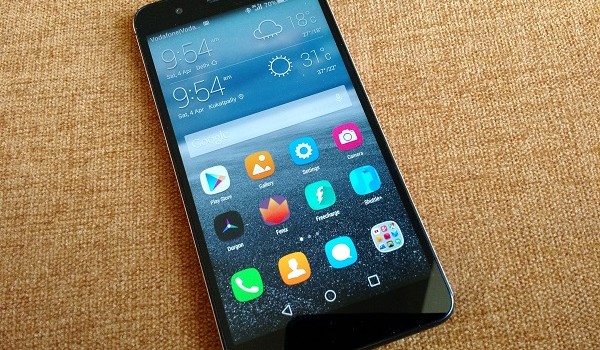 Published on April 10th, 2015
0
Review: Huawei's Honor 6 Plus
Huawei's flagship device, the Honor 6 Plus, has a battle on its hands cracking the Indian market at its price.
by Manik Kakra | @Manik_K on Twitter
Huawei has been quite busy in the Indian market lately. The company launched two smartphones (we reviewed the Honor 4X a few days ago) and now the company's flagship, the Honor 6 Plus, has arrived. Priced at a little under Rs 26,000, the phone clearly has an uphill battle against their rival's offerings. So let's try and see of the device is up to the task or not.
The looks. The new Honor 6 Plus (they really could have done with a better model name and not a known one) follows a glass and metal chassis design. What you will notice the first time you hold the device is its use of glass and metal frame (except for the bottom). The 5.5-inch full HD screen is accompanied by the front-facing camera, speaker grill and sensors at the top, and plain bezel at the bottom, as the phone had all on-screen navigation keys.
The left side panel has been left blank, making the right one look a bit busy with the Volume buttons, Power/Lock key, which are followed by nano SIM/ microSD card slot and micro SIM card slot. The keys don't feel very tactile and firm, though. You can either use a nano SIM card or a microSD card, while using a micro SIM card in the other slot.
At the top, you have the Infrared port, 3.5mm headset jack and secondary mic, while the plastic bottom gets the microUSB port in the middle. Coming to the back, the subtle pattern looks nice. The dual-lens camera and the LED flash sit at the top right corner while the Honor logo is imprinted near the middle. The phone is quite big, but not too heavy for its size, its metal sides and glass back don't feel slippery, but the metal sides get scuffed and dented even with minor falls and slips.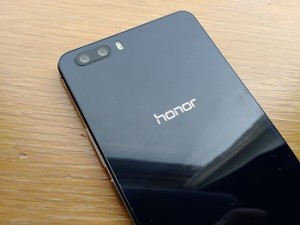 Screen. Speaking about the phone's (1920 x 1080) LCD with Gorilla Glass on top, I don't have too many complaints with the display, which looks quite sharp with decent viewing angles; it is quite bright and not bad for use outdoors in sunlight. Colour reproduction does seem a bit off, as the screen goes a warm yellow when viewing images.
Camera. One of the USPs of the phone, as per the company, is its dual sensor 8 MP camera. Using the dual sensor with the wide aperture mode on, you can change the focus area in an image as an after-effect. This 'trick, previously seen on the HTC One (M8), Galaxy S5 among a few more, is becoming somewhat common in phone cameras these days. Here are a few sample images.
The camera on the back is pretty good, actually. It can take detailed and sharp photos in daylight conditions, and not too bad in low-light (if you don't try zooming in). Colours come out quite bright, and the overall performance seems to be on par with best phone cameras (the Mi 4, LG G2) in this price range. The Wide Aperture mode for changing focus does work well if used in correct settings, and many users will like using it. The 8 MP front-facing camera is more than capable of taking good selfies and do video calls, so there's not much to complain with what you use the front-facing camera for.
Battery. The phone is equipped with a 3,600 mAh abtetry unit, making it one of the largest among the smartphones available in the Indian market. The device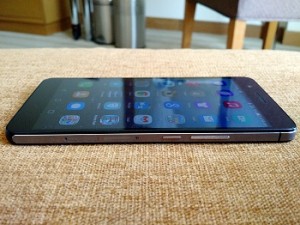 lasted me a day, more often than not. With Email, Twitter, a bit of YouTube and music playback, I was able to get over 20 hours of usage a lot of times, and its battery was never really a big concern throughout my usage. Of course, with a lot of HD videos, games and camera usage, it is bound to go down.
Call and sound quality. The phone supports 3G, 4G LTE (no CDMA), WiFi and Bluetooth, all of which worked well for me except for the nano SIM card slot thata didn't work on my review unit. Call quality and network reception hold fine on the device with no troubleshooting required.
Sound quality from the rear-facing loudspeaker is just about okay, though, getting the job done for games and videos, but I was expecting a better output from it considering how vocal Huawei has been about the phone's multimedia performance. It might have helped if the speakers had dual speaker openings.
Software and performance. The Honor 6 Plus runs on Android 4.4.2 with Emotion UI 3.0 to go on top. Under the hood, there's Huawei's custom SoC HiSilicon Kirin 925 (1.3 GHz quad-core + 1.8 GHz quad-core, Mali-T624 GPU) along with 3 GB of RAM. The overall look and feel of the OS is very similar to that of the Honor 4X. I wish Huawei did a little bit of work to get their icon set and fonts look better or give more options than what they currently do under Themes. Since this is Huawei's flagship device, it should be updated to Android 5.0, in my opinion, but there's no official word when it's going to be.
Messaging, dialer and Clock apps have been loaded with useful features (like blocking features in Messaging and Dialer) and gel well with the overall look and feel of Emotion UI. There's one nifty little feature – where you can mark a particular WiFi access point to be a hotspot, so that the phone uses it just like your network operator data and not a full-fledged WiFi connection, meaning you save on data.
Performance-wise, the phone is just about okay. It handles most apps and tasks fairly well, but I wouldn't count it as the smoothest smartphone in this price category, and rank its day-to-day performance below the Xiaomi Mi4 and OnePlus One. A few places like multi-app view, or three-four tabs in Chrome, show you where the OS stutters and doesn't give a very smooth performance.
The Huawei Honor 6 Plus is pitched against the likes of the Nexus 5, Mi 4 and OnePlus One, so it surely has an uphill battle on hand, but from what I have seen and tried, the phone isn't too behind its competitors. To buy an Honor 6 Plus, you have to register for Flipkart's flash sale and then manage to order it when goes on sale. Huawei is offering decent promotional offers With Freecharge, Hungama, which makes a better deal. So, with a good screen, capable camera and satisfactory battery, the phone does have quite a few things going its way and it will be interesting to see how well it performs in the market against those three devices.