Tech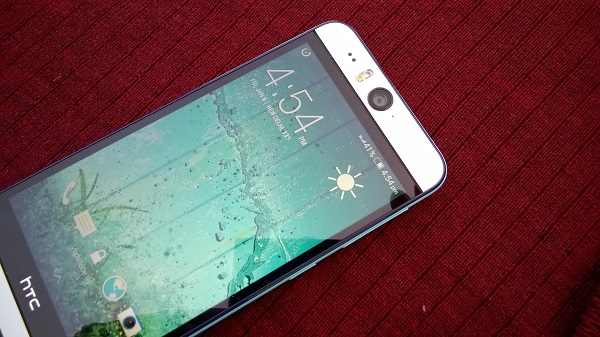 Published on January 20th, 2015
0
Review: HTC Desire Eye
Despite a good selfie camera and decent specs, this phone does not enter the winners' league with its large design and low battery life.
by Manik Kakra | @Manik_K on Twitter
We all use the cameras on our phones extensively. This is normally the feature we check out first on a new phone, and the feature we put to maximum use when taking selfies.
Companies, too, are cashing in on the selfie craze, coming out with better front-facing cameras and marketing their products with the selfie user in mind. HTC's Desire Eye is one such device – it has a front-facing camera very similar to its rear one.
The looks. HTC's Desire Eye is designed differently from your typical HTC device. Our review unit was dark blue on the back with light blue sides and white bars on the front. It isn't made up of any metal, but its plastic material is far from being cheap and flimsy. On the front, above the 5.2-inch full HD LCD is the big 13 MP front-facing camera with the dual-tone flash and sensors on the left and speaker hole on the right. Below the screen, you see the familiar HTC logo set on a black bar (like the One M8), followed by the plain white bar.
You might miss noticing the front-facing BoomSound speakers, which are placed right at the bottom and above the display. On the right side panel are the Volume buttons and Power/Lock key; while the left side panel houses the nano SIM card slot and microSD card slot – both capped under flaps that you can open with your fingernail and don't require any SIM ejector tools nor any separate trays. The back features the 13 MP camera with the dual-tone flash, HTC logo in the middle secondary mic. The bottom has the microUSB port and mic, and the 3.5mm headset jack is placed at the top. The phone is certainly big and has no curves, but its build and material make it decent to grip if you have large hands.
Screen. The Desire Eye's 5.2-inch (1920 x 1080) screen has Corning Gorilla Glass 3 on top and follows most phones that have full HD screens. HTC has come up with really good screens in the last couple of years and the Desire Eye seems to be another one. It isn't quite as good as the One (M8) for me, but it isn't something to complain about. The screen is sharp, has good viewing angles for your photos, videos and to browse webpages.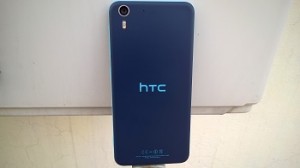 Camera. Coming to the phone's camera, it features a 13 MP rear (f2.0) camera coupled with a dual-tone flash. The front-facing camera is a 13 MP module (f/2.2) with the same dual-tone flash. Here are a few sample images (including from the front camera).
The phone can take really nice, detailed photos – be it from the rear of front camera. The rear camera can give really sharp images, but tends to overexpose and fade when used in low-light conditions. The front-facing camera is sufficient for your selfie needs. With HTC's Eye Experience, you sure can edit, 'beautify' your photos and take photos with your friends using UTS wide-angle lens. The camera app is smooth, fast to focus and has a lot of options to choose from that most users will find useful.
Audio. The phone's audio quality from its external speakers is top-notch. With its BoomSound speakers, you are sure to find the experience worthy when watching videos or playing your music or games. It is loud, clear and punchy enough for most tasks. Using a basic pair of earphones, you could tell audio isn't something that a normal user won't like.
Battery life. Equipped with a 2,400 mAh battery unit, it isn't too large relative to most other high-end smartphones these days. The phone's battery life isn't really on the plus side. Powering up all the camera and screen, you aren't left with much and have to charge the phone well before the 24-hour mark. Having always-on sync, Twitter, Email, YouTube and a few cams in between, the phone clearly struggled to make it a day, though removing BlinkFeed from your Home Screen and switching the Power-Saver mode would help. We would have liked better battery life with maybe a larger battery unit on this phone.
Call quality. The phone handles basic call quality and network well. I didn't face any network reception issues or have call drops in areas where another phone would.
Software and performance. The HTC Desire Eye boasts Qualcomm's Snapdragon 801 chipset (2.3 GHz quad-core Krait 400 processor, Adreno 330 GPU) and 2 GB of RAM. Running Android
4.4.4 with Sense UI 6.0 on top, the phone feels and works similar to previous HTC devices that we have seen in the last year or so. The user gets about 11 GB of storage space, plus 100 GB of Google Drive storage for free. With two Home screens by default, HTC has continued with its BlinkFeed to give you news and social updates at a glance, though if you want, you can switch it off. The icons, gestures and UI components haven't been changed. Regarding the phone's performance, it is really smooth and handles pretty much every app and task you would require it to. I didn't find it to stutter when watching videos, opening or closing apps or just flipping through Menu or Settings.
The phone also has double tap to wake the screen and lock it (only from the lockscreen) and it works quite well. From the s=lock screen, you can, as usual, access the camera, browser, messages and dialler directly. There's also a DND mode where you can choose what tasks are allowed to notify you or not. HTC's Sense continues to be among the best Android OEM skins with its cohesive arrangement, nice look and satisfactory performance. Having said that, it will be great if HTC could release the Desire Eye's Android 5.0 update, but it's quite obvious that will only be coming when its One line is completed, which doesn't seem to be for another month.
Wrapping our review, the Desire Eye seems like a worthy contender around Rs 35,000. Go for its good camera experience, good screen, and audio quality, but only if you are okay with short battery life and don't mind the size; otherwise, you might want to look elsewhere. But rest assured, it can take care of your selfie needs rather well.