Tech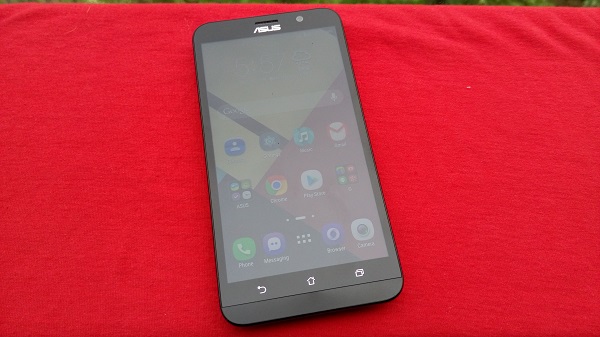 Published on June 19th, 2015
0
Review: ASUS ZenFone 2
Priced at Rs 24,000, the phone has some great features and some minor quibbles, but is a good device overall.
by Manik Kakra | @Manik_K on Twitter
ASUS has been slowly and steadily climbing up the smartphone ladder in the Indian market. The tech company got rave reviews with the original ZenFone. Continuing the trend after the ZenFone 5 and 6 is now the ZenFone 2 that has a lot of things going for it – 4 GB RAM, 5.5-inch full HD screen, 3,000 mAh battery, among others. Let's find out if this Intel-powered device can hold its own in its price segment.
The looks. The ASUS ZenFone 2's (ZE551ML) unique design is not massively different from the Zenfone, but is sufficiently different. The phone has volume rockers (similar to those on LG G3 and now the G4) on the back right next to the camera sensor and dual tone LED flash; other than the loudspeaker and ASUS, Intel and ZenFone logo complete the rear. The back has a nice brushed (almost faux aluminum) plastic material.
The phone's back has a noticeable curve and with the smooth dual shade plastic sides and curved edges, it is comfortable to hold and carry. Having said that, its sheer size, bezel and weight (about 170 grams) will be a bit too much for some. On the front, the phone has a nice brushed aluminium chin just below the three capacitive touch keys — Back, Home and recent Apps key.
Right above the screen, other than the ASUS logo (second one) you have LED notification light, ear-speaker and 5 MP front-facing camera. The microUSB port and primary mic are placed right at the bottom. Plus, those slim volume keys are not the most tactile ones, but you will get used to them. The Power/Lock key is at the top along with the 3.5mm headset jack and secondary mic. The Power button placed, at the top right, located in the middle, is also hard to press.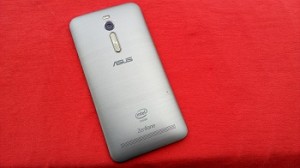 Display. The phone features a 5.5-inch full HD (1920 x 1080) IPS LCD. On paper, it is on par with most other smartphones in this price category today. The screen looks sharp and, while it is not the most pixel-dense display, does a good job for most tasks. I thought the phone performed well with videos and images. You can change the screen's colour calibration using the inbuilt colour temperature app.
Battery. The phone has a 3,000 mAh battery unit. On most occasions it lasted me over 20 hours on a single charge (with a little over three hours of screen on-time). The usage included one SIM card inserted, two Email Accounts on sync, about half an hour or HD YouTube videos and music playback each. The phone takes a little under two hours to get fully charged from zero using the bundled charger. The battery is a solid point for the ZenFone 2; it hardly drained more than usual.
Audio. The loudspeaker on the back (designed to look longer than the speaker actually) isn't very punchy for videos and games output and you would often have to use your hand to cup the speaker and get better sound. I didn't any bundled headsets, so I can't about in-ear sound. Call quality and in-ear sound were on par, and there were no problems with voice or sound during calls. One SIM card slot has 3G and 4G LTE supports, while the other has just 2G. Basics like WiFi, Bluetooth, GPS, and network data didn't require any troubleshooting.
Camera. The ZenFone 2 boasts a 13 MP rear camera with dual tone LED flash. Here are a few sample images.
The camera can take detailed, sharp photos, especially in broad daylight. The camera app has loads of options, in particular HDR and Depth mode work well and can be pretty useful at times. In low-light, the camera gives noisy photos and you may want to opt for low resolution photos. Having said that, it usually gave bright coloured shots better than most smartphones in this price range. There's also a software feature called Super Resolution that lets you take 50 MP photos – by combining four shots and stitching them together.
Software and performance. The ZenFone 2 comes with an Intel Z3580 chipset (2.3 GHz quad-core processor, PowerVR G6430 GPU) and whopping 4 GB of RAM, which is surely one of the USPs of the phone. It runs on Android 5.0 with ASUS's own ZenUI on top. The phone feels a lot smoother and snappier to work on than its predecessor. There are not too many Intel-powered Android phones, but this one certainly does its job without lagging.
ASUS has loaded plenty of options in every nook and corner of the OS. With a dedicated themes center, you can now choose the overall look of the phone – from wallpaper, lock screen, scrolling effect, option to change how your Menu launcher shows app icons or arranges them, to even changing icons from one of the icon packs from the Play Store, yep. Contacts app allows you to select certain contacts under the tab VIP, for whom you may contact frequently or just want to view separate from the rest. There are dozens of ASUS apps pre-loaded as well as annoying third-party apps, which you can uninstall. There is a dedicated ASUS support app you can use to chat and get help from the company's customer support, so that you don't have to wait holding calls.
ASUS has done a really good job with the ZenFone 2. With a good camera and screen, feature-heavy and relatively smooth OS, decent battery life and innovative design, the phone seems to be up there with other heavyweights when it comes to phones under Rs 24,000.
(Pictures courtesy Manik Kakra)