Tech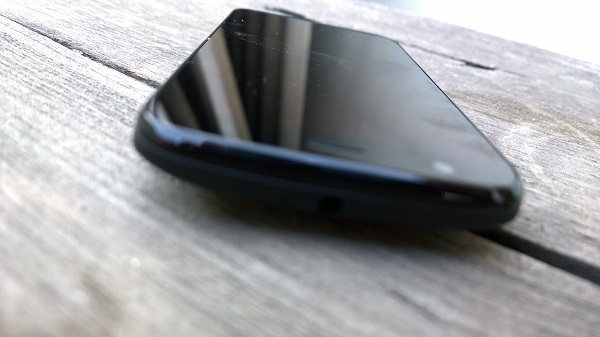 Published on March 10th, 2014
0
Motorola: Back with a bang
We review the Moto G, Motorola's comeback phone in India, and find that it's a great phone for the price.
by Manik Kakra | @Manik_K on Twitter
Motorola is back in India. And how. Motorola has been in the news lately and for some good reasons. The company has been recently bought by Lenovo, but it has continued to make decent strides in the mobile space to capture market share other than the high-end smartphone market. Moto G announced the company's comeback to India, so let's take a look at what this Moto is all about.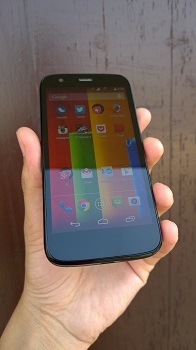 Hardware and design
The Moto G (XT1033) has a subtle design. It's, what I would call, simple yet elegant. As soon as you hold the device, you realise it's a bit on the heavier size, which doesn't appear to be the case from its height and width. Unfortunately, the back gets a lot of smudges and fingerprints very quickly. The front is dominated by the 4.5-inch screen – onscreen keys, mind you. The usual front-facing camera, speaker grill and sensors on its top, and primary mic and the microUSB port on the bottom.
The right side panel hosts the Power/Lock button and Volume rockers – both protrude considerably but don't feel fragile; while the other side is plain with no buttons or ports. The 3.5 mm headset jack, along with the secondary mic, sit on the phone's top. Coming to the rear, you get the 5 MP camera with an LED flash, loudspeaker grill, and the Motorola logo dimpled on the rear cover. The device is a bit thick in the middle and does fit very nicely into your hand, thanks to its glass-plastic layer. The rear cover can be pulled off, revealing the battery cell, two SIM slots and the usual circuitry.
Screen
Coming to the phone's screen, the 4.5-inch 720p IPS panel is definitely one of the best things about this Moto. You get a clear and bright screen with good viewing angles and it is probably the nicest screen out there for a phone that is priced this much.
Camera
This one isn't so good. The 5 MP (AF) snapper on the Moto G is probably the camera you were expecting from a phone priced under Rs 15,000. It exists just to take a decent shot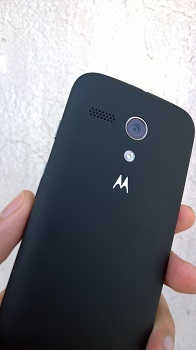 with great conditions, but performs badly, as expected, when thrown in day-to-day usage under various light conditions. You can click a photo by tapping anywhere on the screen, and can view existing photos or change settings by swiping from sides – similar to Nokia's Lumia handsets. The camera is one area where Motorola seems to have cut corners keeping the cost factor in mind. Here are a few sample shots – http://imgur.com/a/3c4za
Call quality
The call quality on the Moto G is top notch. You aren't going to face any unusual network reception issues here. Having said that, a few days after updating to Android 4.4.2, the unit started disconnecting to WiFi access points when no very near to the points. It's a major and known bug, and a firmware update to fix this is coming pretty soon.
Sound
In-ear sound quality on the phone is more or less good. I wasn't at all disappointed with the audio performance I got from this budget device, and found the default headphones to be good. The loudspeakers were also loud and clear, with a bit of distortion mostly on the two highest volume levels, and it's hard to tell it apart from a high-end phone speaker.
With its 2,070 mAh battery, the Moto G, quite surprisingly, lasted me for a full day more often than not. Used for a lot of music, Email, Twitter, a few images and calls, the Moto G's battery backup is as good as you would expect from such a device.
Software and performance
The Moto G, running on Android 4.4.2 (previously 4.3), is powered by Qualcomm's Snapdragon 400 SoC (1.2 GHz quad-core processor, Adreno 305 GPU), along with 1 GB of RAM. This is another great thing about the device – its performance. The Moto G has probably the smoothest experience for a budget Android device. So much so, usually I would recommend a Windows Phone device when somebody has their budget under 15k, because you don't associate a budget Android phone with snappy performance, but the Moto G does exactly the opposite. The phone runs smoothly, apps run and switch quite quickly, and the only time I saw some considerable performance issues was when I played a game like GT Racing 2. You could say that the performance department scores in favour of this device.
Motorola has made a few agile yet noticeable additions to the stock Android OS. The company hasn't tried to change most things. There's Assist to help you get around the phone for the first time, Motorola Migrate to help you transfer data to and from other Android and iOS devices, and a few other tiny touches like the Motorola camera app. Thanks to no heavy customising, we already have the Android 4.4.2 KitKat upgrade for the phone, and there's nothing much wrong with the whole OS. If you are familiar with Android 4.4.2, you would feel at home using this device. There's not too many changes, so it's not very worthwhile to go deep into the design and UI part.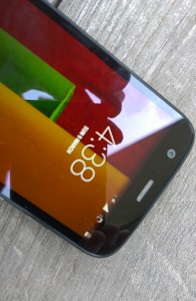 The device comes in two storage variants – the 8 GB and 16 GB, and there's no microSD card option, but you do get free 50 GB storage space on Google Drive for two years. Also, you don't get any separate USB cable in the box, but that's not really a problem since it uses the standard microUSB to USB cable (and also supports USB on the go).
Concluding this review, the Moto G gives what not any other device has done so far – a fun, non-frustrating experience to an Android user that doesn't want to shell more than Rs 15,000. Things should only get better from here in terms of choice of phones in this price range. Snappy performance, good battery backup, average camera, decent build quality and best screen for a phone under 15k, Motorola has done a job well done, and it is not very surprising that the company decided to mark their Indian comeback with this handset, which has already become its best-selling device till now. If you're looking for a smartphone in this price range, the Moto G (along with the usual Lumia 620 and Xperia L), is certainly the one to consider while deciding what phone to pick. 
Buy this phone on Flipkart for a discount.