Tech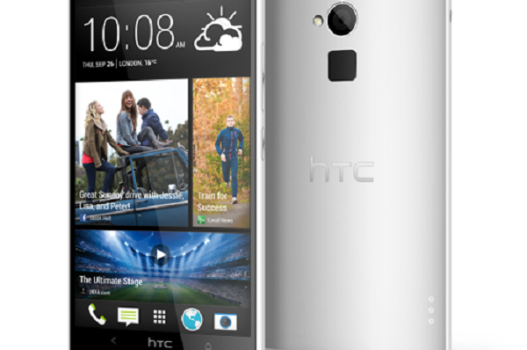 Published on November 26th, 2013
0
HTC's One Max comes to India
HTC's newest phone is priced at Rs 56,490; the phone's high price could be accounted for by fluctuating rupee-dollar rates.
by Manik Kakra
HTC has just officially launched its One Max in India. This phone boasts a 5.9-inch 1080p LCD 3 touchscreen, and is touted as the One's big brother. Under the hood, there is Snapragon 600 (.17 GHz quad-core Krait 300) SoC, along with 2 GB of RAM. On the back, there is a 4 MP 'Ultrapixel' camera as well as a fingerprint scanner mainly for unlocking the screen and launching three apps with a finger swipe (three fingers pre-assigned by the user). The front side sports a 2.1 MP wide-angle camera and dual speakers. It runs on Android 4.3 Jelly Bean with HTC's Sense 5.5 UI on top.
Weighing 217g, the One Max features Bluetooth 4.0, WiFi a/b/g/n/ac, NFC, a microUSB 2.0 port and 3.5 mm headset jack. The phone is powered by 3,300 mAh battery, and is available in 16 GB and 32 GB storage options, expandable up to 64 GB via microSD card.
First showcased back in October, HTC has priced the phone at a whopping (MRP) Rs. 61,490, and it's now available in the market for Rs. 56,490. Users also get 50 GB of free Google Drive storage space for two years. The company also unveiled the official Power Flip Case accessory for the One Max, which aims to provide 1,200 mAh of juice while providing for protection to the device as a shell.
It is evident that the rupee-dollar exchange rate has really made phones prices rocket in the last couple of months or so, and it's hurting. It's hard to imagine people going for this phone for over Rs. 55K, maybe once the price goes under the 50k mark, it may well attract a lot of user looking for a large-screen phone.