Tech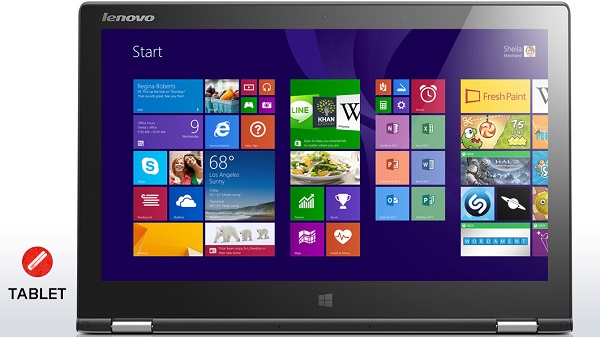 Published on October 17th, 2014
0
Lenovo launches two more tablets
Lenovo adds Yoga Tablet 2 and Yoga Tablet 2 Pro to its earlier launches in India. Here's a spec check.
by Manik Kakra | @Manik_K on Twitter
Lenovo has launched as many as four tablets in the Indian market. Their tablet series Yoga has been upgraded and now includes Android as well as Windows variants. All these tablets feature Dolby Digital sound, and front-facing speakers. They are equipped with Bluetooth 4.0, WiFi b/g/n (2.4 GHz and 5 GHz), 3.5 mm headset jack, and can be attached with a supported keyboard that doubles up as their cover.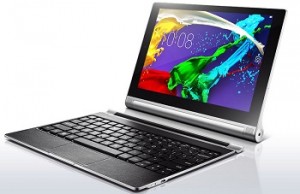 Lenovo's 8-inch (1920 x 1080) model comes in Android 4.4. Under the hood, there is an Intel Z375 (1.8 GHz quad-core processor) chip along with 2 GB of RAM. On the back, there is an 8 MP camera; while the front has a 1.6 MP camera. Powered by a 6,400 mAh battery unit, this tablet has 16 GB of on-board storage, which can be expanded up to 64 GB. It comes in platinum colour, and will be available on Flipkart for Rs 20,990.
The 10-inch (1920 x 1200) model comes in both Android 4.4 and Windows 8.1 (32-bit) variants. It is powered by the same Intel chip and houses a 9,600 mAh battery unit that the company claims gives 18 hours of usage. The 10-inch tablet can be bought from Flipkart at Rs 28,990 for the Android model, and Rs 34,990 for the Windows model.
Lenovo also launched its Yoga Tablet 2 Pro, which is equipped with a 13.3-inch (2560 x 1440) screen, and has a Pico projector built-in that can throw 50 inches of image, plus, there is an 8-watt subwoofer at the back. It carries a 9,600 mAh battery cell, and 32 GB of internal storage, which can be expanded. This tablet will go on sale next month from Flipkart at Rs 47,990.