Tech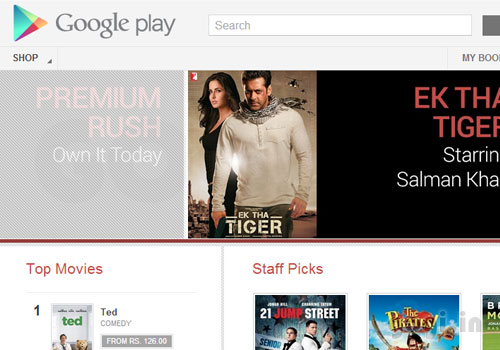 Published on March 29th, 2013
0
Google starts rental movie service for India
You can buy and rent movies, TV shows from Google's Play Store. But the Hindi film collection isn't too exciting.
by Manik Kakra
Here's some good news for you Android users out there. Google has started its movie rental service on the Play Store. Users in India can now buy and rent movies and TV shows from Google's Play Store.
To start off, you have to download the Google Play Movies and TV app on your Android device. Then, search for the required movie, and hit buy or rent.
Use it: If you rent a movie, you can watch it within a month, and for the next 48 hours once you start watching it. If you download a movie or a TV show, you can enjoy it on five devices, but rented movies can only be watched on a single device.
Pay for it: If you are not aware of the payment system, this is how it works: a user has to add his credit or debit card information on Google Wallet, in order to buy apps, games, e-books, movies, and more from the Google Play Store.
What we didn't like: The movie collection right now isn't too extensive. Hindi movie lovers won't have a very good time browsing through the new catalogue. Movies start Rs 50 onwards, and go up to Rs 590, available in SD and HD options. Some of the Hindi titles available as of now are Ta Ra Rum Pum, Ek Tha Tiger, etc., but a lot of good films are missing. Meanwhile, the English collection looks much better, with The Hobbit, 21 Jump Street, Seven Pounds, and so on included.
A few days ago, Google started selling the Nexus 7 (16 GB WiFi) on its Play Store for Indian users, priced at Rs 15,999. A few weeks back, Google introduced e-books for Indian users. Back in December, Apple opened its iTunes store for India. Looking at these developments, it is sure that Google and Apple are becoming serious about the Indian market, especially on the content side. Though we have services like hungama.com and saavn.com for music and movies, brands like Google and Apple can really work the magic to bring better content to India, quality and quantity-wise.
I hope Google and Apple start bringing their devices quicker to Indian shores. We have a lot of users here, waiting for the devices and content, while their US and Europe friends enjoy it way before. Here's hoping this start doesn't disappoint, and companies have many more goodies in store for its users.
(Picture courtesy gogi.in)