Read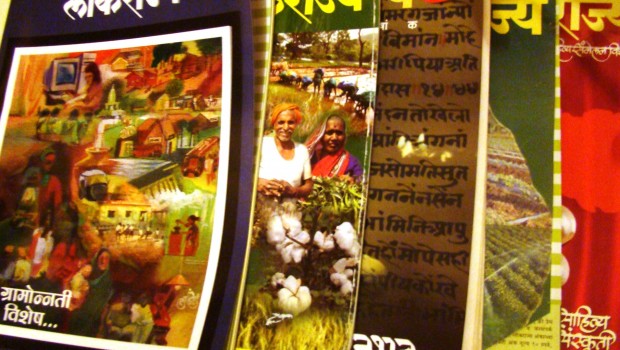 Published on October 29th, 2012
0
The most-read magazine in Maharashtra
…is a government publication! Lokrajya, over 60 years old, is the country's only government magazine with a 3,05,000 print run.
by Vrushali Lad | vrushali@themetrognome.in
A magazine prepared and printed in Mumbai, finds resonance all over the state. It is sold out within a few days of hitting the stands, and has a staggering on-stands sale of about 50,000, higher than the glossiest magazines devoted to other topics. It has a stunning subscriber base of 3,05,000 people all over Maharashtra, apart from a strong online presence. And despite its huge popularity, it is priced at a modest Rs 10 per issue, and is produced on a non-profit basis.
The magazine is titled 'Lokrajya', and is a Government of Maharashtra Information and Public Relations (PR) production. The entire team working on the magazine, however, mention at the start of the interview that none of their names are to be made public. "We are only doing our jobs," they say, before an official launches into an explanation of the magazine and how it came to be so popular.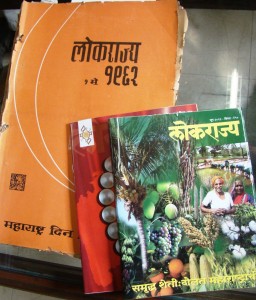 "It was started 64 years ago, as a weekly, to cater to the strong reading culture of the state," he explains. "Three generations have come up reading Lokrajya; it is not a gazette but it is a government mouthpiece. However, we maintain the highest editorial and production qualities for each issue. The cover is very scrupulously done, and we are very meticulous about minimising errors." The magazine is backed by a team of in-house editors, and there are edit meetings held before production of each issue begins. "We try and gauge what people would be interested in reading, what is most current at the moment. We also bring out special issues that have always been well-received – our special issue on Babasaheb Ambedkar's birth centenary even went into a reprint!"
He mentions that the magazine's readers, and indeed its targeted niche, are not based in Mumbai. "A very small percentage of people in Mumbai are reading it. Our base is in the other cities and towns, and especially in the villages. Our most ardent readers are UPSC students, government servants, gram and zilla panchayat workers, rural schools and colleges, tribal students and economically backward students. We feature stories and interviews that are of especial interest to these groups."
Lokrajya is printed in Marathi, Hindi, Urdu and English, though it used to be printed in Sindhi also. "It was too taxing to print it as a weekly, so it was later made a monthly," the official explains. "Since the periodicity is monthly, we can pack more news and features in each issue." says Director General Pramod Nalavade. He adds, "You should see our distribution process. With such huge bundles of magazines going out to distributors and to post offices all over the state, the magazine is almost a small industry in itself!"