Read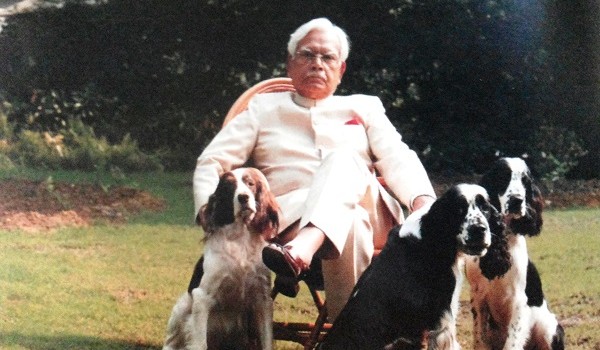 Published on October 2nd, 2014
0
Review: 'One Life Is Not Enough'
Natwar Singh's book on his life and times as a bureaucrat-turned politician is a fascinating insight into a life well-lived.
by The Editors | editor@themetrognome.in
We rarely have any patience with politicians in India, and politicians over the age of 80? Let's just say, Congress politician and famed Gandhi family loyalist Natwar Singh's autobiography would ordinarily not have made any ripples on the Indian book scene.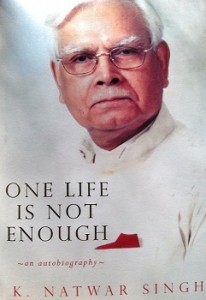 But, as with most book releases lately, when controversial details of Sonia Gandhi's (mis)handling of affairs and spicy excerpts about the highs and lows of the Congress party began to make their way to publications, Singh's book One Life Is Not Enough, suddenly acquired a must-read status.
Nor does Singh disappoint. Far from being a stodgy, self-righteous look at the life and times of pre-independent and post-independent India, One Life Is Not Enough is a frank, no-holds-barred account of life behind the scenes of Indian politics. It is also an illuminating look into the machinations of the External Affairs Ministry – imagine dealing with the Chinese Premier on an ill-fated trip to India ending with failure of talks with Jawaharlal Nehru, or being constantly on the ball on a posting to Karachi during President Zia-ul-Haq's reign. The book also describes in detail the failure of the Rajiv Gandhi Government in effectively dealing with the internal affairs of Sri Lanka, and Singh's part in the creation of the independent country of Bangladesh.
He also describes, in not very modest terms, his successful organisation of two high-profile, international summits in one year – the Commonwealth Heads of Government meeting and the Non-Aligned Movement Summit, both in 1983. In between his role in several milestones in Indian political history, Singh also gives glimpses into his personal life – his education in England, his marriage to an Indian princess, his friendship and admiration for Indira Gandhi, and the thorny relationship he shared with Sonia Gandhi. In the preface, he writes about how Sonia sent her daughter Priyanka to ask him if he intended to write about 'the events that took place in May 2004 before the swearing-in of the UPA Government'.
"I said I intended to," Singh writes. "No one could edit my book. I would not skirt the truth, nor would I hit below the belt. Certain proprieties cannot be ignored. Just then, Sonia walked in. 'What a surprise!' I said. Her overly friendly and gushing greeting bewildered me. It was so out of character. It was a giveaway. Swallowing her pride, she came to her 'closest' friend to surrender her quiver. It took her eight-and-a-half-years to do so.
"My book has aroused unexpected interest. I am flattered. Also mildly worried. The expectations are sky high."
See pictures from the book:
Expectations were bound to be sky-high, come to think of it. Singh has been present in the background, and several times, the foreground, as major events shook the country in independent India. He was witness to the events leading to the Emergency in the 1970s, the rout of the Congress thereafter, the assassination of Indira Gandhi and the anointing of Rajiv Gandhi as her heir, the killing of Rajiv Gandhi and the taking over of the Congress by his widow Sonia after eight years, and the subsequent rise and fall of the Congress under the Sonia-Rahul Gandhi combine. In this context, Singh's account is a valuable one for chroniclers of Indian history.
Besides, he writes with charming candour and humour about situations both in his personal and professional life. Interestingly, he relays even politically incorrect comments and opinions. Sample some of the comments he mentions:
"I once asked Mrs Gandhi what she thought of Margaret Thatcher. She said, 'What Iron Lady? I saw a nervous woman sitting on the edge of the sofa."
"I was walking on my terrace one day when my servant came and told me, 'The President is on the line.' When I took the call, President Zia, after inquiring about my health, asked me if I was free to have dinner with him that night. I agreed. He said, 'Could you also give me a list of names of your friends?' I replied, 'Sir, your intelligence agency already has the names of my friends. AS for the one or two who aren't on the list, I would like you to spare them!"
"[Sonia's] English is near perfect; Hindi is the problem – she cannot speak the language without a written script in front of her. To my suggestion that she learn by heart a chaupai or two of Tulsidas's or Kabir's dohas and use them in her speeches, she threw her hands up. 'I go blank even with a written text. You want me to say something extempore? Forget it.'"
For those outside the corridors of power, One Life Is Not Enough is an essential read on events in Indian history that need clarification. Singh certainly sets the record straight on many points – on how Sonia was forced to give up her idea of assuming Prime Ministership after son Rahul categorically told her not to take up the job, on how strained relations with then PM Morarji Desai posed many roadblocks in his work, and also how his jump from bureaucracy to politics was a relatively simple progression.
Rating: 4/5. One Life Is Not Enough is available for sale on Flipkart. 
 (All images sourced from 'One Life Is Not Enough')