Read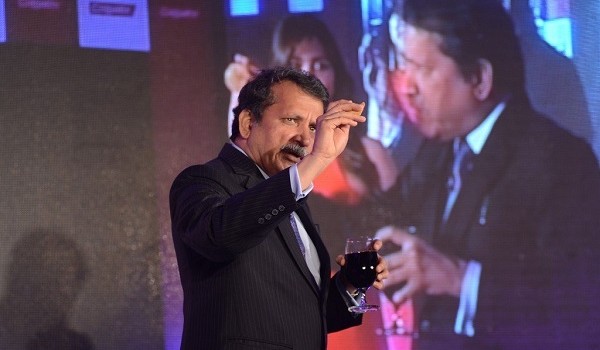 Published on March 9th, 2015
1
Review: 'More Than A Mouthful – Adventures of a dentist'
This delightful, informative book by India's foremost aesthetic dental specialist, Dr Sandesh Mayekar, reveals many secrets and truths about our teeth.
by The Editors | editor@themetrognome.in
Our teeth are actually our best asset, though we give more credence to our eyes and noses and even our smile, not realising that teeth in bad condition or with the wrong alignment often mar the symmetry of the face. We are guilty of neglecting our teeth till such time that we develop a dental problem so severe that it necessitates a visit to the dentist. Most of us don't even brush our teeth properly.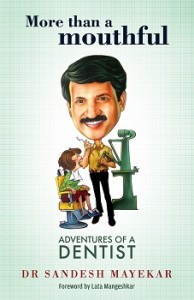 In the light of this, Mumbai-based dentist Dr Sandesh Mayekar's delightful book, More Than A Mouthful – Adventures Of A Dentist is an insightful look (literally) into our mouths to reveal many of our secrets. The good doctor has a thriving practice in Mumbai and is the dentist to many of the film industry's stars, but he also treats economically backward patients at very low rates or even for free. Throughout his illustrious career, Dr Mayekar has discovered and treated myriad dental conditions that caused their respective sufferers days of agony – one even contemplated suicide due to a mysterious 'clicking' sound his teeth made for over 16 hours a day!
Dr Mayekar explains various diseases and situations in an easy, humane manner, employing humour without being condescending. For instance, in the chapter 'Every breath you take', he outlines some cases of severe halitosis with a nice blend of compassion and humour, easily explaining that bad breath can be a result of years of tartar build-up on the teeth, or an acidity condition, or even inadequate dental hygiene. Then there's the chapter on 'Supermodel Smiles', Dr Mayekar gives the case of India's first supermodel 'U.R' (we all know who that is), and explains how he corrected her dark gums and tiny teeth before she went on to bag major modelling assignments. There are also incidents of gaps in teeth being repaired, of buck teeth being caused due to children sucking on their thumb, of teeth being chipped away as they bit on nails during stressful moments, even of tissues undergoing change and not letting a person eat.
The book is educational and interesting without getting into jargon (if there are medical terms, they are well explained in simple language) or involving gross, tedious descriptions of signs and symptoms. A gamut of dental problems are covered in a conversational style, and it is a good handbook even for dental students as it highlights several cases where empathy and listening led the doctor to understand why a patient was facing a particular problem. Most of all, this book seeks to remove the fear most of us associate with dentists and emphasises the importance of keeping the teeth in good condition, even when they're not painful.
An excerpt from More Than A Mouthful – Adventures Of A Dentist:
'Brides go for facials and hair treatments before their wedding day. Rocky, a young man who was to tie the knot the following day, walked into my clinic at about 7.30 the previous evening, asking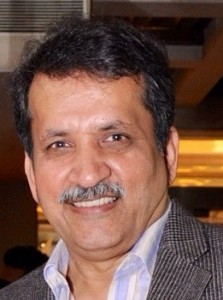 for a cleanup.
The first thing I noticed when I peered into his mouth was the immense gaps in his teeth. You could virtually drive a small car through them, I thought. I straightened up and asked him, "Do you want to get married with gaps this size?"
"There is nothing I can do about it. I am not willing to wear braces – where is the time?" he replied.
He was a good-looking guy, well built. As he spoke, the gaps were clearly visible. I imagined the wedding pictures, with him looking magnificent in his achkan, turban on his head, and the picture being spoilt by the gaps in his teeth when he smiled at the camera.
I could not help telling him what I imagined. "Well, is there anything that can be done about it?" he asked. His voice was a mixture of hope and anxiety. Suddenly he could see how people would react to his wedding photographs.
I suggested a cosmetic procedure.
"Is it possible in one day?" he asked, with hope now stronger in his voice. I nodded.
He thought about it for a moment, then shook his head. "Doc, let's just stick to the cleanup for now," he said. "Let's leave this for another day. I don't think I want any pain just now."
At that time, my practice was small; I had just one chair and was working alone. While we were talking, I did a mock-up of how his teeth would look with the gaps closed using a material called LC composite resin. It is like a paste that hardens through the shining of light on it. The technique had come into the country around 1981-82, and I had had time to master it.
…When I showed Rocky the mock-up, the was very pleased. Even his friend, who had accompanied him, was impressed.
Then Rocky changed his mind, and asked me how long it would take. Since we didn't have much time, I suggested working on the upper teeth first and leaving the bottom teeth for later. In a smile, the upper row is always more visible.
…One long, critical look in the mirror and Rocky was so happy that he invited me to join in the celebrations. He later sent me a photograph of him smiling with his wife and family with a note that read, 'Doc, I never imagined myself without the gaps in my teeth showing! And it has made me so confident. A couple of friends even asked me about it.'
Subsequently, after six months, we closed the gaps in the lower teeth.'
Rating: 4/5. Available for sale on Flipkart.
(Pictures courtesy pages.rediff.com, www.iaacd.org)