Read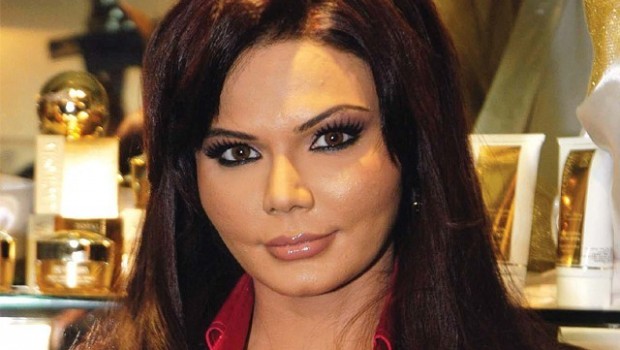 Published on November 13th, 2012
2
Rakhi Sawant's hilarious letter to Mumbai CP
Incensed over Digvijay Singh's slur on her 'noble character', item girl wants Rs 50 crore compensation for his defamatory remarks.
Item girl and occasional actor Rakhi Sawant has not taken kindly to Congress leader Digvijay Singh's tweet that "Arvind Kejriwal and Rakhi Sawant are quite similar…they both try to expose but without any substance". But instead of getting into a war of words with Singh, who Rakhi feels has cast a slur on her "noble character" by "lovering the image of a Hindu woman", she has dashed off a complaint letter to Mumbai Police Commissioner Dr Satyapal Singh.
In her letter, reproduced verbatim below, Rakhi has alleged that Singh has passed a "lewd, indecent and outrageous remark" on her by "the said accused Digvijay Singh of Congress Party." Rakhi has also objected to Singh comparing her "with masculine gender Kejriwal and thus raised question mark on my feminist."
Read the full letter below (courtesy www.ibnlive.com). All punctuation and grammatical errors have been left intact.
Mrs. Rakhi Anant Sawant,
4001, Imperial Height, B Tower, Best Colony, behind Oshiwara Depot, Goregaon, west, Mumbai-104, Dated -12/11/12 To, 1). Commissioner of Police, 2). Home Secretary, State of Maharashtra, 3). Sr. P.I., Goregaon Police Station,
Subject;- Complaint for taking cognizance on the lewd and indecent remark on me by One Digvijay Singh General Secretary of Congress Party.
Dear Sir,
I, the undersigned and as mentioned above, respectfully bring to your information my grievances with a hope to get justice, as under :-
1) I am a professional and artist and world known stage performer, famine activist, social worker and cultural Maharashtrian Maratha girl.
2) I have been hearing many news channels playing news on me and calling on and reporting about lewd indecent, outrageous remark on me by the said accused Digvijay Singh of congress Party. Whatever I heard about my self and my person, which is said by the said digvijay singh a as… arvind kejarival and rakhi sawant are quit similar…they tried to expose but no substance…"
3) He said that I am a female and cultural activist. I say that said accused has lowered my image and reputation by comparing with masculine gender Kejarival and thus raised question mark on my feminist. I say that accused Digvijay has compared me with political activistwho has no specific base and character.
4) I say that who told Digvijay singh that I have no substabce. I say that I do not know Digavijay singh personally and neither I have entered into any contractual obligation to claim expose to show. Neither I feel that any such elderly person of such old age shall inter into private life and profession in any manner. For the same I have already issued instruction to my lawyer Ejaz Naqvi to issue notice for claim against defamation for damage of Rs. 50 Crore to said accused Digavijay Singh at his address for loss etc. and further calling on him to stop such comment in further future.
5) Prima facie it looks that Your officer and the concerned state congress machinery is inclined to presume and spread the false contention about my person that I am outrageous. Which is too attracting jurisdiction of state/national Human Right Commission I say that the same contention/presumption of Congress Party and is general Secretary Digvijay Singh is baseless and false and I wanted to prove it by enacting Police investigations. Fore the sake of justice and my right to dignified life under the constitution of India.
In the circumstances and gruesome attack on my noble character and log history of disregarding to lodge proper cognizance despite being informed about such remarks on my person, I finally request you to direct to you subordinate to register an appropriate complaint and F.I.R. of outraging modesty of a woman/female, charges of passing lewd remarks and eve teasing, abusing, mischief, passing defamatory remake and false statement and rumour etc against me and Criminal Conspiracy etc. and further transfer it to C.B.I. against the above mentioned accused under the Relevant provisions of I.P.C. u/s. 354, 427, 500, 511 and also section 67/A and 69 of Information Technology Act 2000 etc. and investigate the matter as disclosed in the Complaint and find out the accused etc. and secure the dignified life & legal interest of the Complainant & in the interest of justice and Right to dignified life as guaranteed of the constitution for all the citizens to get justice.
Yours truly,
Rakhi Arun Sawant Adv. S. Ejaz A. Naqvi
(I have been told all the facts in Marathi before signature),
C.C.-1) DG.P.-Maharashtra 2) Chairman, State Woman Commission, Mumbai/bandra for calling the accused Digvijay Singh for his lewd and anti woman remark and proper action. 3). Sonia Gandhi , President of Congress party, 10 Jan pat for taking appropriate action on the said accused Digvijat Singh for lovering image of a hindu Woman.
(Picture courtesy www.tribune.com.pk)