Listen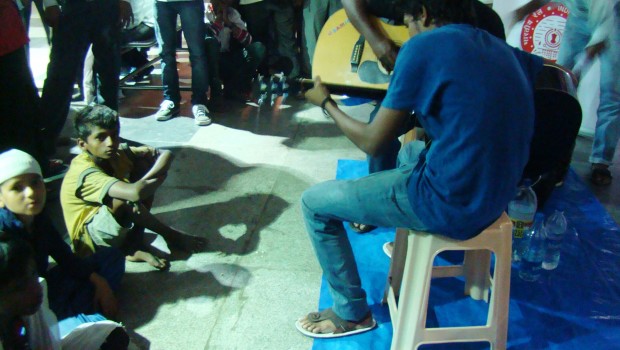 Published on November 1st, 2012
0
Music at a railway station
We catch up with Neeraj Arya as he performs at the Borivli railway station and quickly draws a big crowd.
by The Diarist | thediarist@themetrognome.in
It is 6.15 pm, and Borivli railway station's platform number 1 is expectedly buzzing with commuters on their way home. But at a space near the main indicators, the unmistakable strains of a man singing to the accompaniment of a dholak fill the busy air. Edge closer, and you realise that you can no longer hear the passing trains.
I catch up with the next performer in line, Neeraj Arya. "What's the time?" Neeraj asks me, clearly distracted. He is a few minutes away from his performance – he sings and plays the guitar – but he stops to chat and offer details. "I am a resident musician with the National Streets for Performing Arts (NSPA), and so far, we've played at three railway stations this month, every week. I have performed on at least 15 occasions," he grins, adding that he also fills in for musicians who are scheduled to play but who cannot turn up at the last minute.
Arvind Ekrupe, coordinator at NSPA, joins us. "We perform at railway stations because train travellers are an extremely stressed lot, and live music helps bring their stress levels down. Besides, musicians and good artistes perform only at galleries and closed auditoria, so the common man on the street doesn't get access to good music. This is our effort to make music accessible in a community space," he explains, adding that with local trains being a mass transit travel mode, the initiative gets all kinds of audiences.
"We perform at Churchgate station on Monday, Borivli on Wednesday and Bandra on Saturday," Neeraj chips in. "We have two artistes performing from 9 am to 11.30 am, and two others from 5 pm to 7.30 pm. And there is a good mix of music played out. So far, the response has been fabulous."
He leaves us to prepare for his own act. By now, several curious commuters have stopped to watch, and listen, as Neeraj and a friend start tuning up their guitars. Three beggar children are the audience members closest to Neeraj, but he doesn't seem to mind them.
And then he begins to play, and we forget the trains once more.