Listen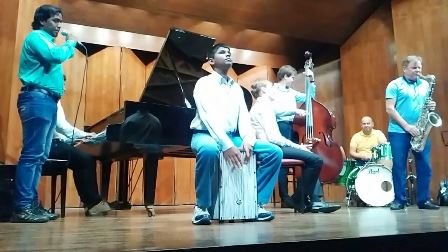 Published on October 6th, 2015
0
Jazz fever hits Mumbai
Famed jazz musician Igor Butman kicks off Mumbai tour with a spellbinding stage performance with talented visually challenged Mumbai students.
by Ravi Shet
Noted Russian Jazz maestro Igor Butman, after giving a magical performance in Goa on October 4, 2015 reached Mumbai yesterday with his quartet comprising Saxophone, Drums, Double Bass and Piano. Jus' Jazz 2015, an annual jazz fest series is initiated by Jazz Addicts, a group of jazz enthusiasts.
Igor needs no introduction, especially to people who understand and love jazz music throughout the globe. It was in the year 2003 that Igor first came to India as a part of India Russia Cultural Programme and this is the fourth time Igor (who has been associated with Jazz Addicts) has come to India. This time, he will enthrall audiences with a unique presentation.
His quartet features an exceptionally talented pianist, vocalist and the visually challenged Oleg Akkuratov from a small Russian town, Armavir. Oleg has won numerous awards and hearts through his incomparable talent. Igor met Oleg three years ago in a competition and was impressed by him. Drummer Eduard Zizak and Sergei Korchagin, double bass player, a new member of the Quartet, completes this magical band.
In an interactive workshop yesterday between Igor Butman Quartet and the students from National Association of Blind (NAB) at Little Theatre, NCPA, Mumbai, every moment was a touching one and the auditorium was spellbound by jazz fever. The NAB students and Igor Butman Quartet had an excellent Jam session and also one of the NAB students, Bhagwan and Oleg sang 'Mera Joota Hai Japani' which was an excellent performance of the evening.
Igor Butman Quartet will perform today at Tata Theatre, NCPA. Igor says with his infectious smile, "I love coming to India since people over here respect and appreciates jazz music and also the food, especially chicken dishes are really good. Jazz music motivates me to perform and improvise my own composition every time." He says that music runs in his family, his grandfather was a pianist who used to perform for Russian band. "I enjoyed watching my father performing on the stage and that made me follow in his footsteps. Also my mother and grandfather encouraged me lot in my music journey."
Jazz music lovers, get ready to be mesmerised this evening by Igor Butman Quartet.
This event is at Tata Theatre, NCPA, 7 pm today, Tuesday, October 6, 2015. Tickets are priced from Rs 300 to Rs 1,668.