Film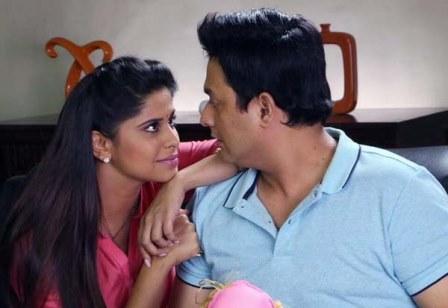 Published on September 7th, 2015
1
Review: Tu Hi Re
A film about having a secret past and making peace with circumstances, Tu Hi Re is a good love story.
by Ravi Shet
Rating: 3 out of 5
Tu Hi Re is a story about love, arranged marriage and fidelity.
The film starts with Nandini (Sai Tamhankar), a village belle who gets a marriage proposal from Mumbai-based boy Siddharth Desai (Swwapnil Joshi). Her family is happy that the boy is not asking for a dowry and is well settled in Mumbai, while Nandini is upset because it is her dearest ambition to have a love marriage. Siddharth marries Nandini without even meeting or talking her once. On their first night, Siddharth is uncommunicative, but Nandini expresses her feelings about their sudden marriage and how she was initially unhappy.
The story then moves ahead by 8 years. Siddharth and Nandini have a happy married life in Mumbai with their bubbly daughter Pihu (Mrunal Jadhav). Nandini finds a job in a hotel while Siddharth is an engineer in a textile company. Enter MLA Kamlakar Bhanushali (Girish Oak), who tells Siddharth that he can get the latter's company more funds if he leaves his wife. This upsets Siddharth, who is further rattled when he sees the MLA at mall shortly after. Suddenly, his behaviour changes towards his wife and daughter. Finally, Nandini confronts him but he does not reveal the reason for his behaviour.
The next day, Nandini receives a package at home and is shocked at the contents: inside are a few pictures of Siddharth garlanding another girl. She later finds out that the girl is Bhairavi (Tejaswini Pandit), and she is MLA Bhanushali's daughter. What happens next forms the crux of the story.
Sanjay Jadhav's direction and screenplay are very good, and the film has some great background music. The performance are top notch – Sai Tamhankar and Swwapnil Joshi excel in their respective roles, and while the other actors lend good support as well. The film is a one-time watch and a good treat for fans of Sai Tamhankar and Swwapnil Joshi.
(Picture courtesy filmcollection.in)