Film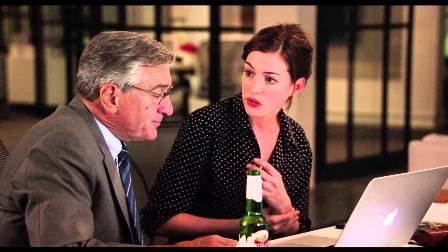 Published on September 28th, 2015
0
Review: The Intern
A heart warming story about bridging the generational gap, this one's a must-watch for its Academy Award winning lead performers.
by Ravi Shet
Rating: 3 out of 5
A 70-year-old widower, Ben Whittaker (Robert De Niro), fights his boredom and looks for something to do. While buying groceries, he finds a flier mentioning a recruitment drive for senior citizen interns at an e-commerce startup that sells clothes. He decides to apply and go for the interview; in an age of Instagram and Facebook, he is confident that his experience will serve the company.
Aboutthefit.com is a small online clothing shop owned by Jules Ostin (Anne Hathaway), which has now turned into a successful business. Jules is a hands-on, informal boss who is strict about the brand and customer service. When informed about the senior citizen recruitments, she is initially skeptical about keeping an intern, then later finalises Ben.
Ben is punctual, warm and hard working. Meanwhile, Jules juggles a busy career with a daughter and stay-at-home husband, Matt. At work, Jules initially ignores Ben – after all, he is just an intern – but later they develop a good understanding become good friends. There are some interesting scenes, such as Jules helping Ben open his account on Facebook and their conversations that take place while doing so.
Robert De Niro and Anne Hathway portray their roles with ease and deliver sparklingly good performances. There are some genuinely warm and funny moments in the film which will make you laugh out loud. This one is a one-time watch, especially for fans of Robert De Niro and Anne Hathaway.