Film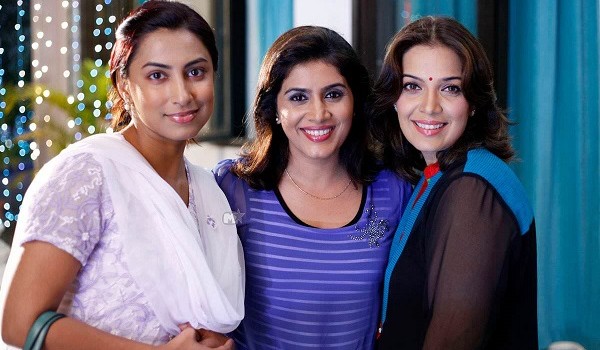 Published on June 14th, 2015
0
Review: Sugar, Salt Ani Prem
A story of love, kindness, sacrifice and friendship, this Marathi film boasts of some stellar performances and a well-balanced plot.
by Ravi Shet
Producer and director Sonali Bangera brings a star studded ensemble in this film which tells the story of three women who are looking for their respective paths and the relationship they share.
The film starts with Aditi (Sonali Kulkarni) adding a sugar cube to a cup of tea, Ananya (Shilpa Tulaskar) picking up a packet of salt from the supermarket and Soumya (Kranti Redkar) picking up a greeting card from the Archies store – they are in the same mall and leave one by one in three different directions.
Aditi lives with her husband – Rahul (Sameer Dharmadhikari) and adopted son Om, who is autistic. Rahul is a wealthy financial expert, while Aditi was a high-achieving working woman with a lot of accolades and trophies marking her professional life. However, she chooses to stop working so that she can take care of her son – this creates a rift between her and Rahul. He tries hard to send their son to a boarding school for autistic children, so that he can get back his wife's attentions.
Meanwhile, Ravindra (Prasad Oak), owner of Robo Tech lives with his wife Soumya and is busy building his dream – a robotic chair that can help the needy. The film also introduces his ex-colleague Pradhan (Yatin Karyekar), who wants to hijack Ravindra's dream project for commercial purposes.
Ananya stays with her daughter and husband – Ajay (Ajinkya Deo), a well-established businessman in awe of status and money. He hardly has the time for relationships; this becomes a point of friction between him and his wife, who is always willing to help a person in need.
Ajay and Ravindra are friends; however when a financier pulls out of Ravindra's project after Pradhan manipulates the deal, even Ajay offers no help. Ravindra gets killed in a car accident and his project gets stuck. This results in a meeting of the three women – Aditi, Soumya and Ananya – who are also struggling in their respective lives. The story then develops their relationship and how their friendship gels with sugar, salt and love (prem).
I loved how the film portrays the many dilemmas and the small happinesses of today's women – a lot of women will relate to this. The plot is well-balanced and the performances – especially by Sonali Kulkarni, Shilpa Tulaskar and Yatin Karyekar – are top notch. Musician Siddharth Mahadevan has scored all the songs, and also appears in one of them. Overall, this one's worth a watch.
Rating: 3 out of 5
(Picture courtesy marathistars.com)