Film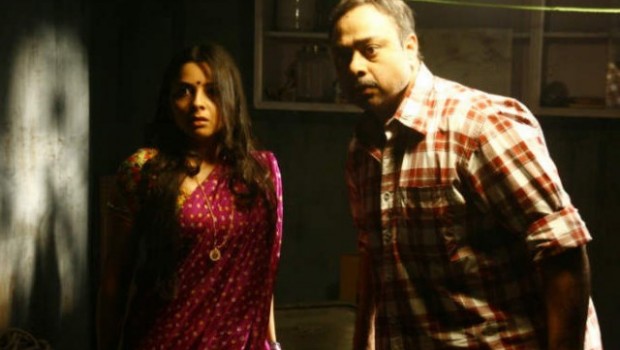 Published on July 6th, 2015
0
Review: Shutter
A film about four people trapped by circumstances and forced to adapt to a strange situation, this one's a must-watch.
by Ravi Shet
Rating: 3 out of 5
Shutter is directed by VK Prakash, who has remade his own Malayalam film by the same name. The movie starts with Pari, the oldest daughter of Jitya bhau (Sachin Khedekar) who is often away on work. Pari is rehearsing for a Super Singer Radio City competition, and her father has just returned on vacation. He is unhappy with her antics and decides to get her engaged to his friend Hemant's son before he resumes work again.
Ekya (Amey Wagh) is an autorickshaw driver and one of Jitya's close friends; his dearest ambition is to work outside India. Meanwhile, a struggling film director (Prakash Bare) takes Ekya's autorickshaw and forgets to take his bag along when he alights; the bag contains a film script he is working on.
One day, Ekya, Jitya and his friends are partying in Jitya's shop, when the two friends take a ride in Ekya's autorickshaw to fetch liquor. At this juncture, a sex worker (Sonalee Kulkarni) enters the scene, starting a rollercoaster ride in the lives of Jitya and Ekya. A turn of events end up in the sex worker and Jitya being locked up in the shop with scarce ventilation and no food. Ekya, meanwhile, goes to fetch food for the duo and meets the film director who is still looking for his bag. At this juncture, Ekya is arrested for driving under the influence of alcohol. This is the focal point of the story.
Sachin Khedekar and Sonalee Kulkarni essay their roles to perfection with great intensity, and are ably supported by Amey Wagh and Prakash Bare. The direction is top notch, as is the cinematography by KK Manoj. My only grouse with the film was that it should have had no songs – these only take away from the overall fast pace of the film. Overall, this is a great suspense thriller. Go watch it.
(Picture courtesy in.bookmyshow.com)