Film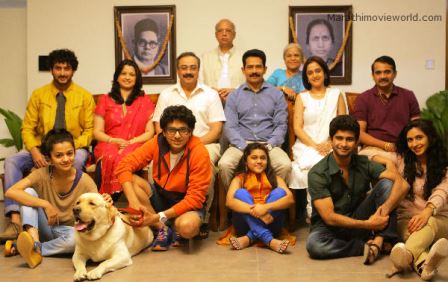 Published on October 19th, 2015
0
Review: Rajwade and Sons
This week's release is the story of generational conflict in one of Pune's richest business families. Watch it with family.
by Ravi Shet
Rating: 3.5 out of 5
A film about business, interpersonal relationships and how succeeding generations view the world through a different prism, Rajwade and Sons is a story of familial obligations, stifling dreams and carrying on age-old traditions.
Adamant patriarch Rameshrao Rajwade (Satish Alekar) is the head of the Rajwade family and his children – Vidyadhar (Sachin Khedekar), Laxmi (Mrinal Kulkarni) and Shubhankar (Atul Kulkarni) obey their father's decisions and orthodox values without questioning him.
Vidyadhar is prone to snooping on his children by checking their Facebook accounts and even discussing the same with his wife. Meanwhile, Anay is slightly self-centred with his love for shoes and his laptop, while Shweta is interested in working and travelling around the world.  Laxmi lives in her father's place along with husband Vaibhav Joshi (Rahul Mehendale) and their kids – Annaya (Mrinmayee Godbole) and Virajas (Siddharth Menon). Virajas is shown working half-heartily in family business with Anay, while Annaya wants to pursue her career in modeling.
In this cast of characters is introduced Vikram (Amitriyaan Patil), Rameshrao's estranged son who has left the family home years ago and not been in touch ever since. Anay, Annaya, Shweta and Virajas go to their old home and discover Vikram's belongings and also take some of the things. Till one day, Vikram returns and everyone is excited and happy to see him, except for Rameshrao, Shubhankar and Vaibhav. They suspect that he has come for his share of the money and property. Vikram's entry in the family energises the third generation of the Rajwade family to pursuing their dreams.
Sachin Kundalkar keeps the right amount of twists in the story, and realistically showcases how the older generation's decisions are forced on the succeeding ones. There is a harsh glare shone on the infighting and the concept of the Indian joint family that restricts the younger generation from living their dreams. The pace of the film is well balanced in the second half with good camerawork by Arjun Sorte. Atul Kulkarni and Amitriyan Patil deliver good performances and they are very well supported by Alok Rajwade, Krutika Deo, Mrinmayee Godbole and Siddharth Menon. This one is a good watch with your family members – even the extended family ones.
(Picture courtesy marathimovieworld.com)