Film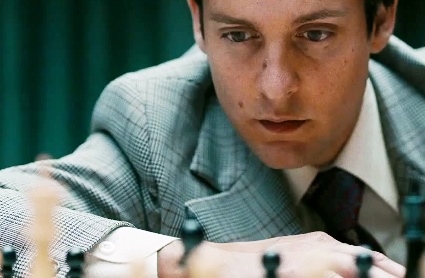 Published on September 20th, 2015
0
Review: Pawn Sacrifice
A fine piece of work on chess, battling a mental illness and becoming a champion, this one is a must-watch.
by Ravi Shet
Rating: 4 out of 5
Director Edward Zwick's Pawn Sacrifice is a film based on rise and fall of American chess legend, Bobby Fischer. Young Bobby (Aiden Lovekamp) stays with his mother sister in Brooklyn. Bobby becomes a chess champion at the age of 12, but his home life is in turmoil owing to his mother's relationship with another man. He even orders her out of the home because he needs complete peace and quiet to focus on chess.
In 1962, the adult Bobby (Tobey Maguire) goes to Bulgaria for a chess championship event, but he leaves mid-way after accusing the Russians of cheating. Vowing never to play chess again, he lives in ignominy for three years before lawyer Paul Marshall (Michael Stuhlbarg) approaches Bobby and asks him to represent his country in a chess tournament. Paul even arranges a meeting of Bobby with William Lombardy (Peter Sarsgaard), an American grandmaster and a priest.
Bobby agrees to participate in the match as part of a US and Soviet Union diplomacy initiative. Soviet Union gives star treatment to Boris Spassky (Liev Schreiber), Soviet Grandmaster and world champion while Fischer has to depend on donations and cheap lodgings. In the match, however, Boris loses to Bobby badly and leaves the venue. This sets the stage for a classic rivalry between the two players, culminating in the legendary Game 6 match that still enjoys cult status in the chess world.
Tobey Maguire is top notch in portraying's Bobby's many insecurities and frustration. The film is paced well, focussing on Bobby's genius and a mind hard at work thinking up chess moves and also battling its own demons. This is a must-watch for lovers of great acting and excellent storytelling.
(Picture courtesy hypebeast.com)