Film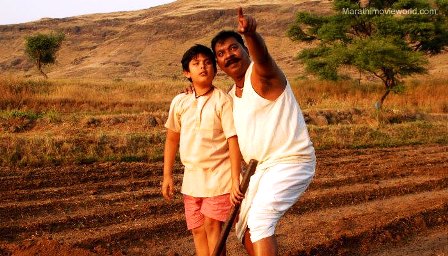 Published on December 7th, 2015
0
Review: Partu
This week's release is defined by good performances and excellent camera work relating a moving true story about a lost young boy.
by Ravi Shet
Rating: 3 out of 5
This is a true story of a lost boy from Rajasthan who finds his moorings in a remote village in Ahmednagar.
A seven-year-old boy, Prithvi, arrives in Mumbai from Rajasthan with his uncle Prem Singh to enjoy the city for a few days. But on a crowded train station in Mumbai when the child is returning home, Prithvi gets separated from his uncle and ends up taking the wrong train. Soon, he reaches Ahmednagar, where he knows no one and doesn't know Marathi, the local language.
Laxman (Kishor Kadam), a poor farmer along with his wife Sugandha (Smita Tambe) help Prithvi and take him to their home. Laxman struggles to find Prithvi's family; however he fails and finally decides to raise Prithvi with his family and names him 'Partu'. The child soon adapts to his new family and surroundings, and also learns how to speak Marathi and adjust to local rituals and routines.
17 years later, Partu (Saurabh Gokhale) is now 24 years old. Completely tied to his home with the love and affection from his adoptive father Laxman and his family, Partu has almost forgotten about his past. But Laxman still hopes that Partu will find his own parents one day. Meanwhile, Partu is married to Gayatri and settled in the same village with Laxman and his family. On a pilgrimage, Laxman manages to find out where Partu's hometown is in Rajasthan.
Director Nitin Adsul does a commendable job in bringing a true story to the screen, and also uses the real Partu in the end credits of the film. The overall pace of the film is fine, but some scenes go on interminably. Sanjay Khanzode's camera work is excellent – Rajasthan has been beautifully captured in this film. As far as the performances are concerned, the ever-reliable Kishore Kadam leaves his mark, and so does Smita Tambe. However, Saurabh Gokhale is miscast as Partu and is not at all impressive in the titular role.
(Picture courtesy marathimovieworld.com)