Film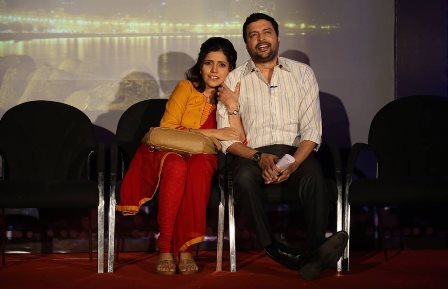 Published on August 16th, 2015
1
Review: Double Seat
This week's release is about choosing between a home in Mumbai or the idea of a family; explored in sensitive detail.
by Ravi Shet
Rating: 4 out of 5
Double Seat directed by Sameer Vidwans is the story of newly married middle class couple – Amit Naik (Ankush Chaudhari) and Manjiri Naik (Mukta Barve) – who live in a small house with Amit's parents (Vandana Gupte and Vidyadhar Joshi) and brother (Shubhankar Tawade) with the determination to buy a new home in the city.
The couple comes back from its honeymoon to their chawl based in Lalbaug, Mumbai. Manjiri works as an Insurance agent hailing from small town, living in Mumbai for the first time in her life, while Amit works in a courier company. She quickly settles into Mumbai's pace of life and also learns how to ride a two-wheeler and catch the local trains. But the couple struggles to find privacy. There are moments when they resort to sending each other text messages to express their emotions.
As the days pass by, Amit tells Manjiri that it's time to have their own home. They start their home hunt, Amit likes a house and pays a token amount for it. The couple is about to go ahead with their plans when Manjiri announces that she is pregnant. They now have to decide if they should buy the house or have a child, since they cannot afford the expense of both. This causes a rift between them.
The direction is excellent in terms of connecting the storyline realistically. The dialogues are good, too, as is the music by Jasraj, Saurabh and Hrishikesh.
Ultimately, the film rests on the performances by Ankush Chaudhari, Mukta Barve, Vandana Gupte and Vidyadhar Joshi, who are excellent in this film. Double Seat is a must-watch film for all Mumbaikars who struggle to find homes, love and meaning in the city.
(Picture courtesy www.megamarathi.com)