Film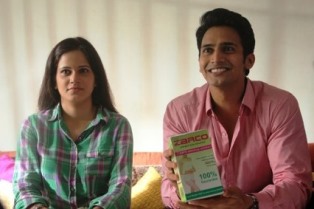 Published on August 26th, 2015
1
Review: Dhinchak Enterprise
A good storyline and decent performances cannot save this slipshod, inconsistent film which does not do justice to the plot.
by Ravi Shet
Rating: 2 out of 5
Dhinchak Enterprise, written and directed by Nishant Devidas Sapkale, is the story of Vishal Patil (Bhushan Pradhan) who works as a salesman in a company called Zarco which produces slimming tablets. He starts his own venture named Dhinchak Enterprise. The film starts with Jignesh (Khurshed Lawyer) meeting a producer (Anant Jog) at his residence to narrate an interesting story based on reality.
Vishal gets the 'Employee of the Month' award and Jignesh is one of his colleagues and best buddy. A new batch of trainees joins the company and Vishal gets excited since he gets Meera Tandel (Manavi Naik) to work with him; however Meera's feelings towards him are the exact opposite. They go together for field work so that Meera can learn how to sell the products. When Vishal tries to flirt with Meera, she tells him to focus on the job at hand. But soon, the two fall in love.
One day, Vishal is fired from the job because he was absent from a client meeting to help a road accident victim. Vishal soon starts his own company – Dhinchak Enterprise – with help from Meera and Jignesh. But the success of the company turns everything sour.
Just before the interval, you are introduced to the formation of the new company. All the twists and turns are thrown pell mell into the story in the second half. The pace of the movie does not gel with the plot, which has been treated shoddily. Save for Bhushan Pradhan's performance and a few funny scenes, there is very little to recommend in this film.
(Picture courtesy www.justmarathi.com)