Film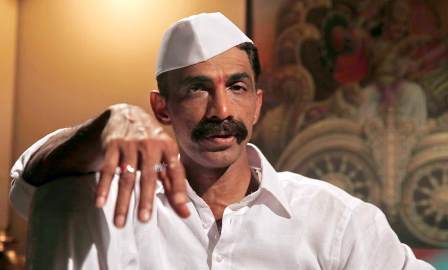 Published on October 3rd, 2015
0
Review: Dagadi Chawl
Excellent performances and slick camera work make this film stand out, though the story and plot follow a predictable graph.
by Ravi Shet
Rating: 3 out of 5
Dagadi Chawl directed by debutant director Chandrakant Kanse not only focuses on gangster-turned-politician Arun Gawli (known as 'Daddy') but also highlights the story of a common man caught in the deadly world of crime and the era of gang wars in late 90s.
The film, based in Mumbai in 1996, starts with Daddy (played by Makrand Deshpande) performing a puja at Dagadi Chawl, while his trusted henchman, Chandu Mama (Sanjay Khapre) attacks a local politician who is set to contest elections against Gawli.
Suryakant Sadashiv Shinde aka Surya (Ankush Chaudhari) who works for Daddy collects extortion money from a builder named Desai. On getting a complaint from Desai, encounter specialist Inspector Kale (Kamlesh Sawant) picks up Surya and plans to bump him off to complete a half century of encounters. However, DCP Ashfaq Khan interrupts Kale's vehicle and demands that Surya be transferred to him.
On interrogation, Surya reveals the story of how he chanced upon a life of crime: when a group of goons harasses his girlfriend, he gets into an altercation that ends with him beating many of them up. This lands him squarely in Daddy's crosshairs, because the goons are his boys.
This film will remind you of the gritty Satya and Vaastav, since the backdrop of the plot is quite similar. Here too, an innocent man falls prey to an unforeseen situation and ends up in the murky world of crime. Some of the scenes in the movie are predictable; however some slick camera work clubbed with a good background score and sharp editing are the positives of the film.
Ankush Chaudhari as Surya justifies his role perfectly; however Makrand Deshpande as Daddy impresses the audiences a lot more through his body language and dialogue delivery. Sanjay Khapre and Yatin Karyekar play good supporting roles. Many in the audience will also love the 'Morya' song played during the Ganesh Visarjan scene.
(Picture courtesy marathistars.com)