Film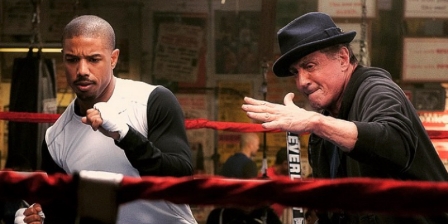 Published on December 1st, 2015
0
Review: Creed
'Creed' is a spin-off from the beloved 'Rocky' series and will knock you out with excellent performances and well-shot action scenes.
by Ravi Shet
Rating: 3.5 out of 5
You will like this film if you're a fan of the Rocky franchise. Adonis Johnson (Michael B. Jordan) is the illegitimate son of former heavyweight boxing champion Apollo Creed. The boy loses his mother at a young age, and he grapples with issues – abandonment, loneliness – which make him an angry youth. He lives in a Los Angeles-based youth facility, until Mary Anne Creed (Phylicia Rashad), Apollo's widow decides to raise him like her own son. Adonis' life changes – he gets a job at a securities firm; however he wants to follow his dream of becoming a professional boxer. So he quits his job to become a boxer, but Mary is strongly opposed to the idea.
Adonis tries to get in Delphi Boxing Academy at Los Angeles; but is turned down. He moves to Philadelphia with the hope of meeting Rocky Balboa (Sylvester Stallone), his father's old opponent and friend. Adonis meets Rocky at the latter's restaurant and requests him for lessons. Rocky is reluctant to get back into boxing; but he agrees to train Adonis with the help of his old friends.
Adonis soon defeats a local fighter and people find out who his father is. This leads to him getting a call from the World Light Heavyweight Championship; he is informed that Ricky Conlan (Tony Bellew) is due to be forced into retirement because of an impending prison term. Adonis is offered the role of Ricky's final challenger on one condition – he must change his name from Adonis Johnson to Adonis Creed.
Director Ryan Coogler has ensured that Rocky's persona never overshadows Adonis'. The story is structured well and the action scenes are quite thrilling. Especially impressive is the camerawork by Maryse Alberti. But the performances really lift this film from average to very good – Sylvester Stallone and Michael B Jordan are top notch. If you're a boxing and Stallone fan, this movie is worth your while.
(Picture courtesy screenrant.com)