Film
Published on January 30th, 2013
0
'Bollywood has not called yet'
His national identity fades in the face of the character he plays. Satya Bhabha portrays Saleem Sinai in 'Midnight's Children'.
British-born actor Satya Bhabha will be seen this Friday in the Deepa Mehta-directed Midnight's Children, based on Salman Rushdie's novel of the same name. Satya, of mixed Parsi-Jewish roots, grew up in London, graduated from Yale and is based in Los Angeles.
In an e-mail interview with Salil Jayakar, Satya talks about his 'identity' as an actor, the challenge of playing Saleem Sinai and working with Deepa Mehta…
Salil J: You were in Mumbai recently for a wedding. Were you recognised as the lead actor of Midnight's Children?
Satya Bhabha: Ha ha… no. At that point nobody had even seen the film!
SJ: Do you identify yourself as British, British Indian or Indian? As an actor does it matter, both at a personal level and a professional one?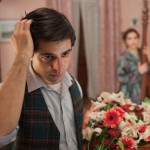 SB: I consider myself British and American, due to the fact that those are the countries I was born and have lived in for my entire life. However, my 'ethnic' or 'genetic' identity is a more complex one which involves both my father's Parsi family and my mother's Jewish roots. As an actor, my national identity fades easily in the face of the character. In the face of the industry, however, it can be more of a challenge…
SJ: You've worked with an ensemble cast with some of India's finest actors. What was the experience like? 
SB: It was a total honour and dream to have had the opportunity to work with such an exemplary ensemble. Each actor brought such depth and detail to their role, and I learned an invaluable amount from watching and acting with them.
SJ: Given that you had little or no Indian experiences before you shot for the film, how easy or difficult was it to play Saleem? Had you read the novel before being offered the film? 
SB: I have had a long relationship with the book, Midnight's Children, and also with India as an ancestral home, which I visited
over the holidays. However, in order to fill my mind and memory with images from Saleem's story, I travelled extensively in India and actively sought out many defining experiences. It was challenging, certainly, even after all the preparation, but luckily most of the time the work supported me and I was able to play freely with my co-stars without consciously thinking about performing the nationality of my character.
SJ: Some actors often claim to 'live the life' of the character they portray to bring an authenticity to their work. Was that an option you considered?    
SB: There certainly was an element of that, spending months living in my grandmother's home in Bombay (which is not entirely dissimilar to Saleem's home), and then travelling alone through India by buses and night-trains, landing in unfamiliar cities and having to find friends, food, and shelter… It certainly echoed Saleem's path to an extent.
SJ: Working with Deepa Mehta… what was that like?
SB: Fantastic! Deepa is a strong and trusting guide who steers you in the right direction and holds your performance up to a very high emotional standard. She is fascinated by truthful human responses and goes to any lengths in order to get them. It was a real honour to work with her.
SJ: Does it bother you that Hollywood does not have starring roles for actors from the subcontinent? That you and most others with an Indian connection are mostly considered for an ethnic role?    
SB: It is challenging at times, but I do hope that there is a sea change in this regard and I very much hope that once films like Midnight's Children and others spread to wider audiences, the universality of our stories will inspire less mono-cultural story telling…especially when it comes to casting.
SJ: Do you watch Indian/Hindi films? Has Bollywood called yet?
SB: I love Hindi cinema but, no, Bollywood has not called yet.
SJ: To audiences everywhere, what would you tell them to expect when they go to watch Midnight's Children?
SB: I would tell them to allow the story to wash over them and that they may see far more similarities with their own lives in the film than they may have imagined.