Event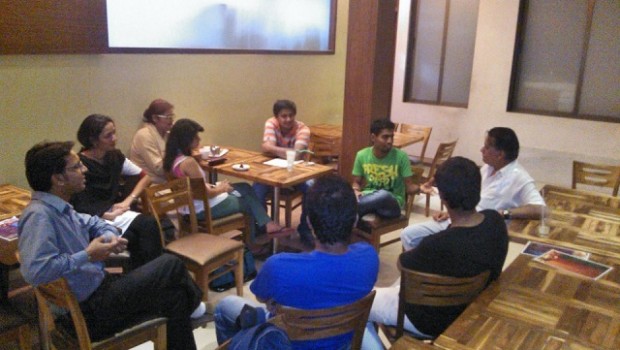 Published on April 8th, 2013
0
Waxing poetic over coffee
Poetry Tuesdays moves out of Thane into Santacruz for its fourth event today. If poetry is your thing, be there.
by Medha Kulkarni
Mumbai is an exciting city with lots of wonderful cultural events on offer. Unfortunately most of these happenings are confined to South Mumbai or Bandra, but a casual conversation between two friends over a cup of coffee a little over two years ago sparked the beginning of an event that would slowly change this state of affairs.
Anish Vyavhare and Ashish Amin, poetry and literature enthusiasts, noticed that most poetry-centric events that happen in the city take place only in south Mumbai, and seem to be aimed only at professional writers, poets, copy writers etc. They decided that this needs to be changed and that is how 'Poetry Tuesdays' was born.
The first event was held over two years ago in Thane. Not limited to language or word limit, the event is open to everyone and is absolutely free. The aim of Poetry Tuesdays is to provide people with a place to meet like-minded people and to give amateurs a platform to share their work and more importantly, to encourage people to keep alive a dying art.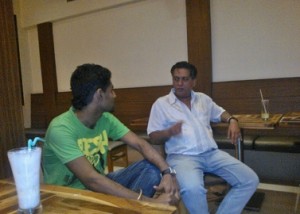 Till recently, Poetry Tuesday sessions were organised only in Thane, but today, April 9, marks the fourth session at Santa Cruz. The location for the sessions keeps changing (keep track of their FB page for updates) as they meet at different cafés or restaurants. This eliminates the need for a permanent space and keeps the event free.
Ashish says that this also adds an element of spontaneity to their sessions. "Often, other patrons at the café get interested in what we're doing and join us and surprise with impromptu poetry. Our poetry sessions are always fun and it's a great way to make friends over a cup of coffee and a shared interest."
"We want to ensure that every part of Mumbai has a Poetry Tuesday event and hopefully, in the future we can invite talents from across the country to make our events more exciting," says Ashish, speaking of their future plans.
Ashish's rules for today's event
"A Colour Couplet is a two-line poem that involves the use of a colour in it. Not a big thing to do! Take a colour, interpret it or just write a couplet on it.
A couplet is two lines of poem. It may or may not rhyme.
That is it! At the end of all of us reading our couplets, we make it into a single grand poem!
You may write in any language. And as always, the theme is not compulsory. You can write on anything you wish, in any language – English, Marathi, Hindi, Gujarati, Telugu, Kashmiri, Urdu, French, Zulu, Tagalog, whichever!
It is not a competition and there are no judges."
If you're interested in participating or simply listening to good poetry, head to Ola Vakola near Vakola Police Station tomorrow by 7:30 pm. Call Ashish on 9920416997 for details or check their FB page at https://www.facebook.com/groups/PoetrySantacruz