Event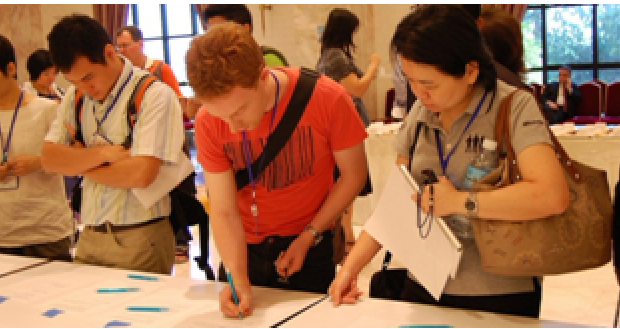 Published on February 20th, 2013
0
TechCamp comes to Mumbai
US Consulate Mumbai spearheads two-day camp for information technology dissemination in the field of NGO work in South Asia today.
The US Consulate General Mumbai, with Global India Fund and Samhita Social Ventures, launched the US State Department's TechCamp in Mumbai today.
The two-day South Asia technology conference brings together nearly 140 international technology experts and young, highly-motivated participants from NGOs throughout India and Pakistan, Afghanistan, Nepal, Bangladesh, Sri Lanka and the Maldives. The Camp will provide NGO participants with training in low-cost or no-cost new and online technologies to help them address some of the most pressing social challenges in South Asia.
"The US Mission in India is delighted to bring international specialists in new technologies from all over the world to NGO leaders in South Asia, in order to initiate new projects throughout the region which will benefit youth in South Asia," said US Consul General Peter Haas. "It is a platform for learning, dialogue, growth, and networking." Also speaking ahead of the event, Akhtar Badshah, Senior Director of Global Community Affairs at Microsoft Corporation, said, "Information technology plays a critical role in today's society. TechCamp is an excellent way to encourage nonprofits to innovate through technology and thereby deliver more effective services and programmes."
This high-tech, interactive social entrepreneurship event is an effort to galvanise the technology community to assist NGOs across the globe by providing capabilities, resources and assistance to enable them to harness the latest Information and Communication Technology advances to build their digital capacity.
TechCamps help build digital literacy for NGOs by introducing local and international technology experts for collaborative education and training.  The sessions focus on exploring the challenges and needs of NGOs and then provide the necessary training to address those challenges through technology solutions. TechCamp Mumbai's specific focus is on the theme of youth empowerment, and will address the needs of NGOs working in areas of education, entrepreneurship, women's issues and rights, youth-led media, civic engagement and democracy building.
Some of the experts at TechCamp include Sean Knox (US), an experienced engineer, grassroots organiser and entrepreneur; Samantha Barry (UK), a reporter with the BBC and an expert in multimedia and youth broadcasting; Hanny Kusumawati (Indonesia) is the Head of Raconteur, Creative Director in Maverick Public Relations and Founder of Coin A Chance; Rikin Gandhi (New Delhi), Founder and CEO at Digital Green, "reverse-migrated" to India to help start a biodiesel venture on the wastelands of Maharashtra; Gautam John (Bangalore) who works at Pratham and describes himself as a recovering lawyer, erstwhile entrepreneur, earnest educator, pretend polymath and future dilettante; Raheel Khursheed (New Delhi) is the India Director of Communications at Change.org, the world's largest petition platform; Anshul Tewari (New Delhi) Founder and Editor-in-Chief of YouthKiAwaaz.com, an online platform for youth and Arjun Venkatraman (Bhopal) of CG-NET SWARA, an engineer and entrepreneur who believes in designing for efficiency and economy.
(Picture courtesy ngo.samhita.org)